As its name suggests, Inferno The Grill emphasises an ambience of hell. The restaurant is decorated with a dark, flamy concept. A buffalo skull hanging on the wall strengthen the vibe of the underworld.
You might think that is the only concept they have got. Another thing that makes this place feel more like an "Inferno" is the menu; it serves mostly hot and full-flavoured food.
Inferno The Grill has outdoor and indoor areas. When entering the restaurant area, visitors will immediately see the bar and kitchen area which is built with the open kitchen concept.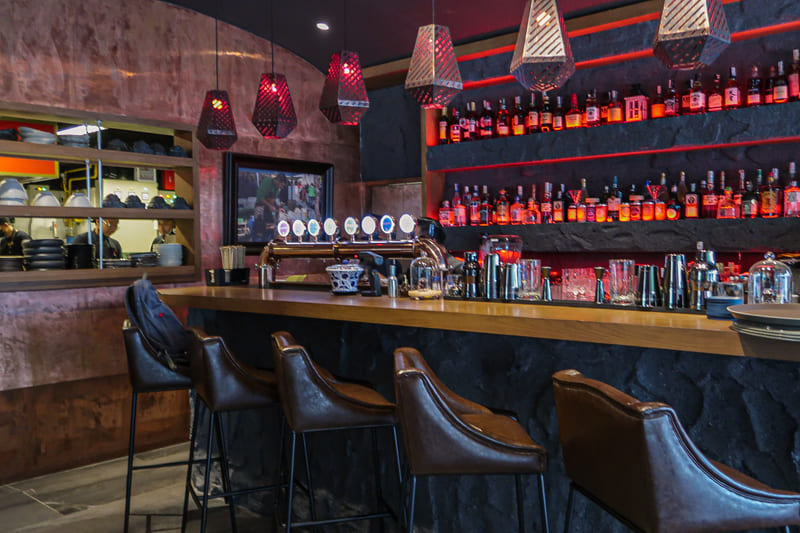 The restaurant is pretty new; it was officially opened on 15th December 2022. The location is at One Satrio Mega Kuningan, Jl. Prof Dr Satrio, Kuningan, South Jakarta. Located in the heart of the business centre in Jakarta makes it is easily accessible, especially for expats. There are also embassies, hotels, and apartments nearby.
Although this restaurant is not a steakhouse, it does serve various steak plates. The basic concept of all the dishes at Inferno The Grill is Italian-based cuisine. It doesn't only include Italian food but is also infused with all the dishes around the world, mainly inspired by Asian and South American dishes.
A fun fact is that every dish on the menu in flaming hot – the appetisers, desserts, and main course – are prepared using charcoal as the main cooking method so the dish has at least one or two ingredients, or even the main ingredient is concocted with charcoal.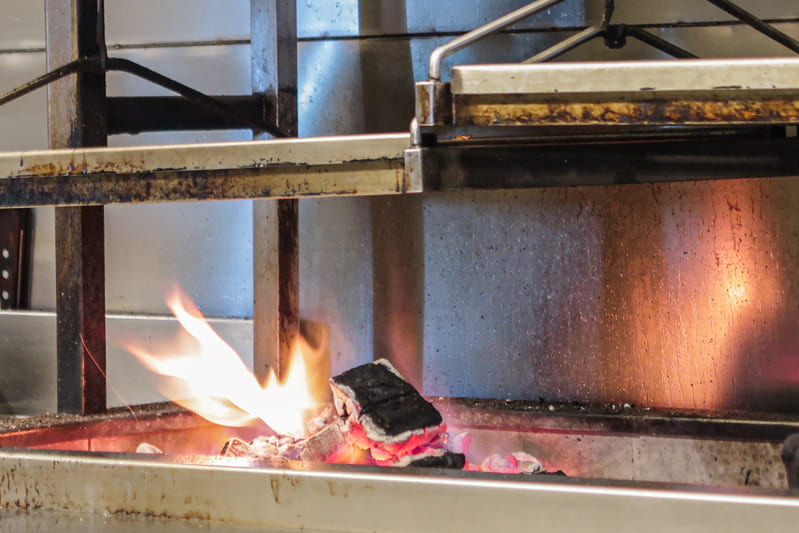 This allows the restaurant to achieve a distinctive smoky flavour and luscious charcoal palate that is difficult to replicate with other cooking methods. That is one of the reasons that make this restaurant really unique.
Charcoal is often used as an ingredient in cooking and grilling for several reasons, including its unique flavour, high heat output, and ability to sear and char meat, fish, and vegetables. 
I had a chance to taste a variety of dishes served by Chef Roberto and Chef Andres, the senior professional chefs in this restaurant.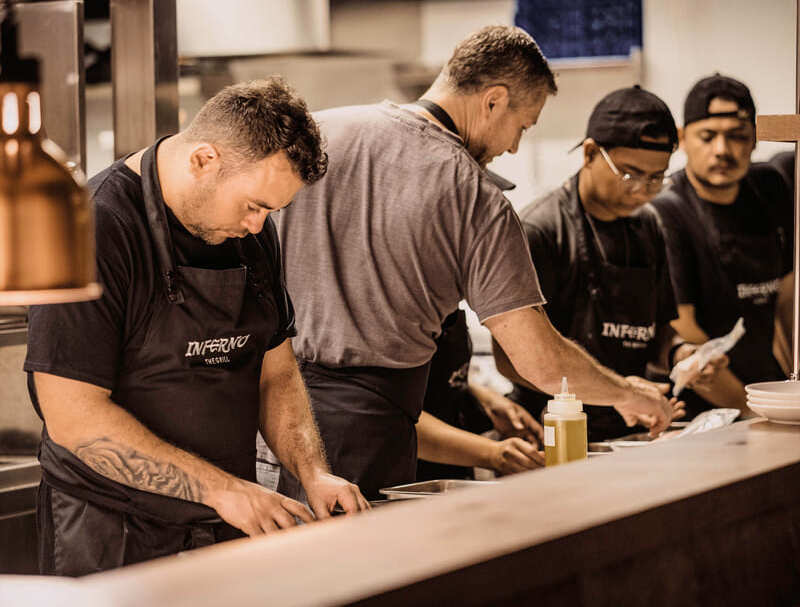 Chef Roberto is an Italian chef that has a lot of cooking experience. He is the head chef of Inferno. His style of cooking emphasises the use of charcoal as the main ingredient. He even created a new cooking technique to cook good spaghetti with charcoal.
Chef Andres is an Ecuadorian chef who is known for his fusion of Ecuadorian and international cuisine. He is known for incorporating unique ingredients and spices into his dishes, such as exotic fruits, chillies, and herbs. He has been cooking for years in many different restaurants around the world, such as in Spain, Saudi Arabia, and Indonesia.
Both Chef Roberto and Chef Andres are talented, with their own unique styles and techniques. They share a passion for cooking and a commitment to using high-quality ingredients to create delicious, memorable dishes for their customers. Both men have served the King Salman of Saudi Arabia as the main chefs of the kingdom for years.
Dishes on offer include grilled Chilean sea bass carrot ginger puree with fake charcoal, charred leaf beef tartare, and Infinity Negroni.
When I tasted the grilled sea bass, I felt the combination of the delicate and savoury sea bass with the slightly sweet flavour of the carrot and ginger puree which makes it a delicious and well-balanced meal. Additionally, the "fake charcoal" – it is actually cassava – adds a sweet taste and unique visual component to the dish. Overall, it seems like it could be an enjoyable culinary experience.
Another dish, charred leaf beef tartare, adds a smoky and tempting flavour to the well-cooked beef tartare. The texture of the charred leaf also provides a nice contrast to the tender beef. However, the success of the dish ultimately depends on the execution and balance of flavours. Overall, it is a creative take on a familiar dish, and could potentially be a tasty and satisfying appetiser.
I also tasted the Infinity Negroni. It is an Italian cocktail that is aged in a coconut shell for seven days before being served to customers. Definitely a different twist to the classic Negroni.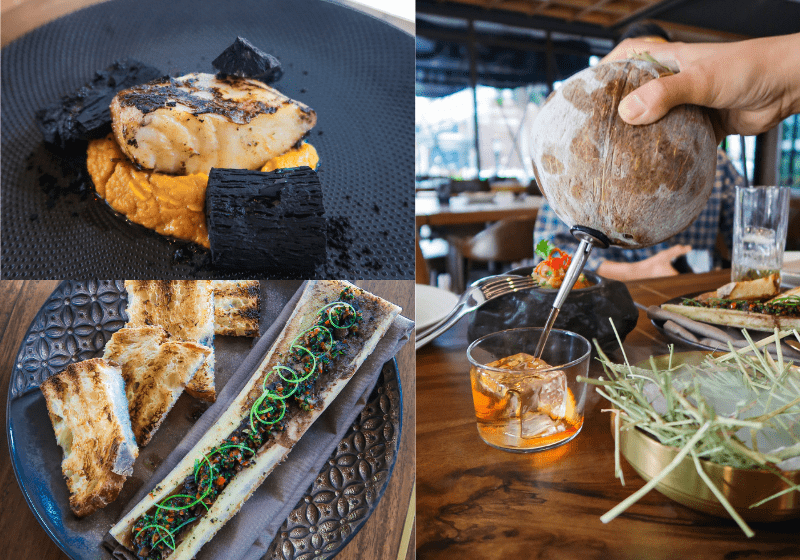 A unique dish that is recommended by Chef Roberto is spaghetti clams smoked on charcoal, which is made originally from Chef Roberto's own recipe with a new technique. The pasta is cooked three times on charcoal so the spaghetti has a charcoal smell. It tasted really smokey and pleasant.
Another one to try is compressed watermelon grilled hamachi sashimi. The fish is first dry-aged and then cooked with grilled tomato water, lime, and chilli. When I tasted this dish, all the flavours fused in my mouth – savoury, fresh, and spicy tastes. The fish was really delicate.
Last but not least, a Trip to Cuba is the one dessert you can't miss in Inferno The Grill. This dessert has a unique shape which resembles a cigar. The ingredients consist of chocolate, Havana chocolate mousse, and dark rum gelato.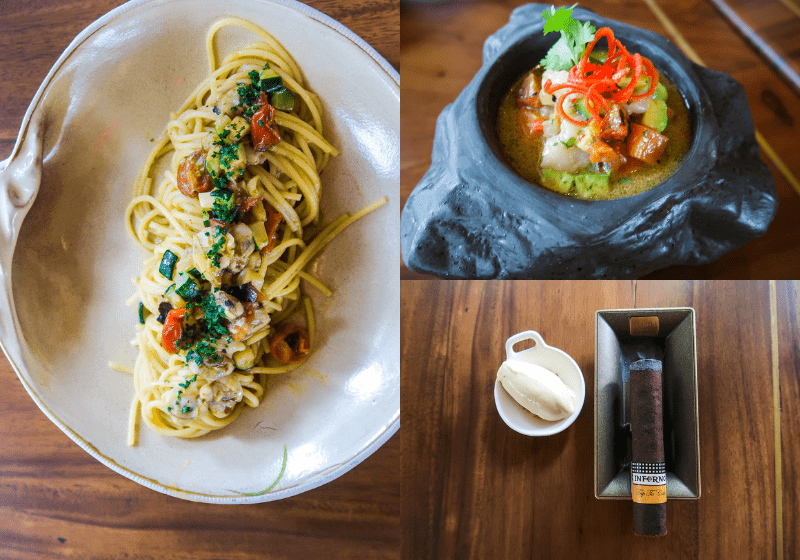 Inferno is not really a family-friendly restaurant; it is more aimed at young people and business people. If you are adventurous and want to taste a new experience in terms of food and cocktails, Inferno The Grill should be top of your list. Chef Roberto recommends this place to celebrate parties or to hang out with friends.
Inferno is planning to create a new special lunch menu, one that's budget-friendly and will be best for people who want to eat quickly. It will consist of mostly carbs and chicken. 
Inferno is open from 11 am – 10.30 pm every day, unless you come here for drinks, in which case it can open longer. The restaurant can accommodate approximately 75-80 customers. It is better to reserve your table before coming to the restaurant. Expect to spend on a meal Rp500,000 and up.
Full and happy is what I felt after consuming foods in Inferno. It is always a pleasure to come back here to taste another different dish.