The ancient craft of handloom weaving in Indonesia holds a profound significance, intricately entwined with symbols and designs closely linked to myths, legends and cosmology.
Passed down through generations, this tradition has been an integral part of Indonesian history and has a means of preserving and expressing the rich cultural narratives.
Historically, centuries ago, the royal families had rich fabrics woven to show their power, wealth and status. These elaborate fabrics included symbolic motifs and intricate artisan craftsmanship. When travelling the many islands of Indonesia, spreading 5,000 km from Aceh to Papua, evidence of weaving can still be found in the most remote places.
In my ventures across the archipelago, I have been fortunate to see thriving communities of weavers in Java, Bali, Sumatra, Flores, Timor, Kalimantan and Sumba, with each region weaving their threads into unique designs. Community threads are woven as women gather and meditate, focus and apply this timeless artisan craft into patterns specific to their region, with different styles and techniques. The handloom weaving tradition is alive and well today, plus it is eco-friendly and sustainable in many ways.
Handloom weavers mostly use renewable, sustainable natural materials like cotton, silk,
wool and plant fibres such as Ramie and Ulap Doyo (Curliglia latifolia). These materials are biodegradable and renewable. Also, natural dyes are often preferred over commercially dyed cotton. Now, many consumers demand natural dye, which fetches a higher price in the market. Dyes made from plants, roots and leaves are accessible, plentiful and easier on the environment than chemical dyes used in the industrial process.
Watching the rhythm and flow of women weaving on the handloom is an absolute pleasure. The melodic click-clack of the looms is both mesmerising and fascinating at the same time. If there is a power blackout, they just keep going. There is no reliance on electricity or heavy machinery at the loom and because this practice is a cottage industry and the overall carbon footprint is low, when you buy a woven piece of cloth, be it a shawl, a sarong, or a bed covering, you are supporting a sustainable industry and keeping this beautiful part of Indonesian culture alive.
In the village of Tenganan in Bali, I met Ibu Wayan, who explained the Geringsing process to me, "We use a double-ikat weaving technique, and it takes a very long time. The pemangku (priest) blesses the motifs as they are created and recites mantras into the cloth. A geringsing is a sacred cloth. Sometimes, we let the weaving piece sit for months on the loom as the energy of the mantras is absorbed."
She continued, "The sacredness of our weaving arrives from the balancing and harmony process. The process is long between preparing the threads and then applying the natural dye colouring process. It's a complex art. The intricacy of the weaving, the mystical meaning of each motif we weave and the feeling of each symbol." With a warm smile, she continued, "Weaving a double-ikat cloth can take up to three years to complete and did you know 'Geringsing' means 'no sick'? It must be hung in your house to evoke and embody good health, benefitting everyone who dwells there. It is not meant to be folded and put in a cabinet. It is a beautiful piece of art, and we believe there will only be good health and good energy coming to your home when you hang it."
The double-ikat weaving process requires both the warp and weft threads to be dyed before weaving, creating beautiful symbolic patterns, often representing the cosmos. Dying each colour can take at least a year for the colour to absorb well into the threads. Where in the world is this knowledge kept? Well, the double-ikat process is only done in three places; Bali, Japan and India.
Sumatra is another island steeped in weaving tradition. It was in Padang Panjang, in the highlands of West Sumatra, where I came to learn about Songket. The pieces woven use strong, vibrant colours, and the Minangkabau culture weaves some of the most complex geometric patterns. Again, the weaving techniques have been handed down through generations of skilled artisans. I marvelled at the women at work on the loom, creating intricate patterns in the most complex way. The signature of the Songket is the weaving of gold or silver threads into the fabric. The Songket has a distinct feeling of opulence and shimmers when one wears it.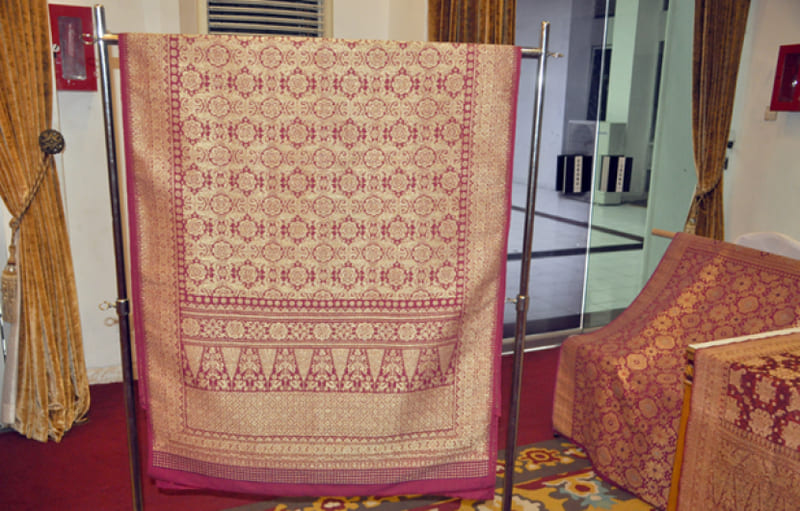 It takes a high level of expertise to create a Songket. The patterns woven include beautiful floral motifs, geometric shapes and symbolic cultural designs. Many hold the stories and legends of times gone by, and each piece has a distinct cultural significance. When wearing a Songket, heads turn in a room. It is not just a piece of cloth worn to adorn your body, but a beautiful piece of art to wear, and for sure, it is a conversation piece. Each region's Songket reflects its distinct cultural heritage and tradition. Songket is woven in Indonesia, Malaysia, Brunei, and parts of Thailand.
The Songket was historically worn by royalty and nobility. It is commonly used now for special occasions such as weddings, formal occasions, festivals and other significant events. Not only will you recognise it by the gold or silver threads, but metallic threads are often used, too. A Songket carries respect as it is incredibly labour-intensive and is produced only by highly skilled weavers.
Through time, weaving has remained a sacred art and carries an artistic heritage. A visit through the archipelago is made richer when you find out in advance where the local weaving communities are located, and chances are, when you arrive you will be received warmly. Supporting handloom weaving has positive social impacts on many villages. It creates local employment opportunities and fair wages for artisans, and you go home with a piece of history and art to wear. And if you sit with the weaver for a while, you may find her willing to explain the motif she is creating. She holds in her delicate hands the wisdom and knowledge of her people and her land and may if you are lucky, impart the legend of the cloth.
Fact File
BALI
Tenganan Duah Tukad Village, Karangasem
Contact: Claudio Komang, WhatsApp +62 878 6221 1441
Pejeng Kangin Village, Ubud
Contact: Putu Liong, WhatsApp +62 812 4631 5239
WEST SUMATRA
Padang Panjang
Contact: Sada, WhatsApp +62 812 4222 800
TIMOR
Kingdom of Boti, West Timor
Contact: Pak Ada, WhatsApp  +62 813 3820 0634
KALIMANTAN
Kapuas Hulu Regency
Contact: Ibu Tina, WhatsApp +62 813 4651 0198