Midaz Dining & Lounge is set to become the ultimate destination for those seeking a night of unparalleled excitement and gastronomic delight.
Midaz Dining & Lounge the latest sensation in Jakarta's nightlife scene located in the heart of Senayan, is thrilled to announce its grand opening, promising an all-encompassing entertainment experience that seamlessly blends live music, DJ performances, exquisite dining, and a sophisticated wine cellar.
The lounge boasts an extended schedule of operation, welcoming guests every day of the week, from Monday to Sunday, offering a unique ambience from 10 AM until late at 4 AM. The establishment's commitment to providing an unforgettable experience is further highlighted by their daily live music and DJ performances, ensuring that patrons can indulge in top-notch entertainment while savouring their culinary delights or sipping on refreshing beverages. Midaz offers a perfect setting for golf enthusiasts and those looking for a memorable dining and entertainment experience in the lively city of Jakarta.
Live Music Entertainment:
Midaz will regularly host live music performances spanning various genres, from soulful jazz to high-energy rock, ensuring that guests are treated to an array of musical styles that resonate with their preferences.
DJ Performance:
For those who prefer to dance to pulsating beats, Midaz is proud to present an impressive lineup of local and international DJs who will spin the latest tracks and classic hits. The club's cutting-edge sound and lighting systems create an immersive audio-visual experience that is second to none.
Exquisite Dining:
Midaz Club & Lounge's restaurant offers a delectable menu that caters to the most discerning palates. Whether you're joining us for lunch or dinner, our talented culinary team ensures that every dish is a masterpiece. From international flavors to local delicacies, Midaz menu is a culinary journey that complements the night's entertainment.
Wine Cellar:
Wine connoisseurs will be delighted to explore Midaz's impressive wine cellar, boasting a curated selection of fine wines from around the world. Whether you're a seasoned oenophile or simply looking to enjoy a glass with your meal, Midaz's wine cellar offers an extensive collection to satisfy every wine lover's desire.
MIDAZ OPENING WEEK
The grand opening of Midaz Club & Lounge promises to be an unforgettable night filled with music, dancing, culinary delights, and exceptional wines.
Event Details:
Date: 25th October 2023 Performers: The Soulful Band, DJ Flowdownie, DJ Kartika Ayu, MC Rian TJ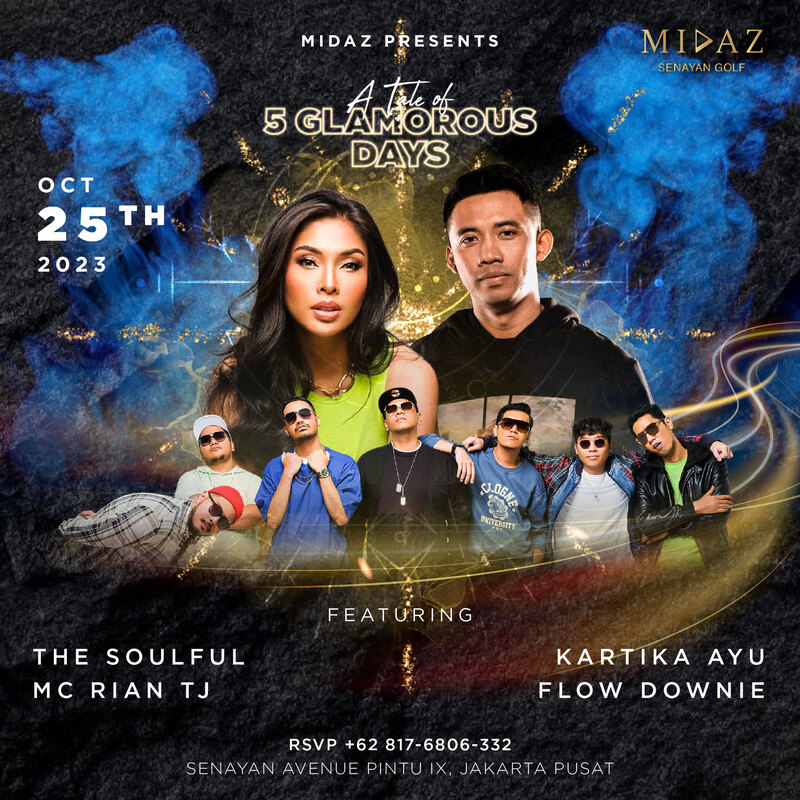 Date: 26th October 2023 Performers: Maliq & D' Essentials, DJ Reza Karami, DJ Audi Cola, DJ RBA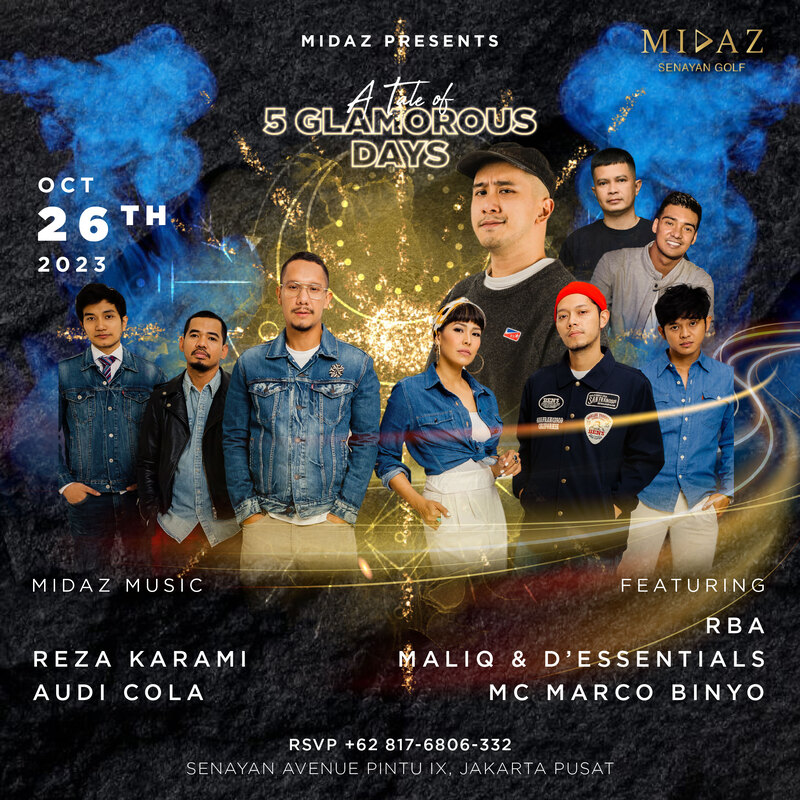 Date: 27th October 2023 Performers: Chef Ubay, Eva Celia, DJ Bleu Clair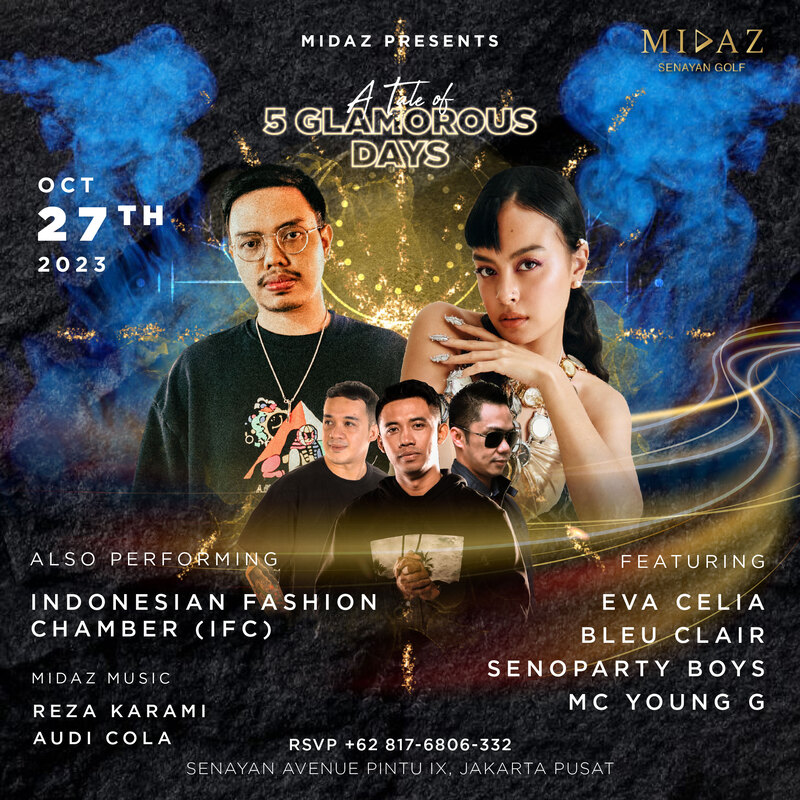 Date: 28th October 2023 Performers: Bats Lucky Band, Deniz Koyu (DJ – Germany), DJ Dimaz Andrean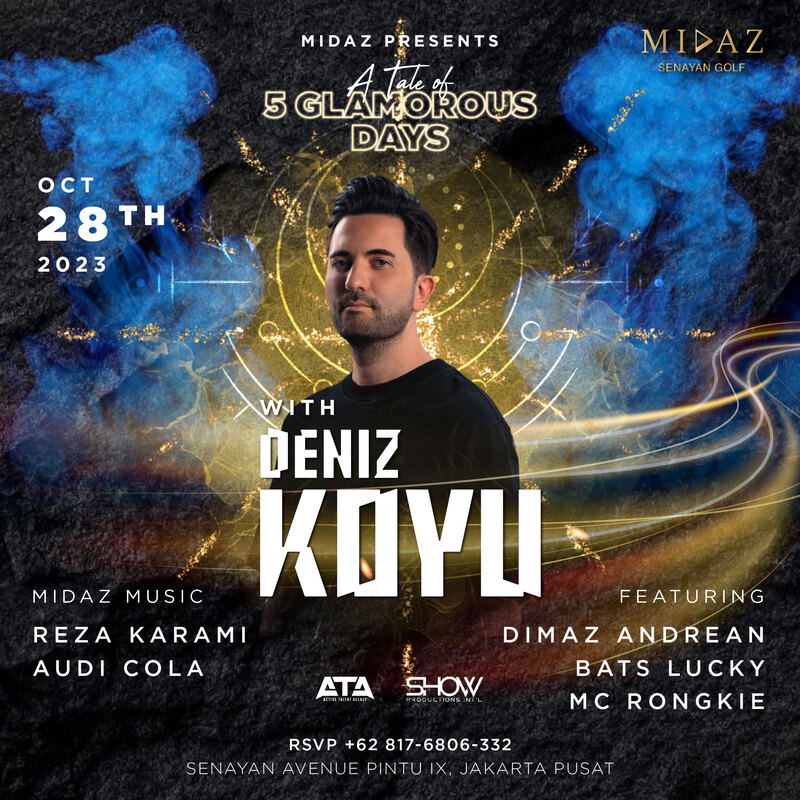 Date: 29th October 2023 Performers: Revival Sundaze by Adroitz Kollektive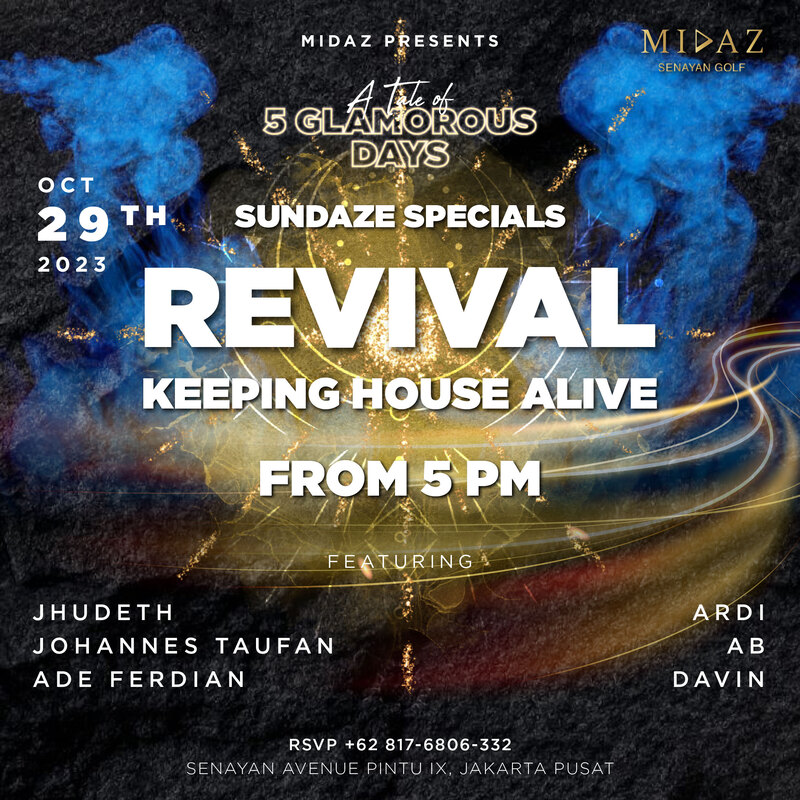 The club opens its doors at 7 PM, inviting partygoers to immerse themselves in a world of music, lights, and excitement. Located in the thriving Senayan district, Midaz is a hub for the chic and stylish, where the city's trendsetters come to see and be seen. The dress code here is chic and stylish, setting the tone for a night of sophistication and glamour.
For VIP reservations, ticket information, and inquiries, please contact 082210701617.
Don't miss out on the grand opening of Midaz Club & Lounge, where the party never stops, the music never ends, and the dining experience is simply unforgettable. Follow us on Instagram @midazsenayan for updates and exciting promotions.