In the bold Sumbanese cloth, I could almost see pairs of horses fighting and giant birds greeting each other, as if captured in a freeze frame by woven threads of noni red, indigo blue, and a purplish shade of black. Other ikat heirloom pieces on exhibit included Toraja's black-and-white diamond-like geometrical patterns, Savu's tidy lines of intricate red-white-and-brown patola flowers, and a rare pattern of Timorese lotis in muted colours of indigo and sappanwood red.
Entering the Threads of Life gallery in Ubud is like an encounter with the diverse worlds of Eastern Indonesia in one place, documented in woven cotton and natural dyes. To the communities making ikat, though, these are not just clothes but a testament of Eastern Indonesians' cosmological relationship with their natural worlds. Co-founder William Ingram says he finds his purpose in offering hope for earning a decent livelihood for the women who devote their lives to perpetuating this cultural heritage.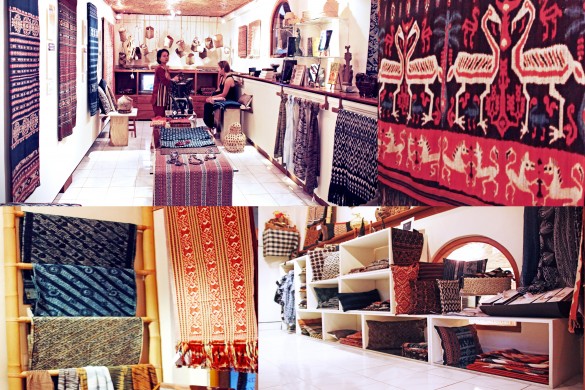 Threads of Life started when William Ingram and Jean Howe travelled across rural Eastern Indonesia in 1998. During the Southeast Asian economic crisis, the British couple found that their money suddenly gained more purchasing power. On the other hand, locals offered to sell them rare heirloom cloths normally used in ceremonies, because they were short on cash.
Driven by a shared concern for the dying tradition of ikat throughout Eastern Indonesia and the livelihoods of the communities that make them, William and Jean partnered with Balinese ethnobotanist I Made "Pung" Maduarta and started the Threads of Life gallery in 2001. William describes Threads of Life as a fair trade enterprise which curates the best quality natural-dyed ikat directly from master weavers, empowers their access to the commercial market, and facilitates exchange of cultural knowledge among communities.
Found across many cultures of Austronesia – archipelagic Malay-Pacific cultures that trace their ancestry back to Taiwan and Southeast Asia – ikat is a handmade technique of weaving resist-dyed threads which are first bound to produce desired patterns. In Indonesia, ikat is practised as part of those traditional worldviews collectively referred to as adat.
"Adat, everywhere, is this relationship to the world around us that sees it through the lens of the impact and the living presence of the ancestors in the environment that the ancestors created for us," said William. "Textiles are a way of articulating that. It's like literature – not written, but nevertheless a symbolic articulation of the value system. Textiles are a way for communities to feed those value systems back to themselves."
William described most of the Austronesian cultures he's encountered as having this common-patterned origin myth where a founding ancestor travelled land and sea to eventually reach the place, which people now call their homeland, and establish the people's relationship to the environment. Before converting to major world religions such as Christianity or Islam, ancient Indonesians practised animistic traditions that honour communities' custodianship of the natural world.
Ikat textiles are part of Indonesia's animistic Austronesian heritage, which William described as a cosmological wisdom Western-industrial cultures lost many centuries ago.
"(The ikat-weaving communities Threads of Life works with) are some of the last peoples in the world that hold this value system and way of seeing the world. The fact that maintaining this worldview is held as an aspiration means that they struggle to express it fully in their lives," said William, who contrasts the animistic Austronesian worldview with that of the consumptive industrial society disconnected from the natural world.
William said he feels lucky to have started Threads of Life in Bali, employing local Balinese Hindu staff who recognize the values of their own culture in the diverse practices of other ikat-weaving cultures throughout Eastern Indonesia. Despite being officially recognised as Hindu, Balinese religion is, in fact, the same animistic Austronesian worship of the natural world found all over Indonesia.
"Our Balinese staff would (learn about another Indonesian custom and) go, 'Oh yeah, we do that too.' They don't mean they do the same ceremony, but they do something for the same purpose," said William. He added that though said ceremonies might look different from the Balinese version, his Balinese staff find a level of connection to and validation from other Indonesians who know what it's like to struggle in perpetuating their identity amid the pressures of global development.
In 2006, Threads of Life gathered 100 Timorese weavers in Baun, Kupang regency, and organised a festival that facilitated cross-community discussions and dyeing workshops. The weavers concluded the festival with a statement. "We're told by the development community, the government, and the media that we are backward and primitive for holding on to these traditions, and that we have to let them go in order to partake in the modern global economy. Why do we have to chose either or? Why can't we maintain our culture and identity, and make a living while doing so?" William recalled the weavers' statement.
Since then, Threads of Life has been focusing on trying to answer this question in the affirmative. William described this work as a double edged sword.
"Monetising something that was devotional in the past is a dangerous thing to do. But not monetising it in an economy that's gone from being a ceremonial barter economy into a globalised cash economy guarantees the eradication of the culture," he said.
To find a helpful balance between the two, William said Threads of Life has a responsibility to understand the cultures they work with as much as possible, so as to "do no harm" in business.
One of Threads of Life's greatest challenges is the fact that some people have no conception that they could lose their culture. In 2016, a village in Ende lost its last master weaver to breast cancer. Before she died, William asked the Mamatua who will continue her village's weaving tradition. The Mamatua assumed her daughter will – the one Mamatua spent her life's savings putting through university, who now has a job in the city. But the Mamatua was insistent that her daughter will someday, somehow, return to the village and take responsibility as the village's cultural custodian of this generation. Sadly, the village's ikat tradition died with the nail in the Mamatua's coffin.
On the other hand, William said he's happy to be working with communities that are already making marketable works of art, as opposed to having to train makers from scratch. "We're looking for places where there is still that one practising master weaver or dyer, who is still impassioned and holding a tradition against the tide. We offer her a way to hold on to what she's doing and prosper. Once she starts to be seen as prospering, other women will be interested as well."
Threads of Life also facilitates the revival of lost cultural knowledge through cross-community collaboration. For instance, Threads of Life has helped synthetic-dyeing weavers relearn their forgotten natural dye traditions through cross visits and workshare arrangements with communities that still practise natural dyeing. Promoting natural dye traditions also encourages the resurgence of traditional agroforestry and food systems, and reintroduces cultural knowledge of the natural world to the current generation.
"It's not about going back to how it was, but not completely abandoning what was smart about their ancestral wisdom," said William. "Finding this alternative model of thinking and relating to the world that has been long missing from my culture – this is what motivates me in this work."
Threads of Life Gallery
Jalan Kajeng 24
Ubud, Bali 80571
Open 10am to 7pm daily
+62-361-972112 or +62-361-972187