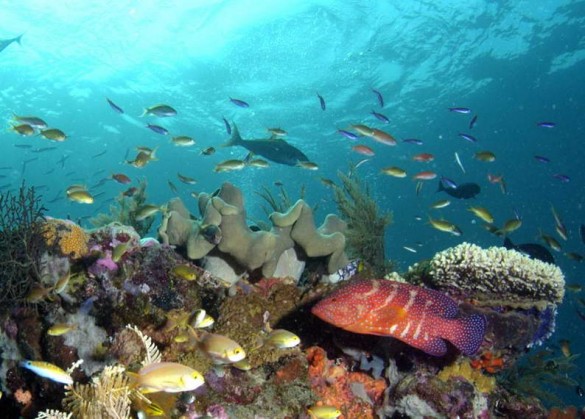 "What a great idea – if only I had thought of it: take a trip to paradise, stay in a cozy bed, get around by boat, snorkel and dive everyday like there's no tomorrow, and look for some interactions with the locals; not too much, but definitely more meaningful."
That was the plan.
So. A few weeks ago in early October, I went on a vacation with a group of friends and their children (we were aged 5 to 48 years old) to Wakatobi. Wakatobi is an acronym of the four main Tukang Besi Islands – WAngi-Wangi, KAledupa, TOmia, and BInongko. It's an archipelago located in one of the most bio-diverse marine hotspots on earth. In 1996 the Indonesian government designated Wakatobi as the Wakatobi Marine Conservation Area. In 2002 the Wakatobi National Park was established to cover an area of 1,390,000 hectares, and since 2005 UNESCO has been listing this park as a tentative World Heritage Site. Rumour has it that Jacques Cousteau was satisfied enough to claim this area as possibly the finest dive site in the world. There are some truths in it; the world has about 850 coral species, some 750 of them are found in Wakatobi. Compare that to 50 species in the Caribbean Islands and 300 species in the Red Sea.
Getting to Wakatobi was quite difficult. With the remote location at the bottom corner of Southeast Sulawesi Province in Central Indonesia and high seas during wet seasons, for many years the limited infrastructure into Wakatobi had allowed visitors to enjoy this paradise in plenty of peace and solitude, far from prowling tourists. Things are slowly changing ever since the Wakatobi government opened a regional airport in 2009. Currently the Wakatobi Airport on Wangi-Wangi Island is serviced by daily Express Air flights from the city of Makassar in South Sulawesi, which is a hub for several domestic airlines and also serves a few direct international flights. If travelling in a group, opt for a group check-in, as Express Air has a limited baggage allowance of 10kg per person. Then… what about the dive gear? Excess baggage is charged between Rp.25,000-40,000/kg extra. (Ouch!)
For more scenic routes and those not in any hurry, there are boats and ferries from the cities of Kendari, Bau-Bau and a few other small ports around. These 'leisure' options take anything from 4 hours to 2.5 days before arriving in any of the Wakatobi passenger seaports!
Unlike my previous trips to Wakatobi where I had to stay in modest hostels for lack of better options on Wangi-Wangi Island, this time I checked into the recently opened Patuno Beach Resort. What we experienced there as a group exceeded our expectations, from the moment their friendly staff came to pick us up at the airport, until the last day of our stay. Our daily buffets consisted of local dishes filled with fresh seafood, or varieties of western offerings. The Resort has Standard Rooms, Deluxe Rooms, and Executive Suites. Our group was booked in all three types of rooms, and we were satisfied with our personal choices. If their rooms rates (between Rp.500,000 to 1,500,000/night) are a bit steep for the budget, the hostels and "losmens" in 'downtown' Wanci – the capital of Wakatobi Regency – offer rooms between Rp.100,000 to 250,000/night. Words of caution: you get what you pay for!
Our vacation started and ended with playing on the beach, or in the sea. There were 18 of us on this trip. Everyday using two boats, we would venture off to one island or another, looking for good dive spots and slowly enjoying the rides. Some days we did two dives, others were three. We discovered that there weren't really good dive spots, but there were only better and best spots! We kept finding stunning walls covered with hard and soft corals, home to lots of colourful fish, graceful sea turtles and smaller rays, various eels, varieties of nudibranchs, several kinds of pygmy seahorses, and shiny sea snakes to excite every one of us! The huge sea fans were in abundance, so were sponges and crinoids. I personally felt like diving in a 'fish stew', as they were not your everyday schools of fish anymore. Frogfish, barracudas, snappers, lionfish, sweetlips, boxfish, ghost pipefish, angelfish, leaf scorpionfish, several kinds of anemone fish, jacks, cuttlefish, crocodilefish, batfish… and as far as I was concerned, the list didn't stop there. Furthermore, gazillion kinds of other little and miniature floating things that were hard to miss, and easy to find.
For the younger children and the non-diving adults, they too enjoyed snorkelling in the crystal clear blue water, and the diversity of coral and fish even in shallower depth. Again, with the help of the friendly staff from Patuno Beach Resort, we also managed to enjoy various lunches and snacks on secluded white sandy beaches, soft and breezy wind, under the coconut trees. Fine dining à la tropical paradise, and we never had to repeat any settings!
The nice surprise we had one morning on the way to finding a different dive spot, was spotting hundreds of wild dolphins. Bottlenose for sure, and some seemed to be melonhead dolphins! What feasts for the eyes!
Realising how important Wakatobi National Park is for not only Indonesia but also the world, our group also decided to connect with some of the local Middle and High School students. One morning we went out to clean up a beach of waste and garbage, and another afternoon we worked together to pick up trash around a historic public bath cave. These collaborations also allowed the local students to practice speaking English with the teens in our group. While in another outing to a sea gypsy village, our multi-national children had the chance to learn from the local children on how to manoeuvre their traditional dugout canoes. Priceless!
Beyond the blue skies and seas, Wakatobi also offers rich cultures such as local dances, hand-woven cloths, and traditional wet markets full of colours. And I will be back.