There's a feeling of excitement washing over Indonesia, as investment channels open and pour into the archipelagic nation of 17,000 islands.
This revitalised investment and commitment to launching a new wave of tourism in the territory will radically evolve the national economic landscape, creating ample opportunities for increases in employment as well as vast expansion of key infrastructure, connecting and showcasing areas of astounding natural beauty that have so far gone largely unnoticed.
Following on from Bali's success, areas such as Borobudur – a temple complex that is Indonesia's answer to Cambodia's Angkor Wat, will make Indonesia a competitive destination to savvy travellers elsewhere who base their independent travel routes on the promise of under exposed tourism gems such as this one.
The new designated tourism hotspots need no introduction. From Lake Toba – the largest lake in Indonesia – to an entirely newly build resort called the Mandalika, which is in close proximity to a new airport and a newly built world class GP Moto track for racing events – tourists from diverse groups will now be catered for.
Tanjung Lesung on the western top of Java, just 160 KM from Indonesia's capital Jakarta, with the beautiful view of Krakatoa in the background will be a new water sport hub.
Read more details below about the ten new destinations that are set to be Indonesia's 'ten new Bali's.'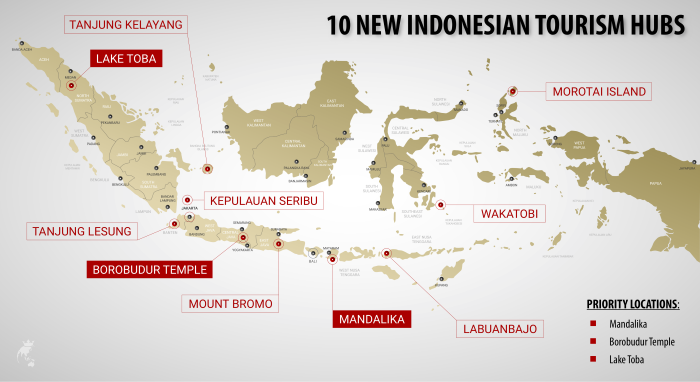 The 10 New Tourism Hubs
The places listed below are destinations designated as the "10 New Bali's" for their potential and scope to become outstanding tourism attractions. Each place selected has distinct special features that with the right type of development, have the potential to be the next "places to be" in Indonesia. Targeted investment by government, provides a bridge of opportunity for individual investors whom we work on behalf of.
1. Lombok Mandalika
A specially designed tourism economic zone, stretching from the south coast of Lombok along the coastline towards popular surf spot "Grupuk Village," part of the Central Lombok Regency [administrative centers] of West Nusa Tenggara province. With good proximity to an international airport and home to a world-class Moto GP track with construction close to completion.
2. Borobudur
Borobudur is a Buddhist temple complex of renowned importance, comparable to the world-famous temples of Bagan in Myanmar and Angkor Wat in Cambodia. Housing some 2,672 painted reliefs and 504 Buddha statues, it promises to put Indonesia on the circuit of cultural world heritage tourism.
3. Lake Toba (North Sumatra)
The largest lake in Indonesia, known as a "caldera" (the collapsed mouth of a super-volcano) is set in an area of immense tranquillity with ample opportunity for the continued expansion of its shores. Activities will include boating water sports, and it also acts as a base from which to tour surrounding attractions, such as adjacent pine forests, waterfalls and museums, where you can learn about the local ways of life.
4. Tanjung Lesung (Banten)
Located on the western tip of Java, just 160 KM from Indonesia's capital, Jakarta, this upcoming beach destination has a host of holiday accommodation, from where you can jet-ski, surf, snorkel or travel to see the famous Krakatoa Volcano, a short boat ride away.
5. The Thousand Islands (Jakarta)
A stone's throw away from Jakarta, this scattering of 110 small islands stretches out some 45 kilometres into the Java Sea. Eleven of the Islands are already developed into resorts, with others privately owned or designated as national park areas. Among the 11 populated islands, you will find a population of 20,000 and an imprint of the past, in the historic remnants left behind from Dutch colonial fortresses, to a center dedicated to the study of seaweed. A perfect mix of marine activity and heritage tourism.
6. Tanjung Kelayang Beach (Bangka Belitung Islands)
Mesmerising rock formations litter this unique beach location, that coupled with its crystalline waters, underdeveloped coastline and landmark white lighthouse, make it a charming location for further enterprise.
7. Mount Bromo (East Java)
Part of the Pacific Ring of Fire – an area covering 40,000 km of the Pacific basin where earthquakes and volcano eruptions frequently occur – Mount Bromo is a natural wonder and a wilderness perfect for adventure seekers. Already offering hiking tours, visitors can choose to scale the volcano as a group, or independently. This is a potential epicenter of exquisite once in a lifetime adventure travel.
8. Labuan Bajo (East Nusa Tenggara)
This fishing village is stationed on the western side of Flores Island—
Land of Flowers—with a local population eager to engage with visitors, offering boat trips, tours of the local school, as well as providing ample opportunities for visitors to experience what life is like in a small scale rural Indonesian setting.
9. Wakatobi (South Sulawesi)
Understated luxury is what Wakatobi, a self-styled exclusive dive site resort, is all about.
5* amenities, set in a beachy oasis of colourful coral reefs, there is ample room for executive style development in this location.
10. Morotai Island (North Maluku)
This northmost part of Indonesia's archipelago, once known as the "Spice Islands"— is popular with those interested in diving or the fishing it offers in the periphery of its marine parks. An island of panoramic views and a seemingly endless 16 km white shale beach. Morotai sits among the type of untapped raw beauty that is begging to be developed with sensitivity and creative thought.

Images: Invest-Islands.com