Stretching over 5,200km from Sumatra to Papua, Indonesia is a massive island nation that is never easy to define. Ahead of its 72nd anniversary, Caranissa Djatmiko reflects on some of her favourite travel experiences in the archipelago.
For centuries, Indonesia has come a long way from its prolonged struggle against colonialism. The islands before Indonesia was born became members of a colonial system maintained by the Dutch East Indies Company. The trading company was formed in the 18th century after the Dutch colonists arrived at the turn of the 16th century and  managed to dismiss British and Portuguese rivals who came earlier for the same mission: taking over the spice trade. The Dutch's 350-year long colonialism period ended when the Japanese occupied the East Indies in 1942, known as modern-day Indonesia. The nation's founding fathers proclaimed independence on 17 August 1945, two days after Japan lost World War II.
Seventy-two years since Indonesia gained its independence, so much has changed in the country but the things that certainly remain as of today are its rich cultural assets and vast geographical landscape. The world's largest archipelago comprises around 13,500 – 17,000 islands that will take a lifetime for us to explore. Yet, some islands have become more popular than the rest. We often hear stories of travellers meeting orangutans in Sumatra; traversing rainforests in Kalimantan, which takes up 73 percent of the world's third-largest island Borneo; experiencing the urban life in Java; and escaping from the city crowd to Bali and Lombok, both of which have been responsible for local mass tourism.
Home to the largest Muslim community in the world, Indonesia officially acknowledges six religions (apart from many unrecognized beliefs and a host of animist rituals), hundreds of different dialects and dozens of ethnicities. While political dramas seemingly continue to divide the nation, Indonesia is bound by the principal of Bhinneka Tunggal Ika, an old Javanese phrase that translates to 'unity in diversity.' The motto, which is inscribed in the national symbol of Garuda Indonesia, was promoted by the founding fathers so that the people of Indonesia believe in tolerant values despite their various cultural and religious backgrounds.
With a wealth of natural resources and unique traditions to look out for in every region, embarking on a journey to Indonesia will widen your perspectives about the country's true identity.
At least, that's what I learned from my time travelling across the land I was born in. Whichever places I travelled to, I frequently found myself in a new atmosphere and everything I discovered always reminded me of the fact that there is so much that I did and still do not know about my own country.
My first trip to Lombok in 2010 made me realize that Indonesia definitely shouldn't be solely defined by Bali. Unlike the exuberant and rather hedonistic Bali, Lombok is known as a Muslim-friendly site. The island exudes a unique cultural vibrancy due to its Islamic heritage and tourists have somehow shown a great deal of tolerance for the region.
Instead of restless parties, you will find people who prefer staying at their hotels and reading a book by the pool while waiting for the sunset. Instead of finding tourists parading their bikinis, you will find women in headscarves carrying picnics up to the hill. Yet right across Lombok, you will still discover tourists sunbathing in bikinis along the beach of Gili and riding on a rented bicycle to explore the small island. Some would even indulge themselves in sleeping under the stars on the beach at night if they fail to get a hotel to stay in. In contrast to Bali's overly touristy vibe, Lombok is apt for those who seek privacy and serenity.
Lombok inspired me to visit other lesser-known islands. So two years later, I decided to visit Belitung, East Sumatra, with a group of friends. Belitung was already a trip paradise by the time I was there, mostly because it was featured in the movie Laskar Pelangi (The Rainbow Army) – although it was still not as popular as Bali or Lombok. There were very few hotels and resorts available at that time and there were not many tourists around or anywhere on the streets. (Although oftentimes I feel that the more you stay away from tourist spots the more fulfilling your trip can be.)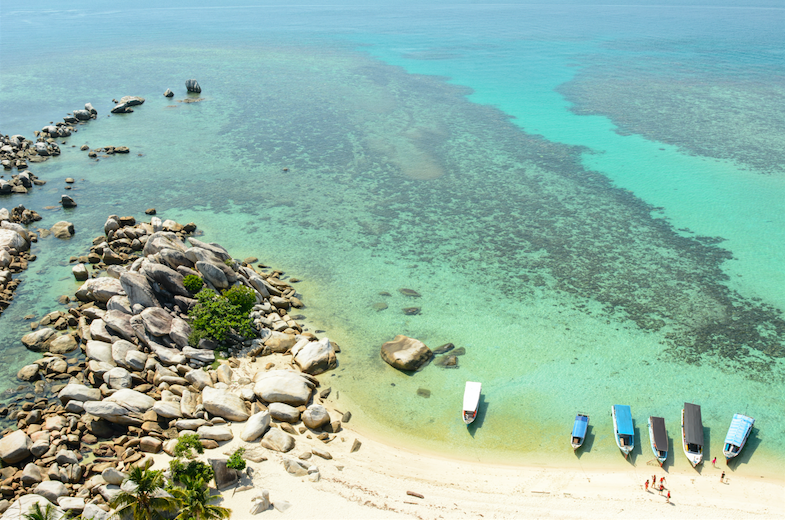 I was thoroughly enamoured by the beauty of Belitung when I hopped into these tiny uninhabited islands surrounding the region. The water was crystal clear and we were walking on white sand beaches that were highlighted by magnificent granite stone formations, one of which appeared in Laskar Pelangi. We even found a pink starfish, which immediately reminded us of the character Peach from Finding Nemo. Not only that, my friends and I were astounded when witnessing waves coming from different directions converging to the shore of this mini island where we stood. It truly felt like nature was introducing itself to us. Bangka Belitung may have always been a trip paradise but only recently is the government working on driving the region's tourism scene. National banks have started to invest in the region and we shall see if Bangka Belitung will become Indonesia's next mass tourism site.
There are still plenty of destinations left for me to explore. Hiking up to Wae Rebo, an old Manggaraian village set on mountainous scenery in Flores to catch a glimpse of how the local community lives – might be next on my go-to list. Standing at the rim of Ijen Crater in Banyuwangi to oversee the turquoise lake should also be a daring option. Yet, I have always wondered what it's like confronting the world's largest living lizards in the volcanic island of Komodo, which will most likely leave me in a scene from a fiction movie (King Kong movies were in fact inspired by an expedition to the island conducted by American millionaire W. Douglas Burden in 1932). It will sure be difficult to decide but the good news is that you will never run out of destinations while exploring Indonesia.