Combining beach getaways in a tropical paradise with lessons in organic farming might not be an everyday concept.
However, that's precisely what's been taking place at Ayana Resort in Jimbaran, Bali, since 2018. Despite the halt caused by COVID-19 restrictions, the farm is now fully operational again, boasting fresh dynamics and partnerships. Guests are presented with an exceptional opportunity to engage in purposeful planting experiences. Embark on an unexpectedly intriguing journey as a farmer in a luxurious setting.
Situated within the sprawling 90-hectare Ayana Estate, the two-hectare organic farm offers now an even broader selection of immersive, educational, and enriching experiences. In close partnership with Green School Bali and Montessori School Hong Kong, the farm extends its invitation to all guests, whether residing at the resort or not. Those eager to explore the diverse techniques implemented on-site are always welcome to join. It goes without saying that planting practices are cutting-edge, entirely devoid of chemicals. Methods encompass soil enhancement, composting, and efficient water recycling.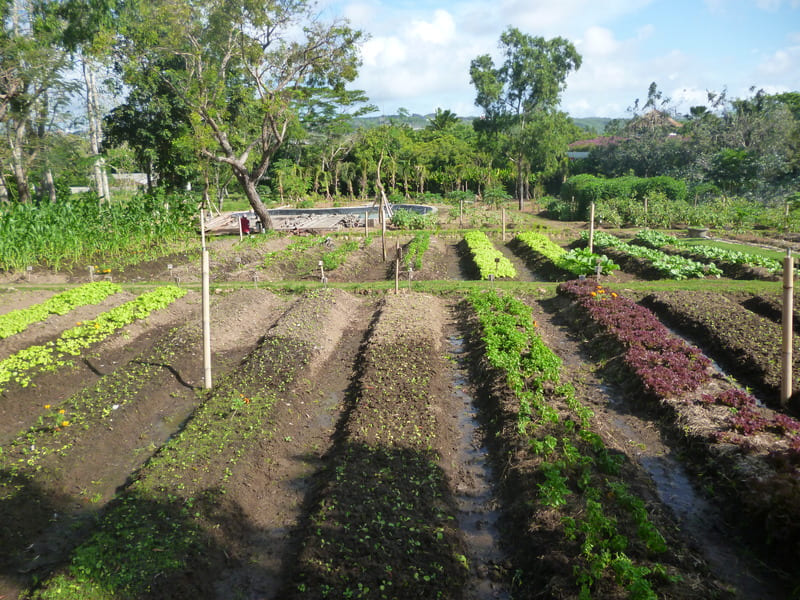 Every segment of the site is meticulously crafted to synergise and establish a harmonious, sustainable ecosystem. The Apotek Hidup, also known as the living pharmacy, is a tribute to Balinese and Indonesian medicinal wisdom. Local plants and herbs are harnessed to advocate health and well-being. Simultaneously, the flower beds and vegetable Fibonacci sections showcase a rich variety of organic and sustainable yields, encompassing fruits, vegetables, herbs, and flowers in abundance. Edible flowers like – a rather remarkable experience than that of eating flowers while strolling down the garden.
Make your own "jamu"
While the Ayana Kids Club makes frequent trips to the organic farm, families are naturally encouraged to join as well. "Japanese and Korean families particularly appreciate this type of experience," notes Andika, the overseeing instructor during our reporting. He delves deeper into the variety of flowers flourishing on the farm: "They fall into four categories – the edible ones that offer health benefits, those that repel pests, the ones used for dyeing, and, naturally, the ones that enhance the garden's allure and beauty!"
Since its re-opening, the farm has offered exciting new activities that let guests enjoy the beauty of nature and learn about sustainable methods and traditional farming in Bali. Balinese people deeply value their farming traditions and caring for the environment so this site is the perfect place to learn about the island's special agricultural history. Including making "jamu" – if you join the workshop dedicated to the healing powers of Indonesia's traditional herbal drinks – you'll have the opportunity to harvest fresh medicinal herbs and craft a personalised "jamu" tailored to your needs. Additionally, you will create your own skincare products, including massage oil, "lulur", and "boreh".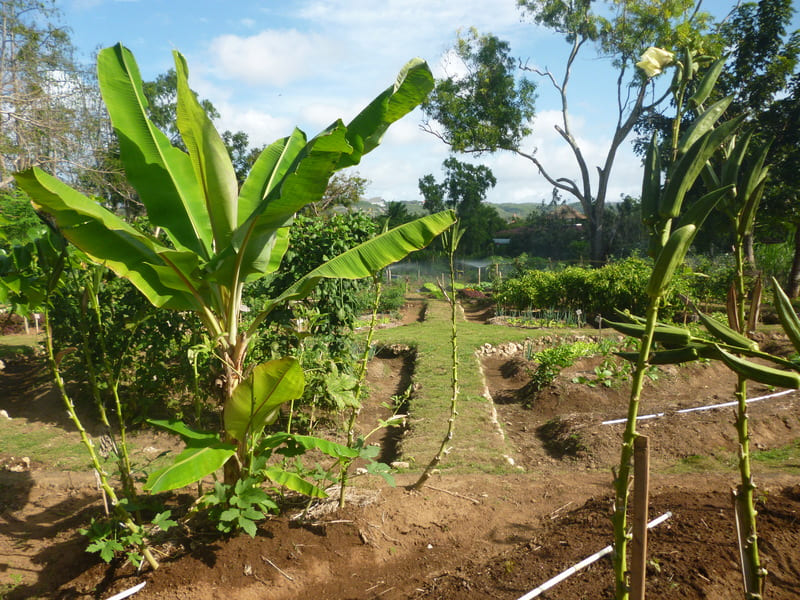 Reverse osmosis recycled water
By incorporating environmentally friendly and climate-conscious strategies like maintaining soil health and biodiversity, conserving water, and optimising resources, alongside techniques inherited from generations of Indonesian farmers, the farm stands as an exceptional haven for individuals interested in understanding environmental sustainability and Bali's age-old agricultural values, our guide develops. While reflecting on this, we walk further down the estate, passing the nursery, and the fruit section and turning towards the composting site. On our right, construction workers are building a pond to grow water lilies.
While progressing to another section, we indulge in remarkably delicious tomatoes and long beans. Our instructor elucidates the proper methods for planting and cultivating tomato plants to yield the most flavourful produce. Continuing our journey, we repeat the process with chillies, onions, and rosella plants. As we walk back up the field on the opposite side, we are told how the recycled water system utilised on the farm works.
"The water we provide from our recycling station is also reverse osmosis water. This type of water is incredibly clean and pure. We achieve this by passing regular water through a special filter, which acts like a super-fine net, capturing even the tiniest particles. This process ensures that only clean water remains, free from any impurities. It's a reliable way to obtain water that is both very pure and safe for drinking or of course, farming."
Wrapping up our tour with a visit to the hydroponic tent and the herb garden, we then head to the open-air platform bar that offers a scenic view of the site. Here, we continue our tasting experience while reflecting on how enchanting and enriching the visit was.
But before we conclude, let's recap the array of activities available here, perfect for families eager to explore distinctive farming experiences while learning. First, The Farm Walk activity takes place on Mondays, Thursdays, and Saturdays, running from 9-9:45am. It is open to both guests and community members, offering insights into the farm's sustainability principles and traditional methods of cultivating a wide range of vegetables, fruits, herbs, edible flowers, and medicinal plants. The activity is complimentary for participants.
Create your own herbal with the Apotek Hidup
For guests seeking a deeper understanding of sustainable farming techniques, the Rediscover Agriculture program provides opportunities like planting, harvesting, and exploring the farm's Apotek Hidup. This experience is available every Tuesday, Friday, and Sunday, from 8:30-10am. Participants will have the opportunity to create their own herbal teas using the farm's edible flowers and herbs. The program is priced at Rp250,000++ per person. The Traditional Herbal Remedies Workshop takes place every Tuesday and Thursday, running from 3:30-5:30pm with "jamu" experts from The Jamu Bar, established by the great-granddaughters of Nyonya Meneer – priced at Rp1.2 million++ per person.
The Afternoon Tea allows guests to savour a variety of teas and snacks while experiencing the farm's rich biodiversity and enjoying the beauty of its fertile lands. The experience is available on Wednesdays and Sundays from 3-5pm, with a price of Rp300,000++ per person. Guests with an interest in mastering mixology can engage in the Farm-to-Bar workshop, scheduled every Friday and Saturday from 4-6pm. Participants will create their own personalised cocktails and mocktails using freshly harvested edible flowers, herbs, and spices for Rp550,000++ per person.
Now, all that's left for you to do is roll up your sleeves, gather your shovels and picks, and get down to the hard work of organic farming in a luxury resort!
AYANA Estate
Address: Jl. Karang Mas Sejahtera, Jimbaran

Contact +62 811 3820 2288 or email

[email protected]