Have you been frustrated lately sitting in your car and not moving? I'm sure you have as these endless traffic jams are getting worse by the day.
And a real solution definitely does not appear to be in sight. With the awful state of the public transport system, who wants to voluntarily leave the car at home and take a bus? They are, after all, a dirty and dangerous affair. And even the fast-track TransJakarta busses don't always get you to your destination quickly.
Having been part of Jakarta's car driving mob for the past 30 years, I believe that it is traffic management more than the other drivers, or the motorcycles, that are responsible for the traffic jams and gridlock.In other words, the main contributor to the current chaosis the system of traffic rules and regulations. And these are in turn exasperated by thead hoc rules imposed by an overstretched policeman trying to tame the disarray at his intersection.
Many intersections and T-junctions have been "regulated",recently or in the past, with the typical result that traffic flows have been reduced to a trickle.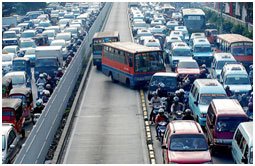 It appears that somewhere in the handbook for traffic managers it says: keep traffic moving at intersections! And one of the ways to achieve this is:avoid right-turns! And so one is frequently sent straight on, mostly for quite a distance, to the break in the road divider where a U-turn is allowed. This right-turn phobia appears to be the reason why so many roads have a concrete divider in the middle—without it that U-turn would be made much sooner. In respect of the shortage of U-turn points it is interesting to note that drainage efficiency is improved when the system consists of many small drains rather than a few large ones; and similarly, getting on and off MRT trains is quicker when the wagons have many smaller doors rather than one or two large ones. I bet that the same holds true for traffic flow: rather than one U-turn point every few kilometres, there should be openings in the divider at least at every sidestreet, and possibly every fifty or so metres.
The Governor of DKI Jakarta, Ir. Joko Widodo, has made mitigating the notorious traffic situation one of his prime concerns. With the full force of the government administration behind him the proposed programmes are largely infrastructural in nature: MRT, monorail andmore urban toll roads to increase the facilities, together with a few restrictive programmes such as the odd-even number plate days. But again, how is it possible to limit the use of personal vehicles when there is no adequate mass public transportation available?
The handbook or traffic manager remains, however, untouched and more obstructions are on the books.
Here is a recent example. On the intersection of Jl. Wijaya 1/Wijaya 2 and Sultan Iskandarsyah/Prapanca Raya, traffic on Wijaya 1 coming from Tendean is no longer allowed to go straight onto Wijaya 2, but is forced left on Prapanca Raya where at the traffic circle they can opt for Brawijaya or back to Wijaya 2. The latter route would take them to another unnecessary twisting and turning as they will need to circle Darmawangsa Square before reaching Panglima Polim.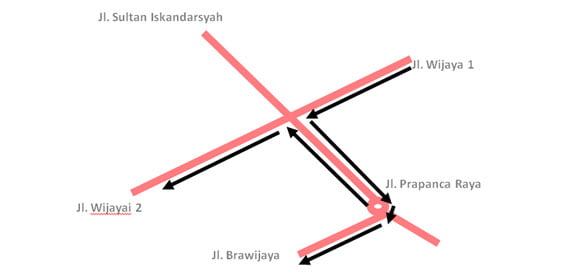 These are only two examples of incomprehensible traffic management decisions. Many more do undoubtedly exist.
In bringing these to your attention I'm hoping these issues caneventuallycome to the attention ofthe powers that be. And who knows… one day they could even be corrected.