During violent attacks on 14 January in Jakarta, the media grossly misreported the facts. It was sloppy and irresponsible, as fear mongering is the definition of terrorism.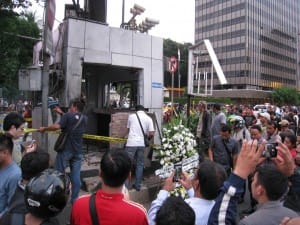 Recent terror attacks revealed many things about Indonesia as a nation. It proved Jakartans are not only a resilient bunch, but that they understand the necessity of not cowering from violence.
Following the explosions, Indonesians took to social media. They first wanted to make sure their loved ones were safe. Next they wanted to show the world they wouldn't be intimidated, nor would they change their daily routines. A flurry of humorous memes and folk hero stories surfaced the following day as a result.
One was the tale of a satay vendor who refused to leave his cart, despite being situated in the thick of a gun battle. Business was better than usual; he sold a lot of meat that day. Netizens united across all channels with a single message and hashtag on social media: #KamiTidakTakut (#WeAreNotAfraid in English).
Despite a steadfast response from the police and the overwhelmingly healthy reaction of Indonesians, however, something was distinctly missing from the attack: responsible journalism.
In case you've been living on the moon for the past fortnight, here's the gist of what happened:
At around 11am on Thursday, January 14, multiple explosions and gunfire erupted near the Sarinah mall at the intersection of Jalan Kyai Haji Wahid Hasyim and Jalan MH Thamrin. One blast went off at a Starbucks and one went off at a police structure in the middle of the intersection. The botched attack occurred near a United Nations information centre, as well as a couple of luxury hotels and foreign embassies. An armed standoff took place on the fourth level of Menara Cakrawala (Skyline Building) for several hours. At least eight people, four attackers and four civilians, were killed. More than 20 others were injured. Police took two of the attackers alive. ISIS later claimed responsibility for the attack, and the global spotlight has been on Indonesia since. The government now plans to strengthen its anti-terror law this year to give police greater powers of arrest.
Nicole Asgar, a sports producer and television presenter for MNC Media, was an eyewitness. Watching the event unfold from her window in the adjacent building—and from the TV studio—Asgar says no one truly knew what went on in the hours following the attack. She says misreporting took hold of the city that day. Otherwise level-headed media firms erroneously ran with unreliable data and even audacious hoaxes.
"The situation got the best of everybody," Asgar tells Indonesia Expat. "Four major media outlets, including iNews, tvOne, Indosiar, and Radio Elshinta, were later sanctioned by the Broadcasting Commission of Indonesia for delivering false news surrounding the attack. They reported explosions in Kuningan, Palmerah, Cikini, and Slipi. The reports turned out to be false. The blame should be wisely put on the authorities for not controlling the news cycle immediately to avoid misreporting."
Other circulating messages purported that armed men were driving around in a green car (with one on a motorbike) wreaking havoc in South Jakarta, shooting wildly with an AK-47. This too turned out to be untrue.
Asgar says, during the attack producers and editors failed to give reporters adequate information and background facts. They also did not cross-check with authorities. "All information on terrorism comes directly from the police as the prime source," explains Asgar. "Additional information usually comes from analysts or academics. If there is any misreporting, it usually happens during live reports."
Certain media received alerts from the Indonesian police department containing a video clip of a man in black clothing, making threats to police and authorities. It was soon discovered that this man had nothing to do with the attacks on Thursday, and the clip was actually from 2014. Asgar says she knew of the video, but her network did not air it because MNC received it second-hand, with little knowledge of its origin.
One of the day's most flagrant reporting foul-ups happened when multiple media mistook a police officer for a terrorist. "The 'man in the white shirt' was first referenced as one of the shooting suspects for a good couple of hours," says Asgar. "He was later identified as a member of the police, and he was actually shooting at the alleged terrorists."
Other rumours quickly precipitated alleging the terrorists were expressly targeting Americans. A screenshot of an email instantly circulated, warning US citizens to stay away from the general area of the blast site. The viral image was the only piece of evidence the public could link to a US-targeted attack.
Regardless, it inspired more insidious rumours that the US may have seen the attack coming, which in turn prompted conspiracy theories. The US Embassy denies being tipped off about the attack. "Currently, there is no evidence to support this notion ever surfacing. We will most likely never find out the true targets of the terrorists," says Asgar.
While Indonesians take pride in their ability to turn a tragedy into a social media sitcom, important questions remain for traditional media. Should editors be opportunistic about page views during a violent attack?
Does an emergency situation give broadcasters a license to shoot from the hip, ignore fact checking protocol, and spread fear?
In this writer's opinion, the answer is an overwhelming no. A terrorist attack is a time when the principles of journalism are most important. Without them, the media become instrumental to the attack itself. Although Indonesians say they're not afraid, Jakarta media executives should be — not of ISIS, but of losing their audiences.