The Ngurah Rai Special Class I Immigration Checkpoint Office in Bali continues to strive to enhance the quality of foreign tourists and enforce the law for foreign nationals who encounter issues on the Island of the Gods.
It is believed that if the supervision of foreigners is conducted optimally, it will attract quality tourists in the future.
This was stated by the Head of the TPI Ngurah Rai Special Class I Immigration Checkpoint Office, Sugito, during an event titled "Socialisation of Reporting Foreigners" at the Mercure Bali Nusa Dua on Tuesday, 19th September 2023.
This outreach was also communicated to hotel, resort, and tourist accommodation entrepreneurs, as well as the general public, to report the whereabouts and activities of foreigners staying or working in Indonesian territory using the APOA (Aplikasi Pelaporan Orang Asing/Foreigner Reporting Application).
"Because approximately 17,000 to 18,000 foreigners come to Bali every day. Therefore, to monitor them, cooperation and collaboration with various related agencies are required. One of these is through APOA," said Sugito.
APOA is an application developed by the Directorate General of Immigration to facilitate reporting the whereabouts and activities of foreigners staying or working in Indonesia. Having data on foreigners available in an application simplifies and optimises monitoring activities in Indonesian territory, both by Immigration officers and related stakeholders.
"There are currently very few violations committed by foreigners that have become viral on social media, thanks to the collaboration and cooperation of Immigration with the National Police, Regional Government, and all stakeholders. I would also like to thank the Association of Indonesian Hotels and Restaurants and the Bali Villa Association for their reporting contributions by foreigners, which they have done. Thanks to reporting on the APOA application, we can quickly address violations committed by foreigners," said Sugito.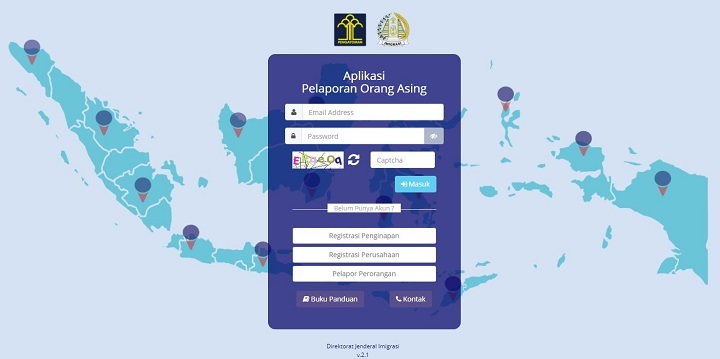 Sugito added that APOA can be downloaded via the Playstore service with the keyword "Foreigner Reporting," but the public can use the apoa.imigration.go.id page if they encounter issues accessing APOA.
Based on data received from the Bali Regional Office of the Ministry of Law and Human Rights until the end of August 2023, it was recorded that 213 foreigners had been deported from 45 countries.
The largest number was 59 Russian foreigners, followed by the United States (14), England (13), Australia (12), and Nigeria (9). Meanwhile, in 2022, as many as 188 foreigners were deported from Bali.
On average, misbehaving foreigners are subject to sanctions for abusing residence permits, circumventing residence permits, and committing criminal acts or violating legal norms and rules in force in Indonesia.