Jakarta Governor Basuki "Ahok" Tjahaja Purnama's supporters have pledged to stage rallies at the court complex throughout the remaining days of the governor's blasphemy case and push for fair judgment.
Soelianto Rusli, a member of Bara-Badja (Volunteer Front for Basuki and Djarot) and head coordinator for the protests, told reporters that the supporters' decision is the result of a meeting held prior to the third hearing on Tuesday. The demonstrations seek to demand for the judges to release the Jakarta governor.
Rusli explained that they saw the need to balance the sentiments from those condemning the incumbent gubernatorial candidate as guilty. He added that the blasphemy trial has been subject to public pressure and has become politicized.
The Bara-Badja member was quoted in a phone interview that they wanted to be present at the trial to ensure that the judges are fair in handling the case. "We see that [he] has been criminalized . . . [so] we want this trial to be fairer."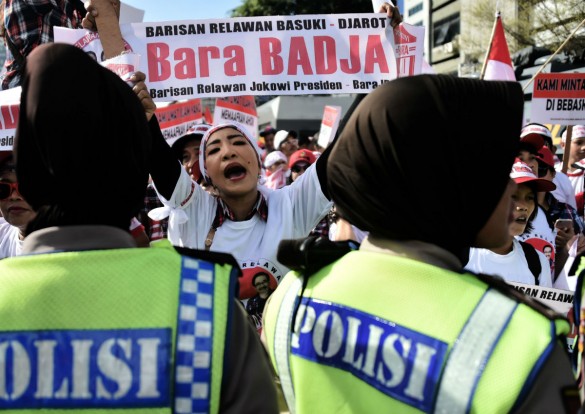 The Supreme Court has mandated for the hearing to be moved to a new venue, which is at the main hall of the Ministry of Agriculture in Pasar Minggu, South Jakarta, to eliminate disruptions in public areas.
The new venue has a higher capacity, at it can accommodate around 100 to 200 people as opposed to the previous courtroom venue that could only hold 80 visitors.
The Supreme Court has approved moving the trial venue for Ahok's blasphemy case following police authorities and prosecutors' request for a new venue to avoid disrupting public activities at the old location, which was right in the middle of the city's economic center.
Of Christian-Chinese descent, Jakarta Governor Ahok has been charged with blasphemy, for violating Articles 156 and 156 (a) of the Criminal Code after allegedly misquoting the Koran in a political campaign speech in Thousand Islands during his September 27 visit.