Luca Pezzera, executive chef of the Union Group's Caffè Milano and the recently opened Bistecca, shares his story of Italian roots and becoming an elite chef in Indonesia.
Since the age of 14, Luca Pezzera knew he would one day become a professional chef. He travelled, saw the world, and meet new people which further convinced him to take up a career in the culinary industry. Fast forward to 2016. The 47-year-old did what he set out to do, and currently sits at the helm of two high-end restaurants in Indonesia, and one in Singapore.
Growing up in the city of Bergamo, northeast of Milan, Luca knew his way around the kitchen as he was raised by a family of cooks. "My nonna [grandma] and my mamma are both great cooks, and I have always helped out around the kitchen. My neighbours also used to make wood-fired pizzas in their backyard, and I was always keen to assist," says Pezzera.
His mother was his role model. She used to remind him to use fine and raw materials in his cooking. "My mother is my inspiration. She taught me to keep things simple and uncomplicated," he says. The chef even keeps his mother's recipe handy, an all-time favourite pasta with zucchini and prawns, used as one of the dishes at an event when his mother came and collaborated with Pezzera in Caffè Milano's kitchen.
Pezzera's career in Indonesia began in 2002, when he landed a job in Jakarta as a head chef at Hotel Intercontinental's Scusa. Five years later, he moved to Singapore to open up Bontá Italian Restaurant & Bar, followed by several more outlets of another restaurant named District 10 – one that he also co-owns today. In 2015, he collaborated with the Union Group to establish Caffè Milano before ultimately deciding to move back to Jakarta after launching Bistecca.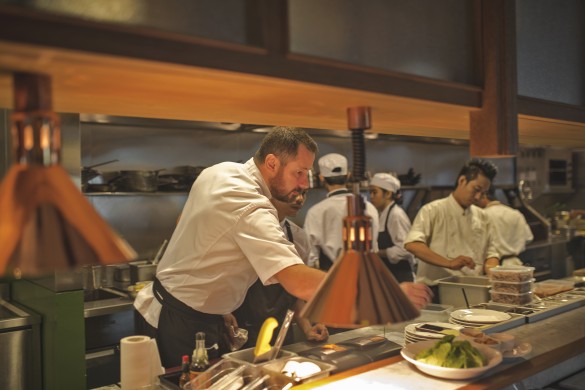 When asked about his thoughts on working in Jakarta, the chef revealed that the people and culture in the capital keep his job interesting, as they always push him to become better. "I love how the people in Jakarta are so hospitable and warm, and very open to new things.
The fact that a majority of the people here appreciate good food very much also really motivates me as a chef to always serve the best quality and most delicious dishes to my customers," he explains.
In addition to the people's passion for food, he acknowledged that the food industry in Indonesia is now "more diverse and developed" as customers are increasingly more open to different tastes and cuisines. This in turn makes the food business in the archipelago more competitive, which also challenges Pezzera and other chefs to come up with new dishes, and step up their games.
Pezzera, for example, believes chefs these days are returning to the traditional ways of cooking. Similarly, the man himself turns out to be a fan of traditional cooking equipment. He bakes pizza using a hot stone oven in Caffè Milano, and grills all of the meat over charcoal and wood – a method which he describes as "old school" – in Bistecca.
Apart from keeping up with the trends when it comes to cooking techniques, he still prioritizes the quality of food by always using fresh ingredients, while also trying to stay focused on authenticity. These principles are all expressed at Caffè Milano, an all-day restaurant that serves classic Italian dishes, cocktails and wine. At the venue, customers can feel the dining culture from Milan and Northern Italy when they first step in.
"What also sets us apart from other Italian restaurants in Jakarta is how we are able to recreate a classic Milanese trattoria with our outdoor area. In addition, the energy we have within Caffè Milano itself is also a unique quality," says Pezzera.
For restaurants under the hands of such a big company like the Union Group, Pezzera notes that it is important for the people working inside to have the same passion and spirit that he does. Luckily, the company's co-founders and board of directors are able to work together with the chefs and managers to maintain the best quality of food, service and company culture, says Pezzera. All of these, according to him, are the keys for the Union Group to keep its top eateries sustainable.
Outside of work, Pezzera also has a kitchen life of his own. He revealed that a pair of knives, an old wooden block chopping board, staple ingredients of garlic, olive oil and chilli powder would never leave his side when preparing a dish at home. At night when he gets hungry, the chef often turns pasta into aglio olio for a snack. Spaghetti with sautéed scallops, garlic, olive oil and fresh Sicilian sea urchin is Pezzera's guilty pleasure.