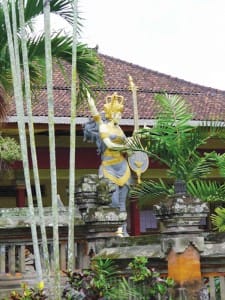 With the islandwide celebration of Dewi Saraswati on August 10th, it's only appropriate to offer a paean to Bali's bountiful World of Books. The wife of the god Brahma, Saraswati is the Indian goddess of wisdom, the guardian spirit of the creative arts, learning and knowledge. The graceful Balinese gooseswan, the nearest thing on the island to a true swan — the symbol of the muse — is her sacred mount.
Hari Raya Saraswati is a day of thanks to this beloved goddess for bringing education to the world. Out of respect, it is not permissible to read or write from Friday evening until special rites are carried out on sacred manuscripts. On this day all books are taken out and dusted, then presented as an offering. Special attention is paid to Bali's oldest "books," sacred lontar palm leaf manuscripts, which have been taken out from valuable collections, cleansed and blessed by priests and put on exhibit in the Puja Saraswati ritual.
At Gedong Kirtya (Jl. Veteran 20, Singaraja, tel. 036222645) visitors may view these holy books and even take photos. A staff of 24 take care of the 4,000 odd lontar books in this library which record the literature, mythology, horoscopes, black and white magic, folklore, rituals, medical science, calendars, genealogies and histories of Bali and Lombok. The most precious, dating from the 18th century, are kept in a special airconditioned room. Every September 14th there's a big anniversary celebration. Hours: 7.30 am3.45 pm, closes at 1 pm on Friday, closed Saturday and Sunday.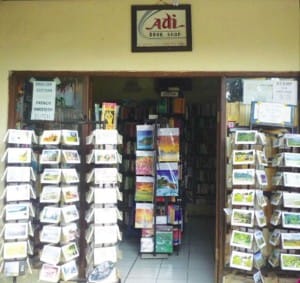 Bookstores of Bali
Bali's best stocked bookstore is the massive Gramedia on the second floor of Mal Bali Galleria (Jl. Raya Bypass Ngurah Rai, tel. 0361758072) which sells thousands of titles in Indonesian, imported books and magazines, novels and bestsellers.
Periplus, with 15 bookstores all over Bali, sells a very wide range of books, a large number of which they publish themselves. Periplus is often the sole distributor of new book titles in Indonesia. This shop carries a range of English titles of local interest, literature, art, interior decoration, spirituality, cooking, plus novels, interactive children's books, general nonfiction, maps and the latest international magazine. Browsing isn't encouraged as there are no chairs and most books are wrapped in plastic.
Ganesha Bookshop, on the corner of Jl. Raya Ubud and Jl. Jembawan (opposite the post office) in Ubud, has been selling new books since 1990. They have a huge stock of books in English on Indonesian literature, language, cooking, culture, arts and history and books for children. Website http://www.ganeshabooksbali.com for ordering from a comprehensive online catalog. Hours: 9 am – 8 pm daily. Tel. 0361970320. Another Ganesha Bookshop inside Biku Restaurant at Jl. Petitenget 888 is open 8 am – 11pm every day. The Ganesha Bookshop in Sanur (Jl. Danau Tamblingan 42) has a special area set aside as a reading room for young readers to help foster reading for pleasure in the local community.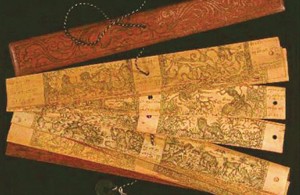 Specialty Bookshops & Secondhand Books
Respectable collections of art books (of Balinese, Indonesian and expat artists), art catalogues and scholarly publications are sold at Agung Rai Museum of Art (ARMA), Jl. Raya Pengosekan, and at Neka Art Museum Bookshop, Jl. Raya Sanggingan. Threads of Life, Jl. Kajeng 24 (near the Ubud Palace), tel. 0361972187, stocks books on textiles, weaving and art. Hours: 10 am – 7 pm.
Enchanted Books, Jl. Raya Kerobokan 69 (tel. 0361734822) stocks a great selection of fiction, nonfiction, and bilingual Indonesian/English books for children from infant to 12 years old. Hours: 10 am – 6 pm daily. The reception area of The Yoga Barn (tel. 0361971236), a 10 minute walk south from KAFE down in Pengosekan, shelves the most extensive collection of yoga books on Bali, a whopping 75 titles, most imported from India. Hours: 7 am – 8pm.
Because of the literally millions of travellers and tourists passing through Bali, leaving vast quantities of used books in their wake, there is no shortage of used books available for trade or purchase. These books end up in hotels and eventually in permanent and semipermanent secondhand bookstores all over the island. You can usually return the books you buy to the same vendor and get back half of what you paid. But in spite of the deluge of books, don't expect to buy them for next to nothing. Used books cost Rp.30,000 to Rp.50,000, and for new bestsellers as much as Rp.100,000. Nevertheless, you can often find books for free. In the lobbies or restaurant areas of small hotels guesthouses and homestays, travellers leave behind their books for others or for the hotel to make available for trading.
You are also sure to stumble across small makeshift stalls selling reasonably priced books of decent quality. In some cases, a seller's stock is carried on the back of his motorbike. Look for bookstalls and portable vendors selling novels and travel books along Jl. 66 in Seminyak in front of the Lanai and Zanzibar restaurants, down Poppies Lane and on Jl. Raya on the way to the beach in Petitengat. Another popular little secondhand bookshop is just outside the back entrance to Bintang supermarket.
In each Ganesha Bookshop in Ubud, Petitinget and Sanur are glassed cabinets containing unusual, rare and outofprint titles on Indonesian history, politics, art, literature, and travel narratives. Used books sold in all 3 stores are returnable for a 50% buy back. Anita and Ketut may be contacted by email: [email protected], by tel. 0361970320 or on Facebook (Ganesha Bookshop).
Anyone who loves secondhand books — from romance and bodicerippers to serious academic titles and quality trade paperbacks — will gravitate to Susan's Book Swap at Dijon, Jl. Kuta Poleng Mall, tel. 0361759636, email: [email protected] net.id, near the big Simpang Siur roundabout. This popular event takes place on the last Saturday of each month (subject to change) between 1 pm and 4 pm. You can take away as many books as you came with, except for children's books that can only be traded on a oneforone basis.

Book Clubs & Libraries
It's no coincidence that the Ubud Writer's & Readers Festival, which draws book lovers from all over the world, sprang to life in Ubud — a village bibliophiles. Attracting a more cultureoriented longterm resident and traveller, Ubud is awash with bookstores selling new and used books. It is the location of the island's best independent bookshop, Ganesha, as well as excellent secondhand bookstores. Surprising finds can also be made in nontraditional bookselling venues such as Ubud Music, Jl. Raya Ubud and the Balispirit Shop. Even the Ubud Post Office sells books!
The Ubud Writers Group meets on the 2nd and 4th Thursday of each month from 10 am to midday at Bayu's Kitchen in Penestanan. Attendance at meetings varies from five to 10 people. The group's members have published three collections of stories and poems about life in Bali. For more information about UWG, email Steve Castley at [email protected].
The Ubud Children's Library: This private nonprofit library in the Pondok Pekak compound shelves an extensive collection of children's picture and activity books, approximately 4000 in English and 2000 in Indonesian. A full time bilingual children's librarian provides English language lessons free of charge to local Balinese children, art activities on the weekends and storytelling during the week. The fee to borrow three books every two weeks is Rp.50,000 per annum plus a Rp.150,000 refundable deposit. Book group and school memberships are also available upon request. Hours: 10 am – 5pm Tuesday to Friday; 10 am – 6 pm Saturday and Sunday. For further information: tel. 0361976194, email: [email protected].