Been to Bali? Tired of the haggling hawkers vying for your attention? Explored Lombok? Looking for a relaxing island getaway without having to book a plane ticket? Look no further. Just a short car ride from the comfort of your Jakarta home (yes, closer than Soekarno-Hatta airport) is the gateway to Pulau Seribu (the Thousand Islands).
Located in the Bay of Jakarta are a cluster of approximately 100 islands referred to as the Thousand Islands. Still part of the province of DKI Jakarta these islands vary in size, use, and facilities. Stretching 45km north from Jakarta's harbours into the Java Sea, the district capital of the Islands is located on Pramuka Island where local infrastructure such as schools, residential housing, and medical facilities are available to the local population. The remaining islands consist of two heritage listed sites associated with the VOC and the Dutch colonial empire, community and government land, privately owned islands, and uninhabited islands supporting the local fishing community. A small handful of the larger islands have been developed to accommodate tourism.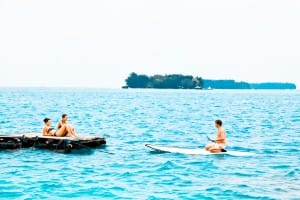 The Thousand Islands enjoys a steady patronage of predominantly domestic tourists. Islands such as Ayer, Bidadari, Kotok, Putri, Pantara and Sepa offer guests an array of activities to enjoy including snorkelling, diving, water sports, beach volleyball and a spot of fishing off of the jetties. For an overnight stay, a variety of accommodation is available via a number of local tour companies that can be found online. Most of the accommodation available is in the form of cottages both on the island and over the clear waters of the shores. Each island's accommodation package listed will generally offer a per person rate and detail the number of meals and boat arrival and departure times.
Activities, amenities and the level of service offered by each of the islands will vary according to the size and facilities available. Selecting the island best suited for you will depend on whether or not you are travelling alone, with a travelling companion or with family. The type of activities you are inclined to enjoy will also determine your selection of island. As a general rule, the farther the island from the jetty in Jakarta the clearer the water.
A short 30-minute boat or jet-ski ride from the dock in Jakarta will bring you to an underwater aquarium attached to a resort style hotel, however snorkelling at this location is generally not advisable.
Venture out another half an hour and you will be met by clear blue glistening seas and waves lapping at the pristine white sandy beaches of idyllic islands, some of which are dotted with cottages. These are the waters that are ideal for diving, snorkelling, water sports and fishing.
Twice daily boats and jet foils ferry visitors from two main ports in Jakarta to the so-called tourist islands and back. As a day-tripper you can enjoy a day out on an island between the boat drop-off and pick-up times. Islands will generally charge a day visitor fee for access to the island and additional charges for meals and activities (note not all the islands will have food outlets that cater to non-staying guests).
For those of you who are interested in personalising your Thousand Islands experience by going island-hopping, team-building or leisure fishing in the open waters then chartering a boat for the day would be the way to go. Boats for charter are generally available from the tour companies servicing the Thousand Islands or through negotiation at the docks (an exercise perhaps only for the well-seasoned traveller). It is important to be aware that the size and condition of vessels will vary significantly, along with the on-board safety provisions and facilities provided.
A seasoned traveller can help you and your travelling party out with sourcing a sound vessel that is equipped with an English speaking host, western food and beverages on board, access to islands with water sport facilities, and the provision of amenities such as fishing rods, as well as towels and fresh linen on overnight trips. Tailoring your trip to the Thousand Islands can make all the difference, leaving you to simply enjoy the sun, the sea and the mesmerising sound of the waves rolling along the hull of your boat.
So whether a day-trip or a weekend trip, the Thousand Islands is an option not to be missed. Located right on your doorstep, it is an idyllic getaway just waiting for you. Happy travels!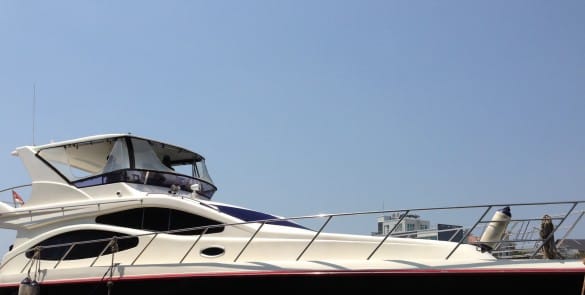 Fast Facts: The Thousand Islands
How to get there: By boat or jet-foil from Ancol Marina or Pluit Marina, or private yacht
What to bring: Medical kit, sun protection (hat, sunscreen, sunglasses), mosquito repellent, fishing rods, wet gear, change of clothes, light food, water, ice box/cooler, appropriate footwear for boat and water, personal amenities
What to do: Diving, snorkelling, fishing, water sports, sightseeing, island-hopping, sun-bathing, yoga (self-organized)
Explore the Thousand Islands! English speaking host, tailored day or weekend itinerary suited for fishing, sight-seeing or water sports activities on a privately owned yacht. Call Ben on 087885228039.