Amidst the bustling energy of Indonesia's capital city, Jakarta, lies a world of luxury, tranquillity, and unparalleled hospitality.
For those seeking an escape from the urban hustle, Jakarta's surrounding areas offer a plethora of top-notch resorts that promise relaxation, rejuvenation, and a chance to indulge in the finer things in life. From lush green retreats to beachfront paradises, these resorts provide a perfect getaway for both locals and international travellers. In this article, we embark on a journey to explore the top resorts around Jakarta, where modern comfort harmoniously meets the natural beauty of Indonesia's archipelago.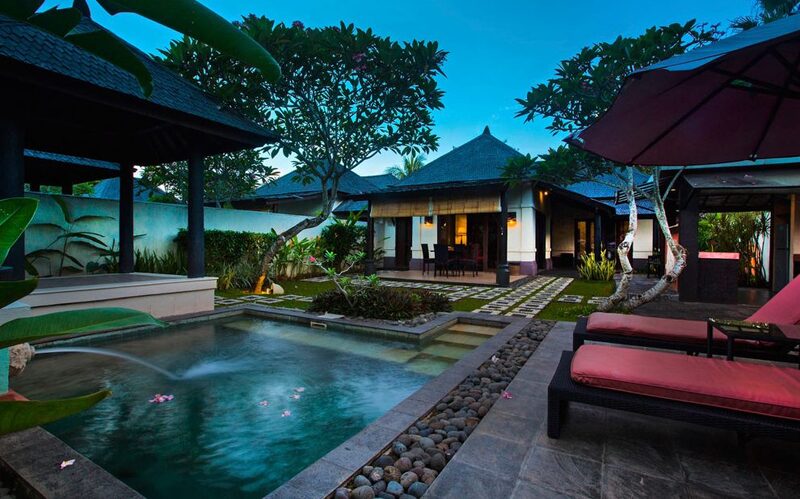 Tanjung Lesung
Located just 2-3 hours away from Jakarta, Tanjung Lesung in Pandeglang, Banten, is rapidly evolving into an internationally recognised tourist destination akin to Bali's Nusa Dua. This coastal town offers a range of accommodation options, including Beach Hotels and exclusive Villas with the choice of private or non-private swimming pools. Travellers to Tanjung Lesung can relish a unique and diverse range of experiences, from swimming in pristine waters and witnessing breathtaking sunrises and sunsets against the backdrop of Anak Krakatau mountain to diving amidst vibrant coral reefs, cycling along the scenic shoreline while savouring local cuisine, exploring the exotic surrounding islands, or immersing in the rich culture of the Baduy village. Whatever your preference, be it culture, adventure, or nature, Tanjung Lesung has something to offer every traveller.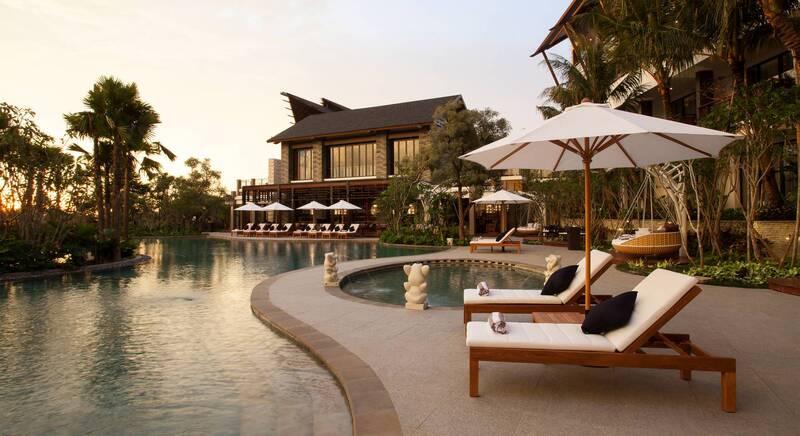 Pullman Ciawi Vimala Hills Resort Spa & Convention
Mount Salak's majestic presence graces the horizon, a breathtaking view visible from every corner of the resort. Each room, suite, and villa seamlessly combines Indonesian artistic flair with Pullman's distinctive style. For fitness enthusiasts, Pullman Fit is a 24/7 haven offering activities that promote health and well-being, including jogging and cycling tracks amidst the lush gardens and rice fields surrounding the resort and al fresco yoga sessions against the backdrop of misty morning mountains. The luxury spa pampers guests with a wide array of rejuvenating massages and treatments. Dining at Pullman is an exceptional experience with one vibrant all-day restaurant, a convivial steakhouse, a casual lobby lounge, and a poolside bar, ensuring every meal is a special event.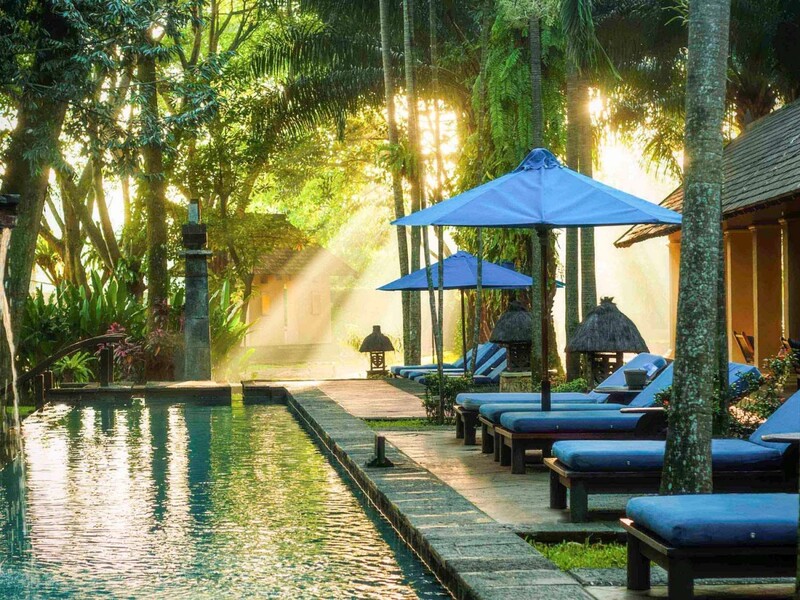 Novotel Bogor Golf Resort & Convention Center
Nestled at the mountain's base, Novotel Bogor Golf Resort & Convention Center enjoys the refreshing mountain air. Visitors are treated to a wealth of amenities, including two restaurants, a bar lounge, and resort facilities such as complimentary Wi-Fi, a swimming pool, a poolside bar, a kids' club, a playground, tennis courts, a fitness centre, and a spa. The resort is enveloped by 5 hectares of lush tropical gardens and is situated within the prestigious Bogor Raya Golf Estate, adjacent to the city's foremost 18-hole golf course. Guests can expect traditional, spacious, and comfortable rooms, thoughtfully designed with local Bangkirai wood interiors complimented by contemporary amenities.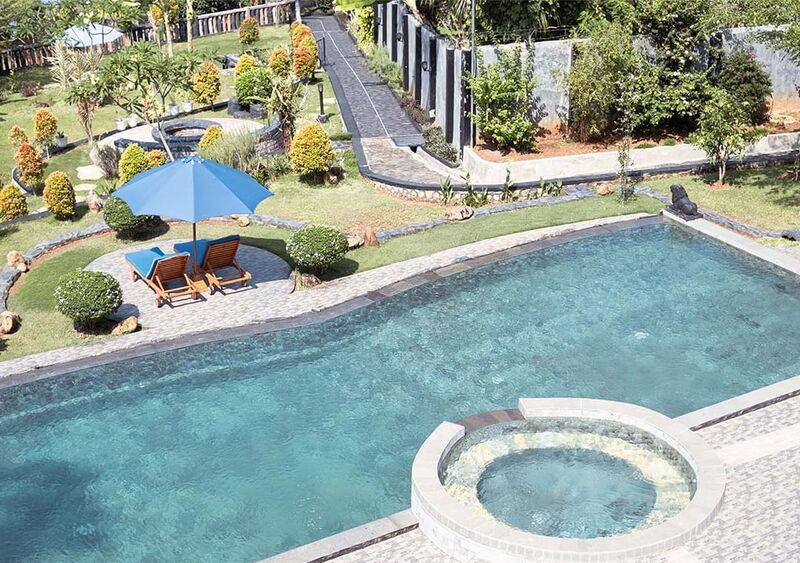 House of Belasun
Tuckey away in the heart of Pelabuhan Ratu, House of Belasun is a hilltop retreat that beckons travellers seeking a tropical escape filled with tranquillity, mesmerising sunsets, and lavish comforts. This pet-friendly haven provides homely accommodations, boasting high-speed internet, satellite television, coffee and tea facilities, air conditioning, and spacious outdoor terraces complete with daybeds, all overlooking the serene ocean vistas. Guests can expect the utmost in luxury with premium bed linens, chic bath towels, and a range of complimentary amenities. For food enthusiasts, the outdoor barbecue area offers the perfect setting to savour fresh catches from the sea or local markets, creating an unforgettable culinary experience.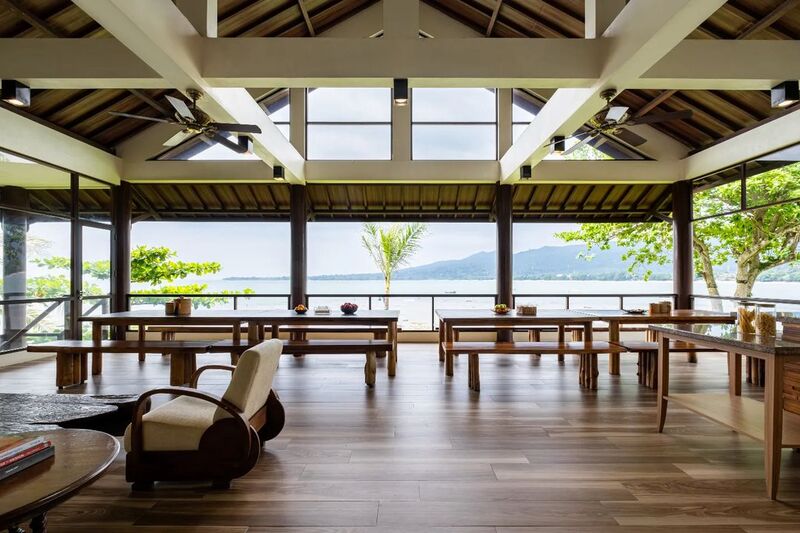 Mutiara Carita Cottages
This expansive eco-resort, located amidst the beach, hills, lake, and forest, offers a truly immersive experience where every activity fosters a deep connection with nature. Designed to accommodate family reunions and gatherings of friends, the resort features spacious accommodation units ranging from 2 to 5 bedrooms, along with ample communal areas for bonding. Distinguished as the sole resort in the Sunda Strait region that allows guests to fully embrace the natural world, it offers a diverse array of water bodies and lush greenery. Furthermore, the eco-resort is dedicated to conservation efforts, ensuring the well-being and protection of the surrounding wildlife, including birds, fish, and various organisms, making it a haven for both nature enthusiasts and conservation advocates.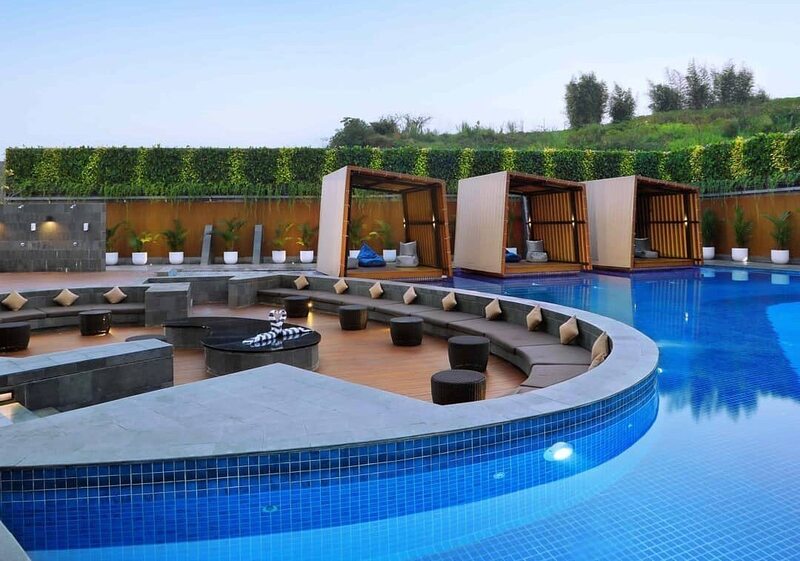 The Alana Hotel & Conference Center – Sentul City
Conveniently situated only 30 minutes from Jakarta and a mere 10-minute drive from Bogor, this destination ensures quick access for visitors. Inside, all rooms come furnished with a wardrobe, sofa, ensuite bathrooms featuring comprehensive amenities, a hairdryer, and a shower. For a unique dining experience, the Vertikal Skylounge, located on the 11th floor, welcomes guests to relish local cuisine and beverages amid the serene mountain ambience while enjoying panoramic mountain views of Sentul City. Spanning an expansive 1600 square metres, this lounge offers both indoor and outdoor seating options, catering to diverse preferences.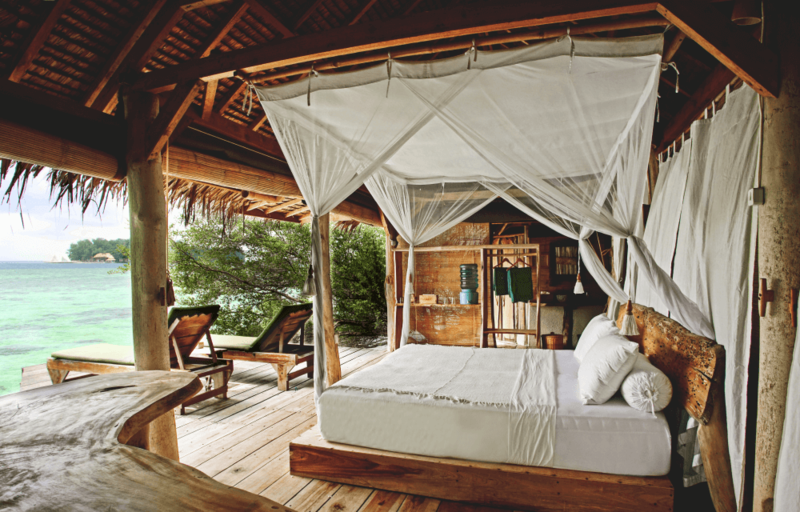 Pulau Macan Eco Lodge
Pulau Macan Eco Lodge, situated in the northern part of Kepulauan Seribu, is part of a cluster of 342 islands, with only 13 of them fully developed and renowned as sought-after recreational destinations. Accessible by a direct 90-minute speed boat ride from the North Jakarta pier, Pulau Macan Eco Lodge embodies the concept of regenerative tourism, striving to create a positive impact on the environment, society, and the local economy. Simultaneously, the lodge offers a remarkably high standard of comfort, service, and an enjoyable experience for its guests. This eco-friendly lodge is an ideal choice for beach enthusiasts and leisure travellers, providing amenities like a bar, spa, shared TV lounge/area, and a designated smoking area for guest convenience. The dedicated and welcoming hotel staff is committed to elevating the overall guest experience, making it an even more enticing place to stay.
Pesona Alam Resort & Spa
With 138 hotel rooms blending minimalist contemporary design with natural influences, guests at Pesona Alam Resort & Spa can effortlessly reconnect with nature. Inspired by European architecture and the serene Puncak atmosphere, they also provide villa options, ranging from 1 to 3 bedrooms. Exuding to the warmth and comfort of a country house, each villa is ensconced within a charming garden, complemented by a family swimming pool, gazebo, and the tranquil embrace of a nearby pine forest. The resort offers a diverse range of activities for all preferences, including indoor options such as a Game Room, Karaoke Room, Table Tennis, and Billiard, as well as outdoor adventures like Archery, Horseback Riding, Paintball, and scenic Walk and Cycling Tracks.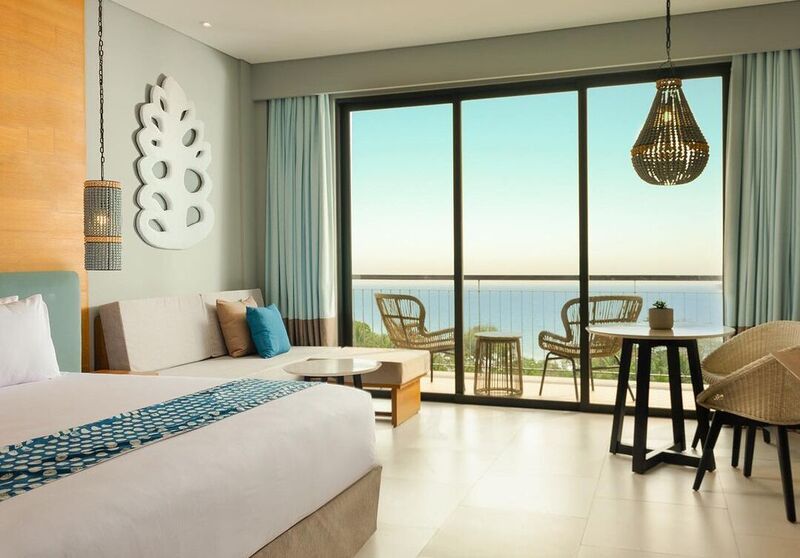 Novus Jiva Anyer – Villa, Resort & Spa 
Situated in the picturesque Anyer region, Novus Jiva Anyer perches 32 metres above the ocean, offering breathtaking views of the Java Sea and the surrounding mountains. This destination seamlessly blends relaxation and excitement with a touch of sophistication and elegance. Guests can bask in tranquillity within lush tropical gardens, accompanied by the gentle ocean breeze, and explore a deeper connection with nature. The resort boasts a range of facilities catering to leisure, family entertainment, and wellness pursuits. Luxury rooms atop woodland mountains provide complete privacy, and spacious villas offer supreme comfort with private pools. At the Serai Restaurant, families can enjoy family-style meals in a lively open-air ambience, where the refreshing ocean breeze enhances the dining experience.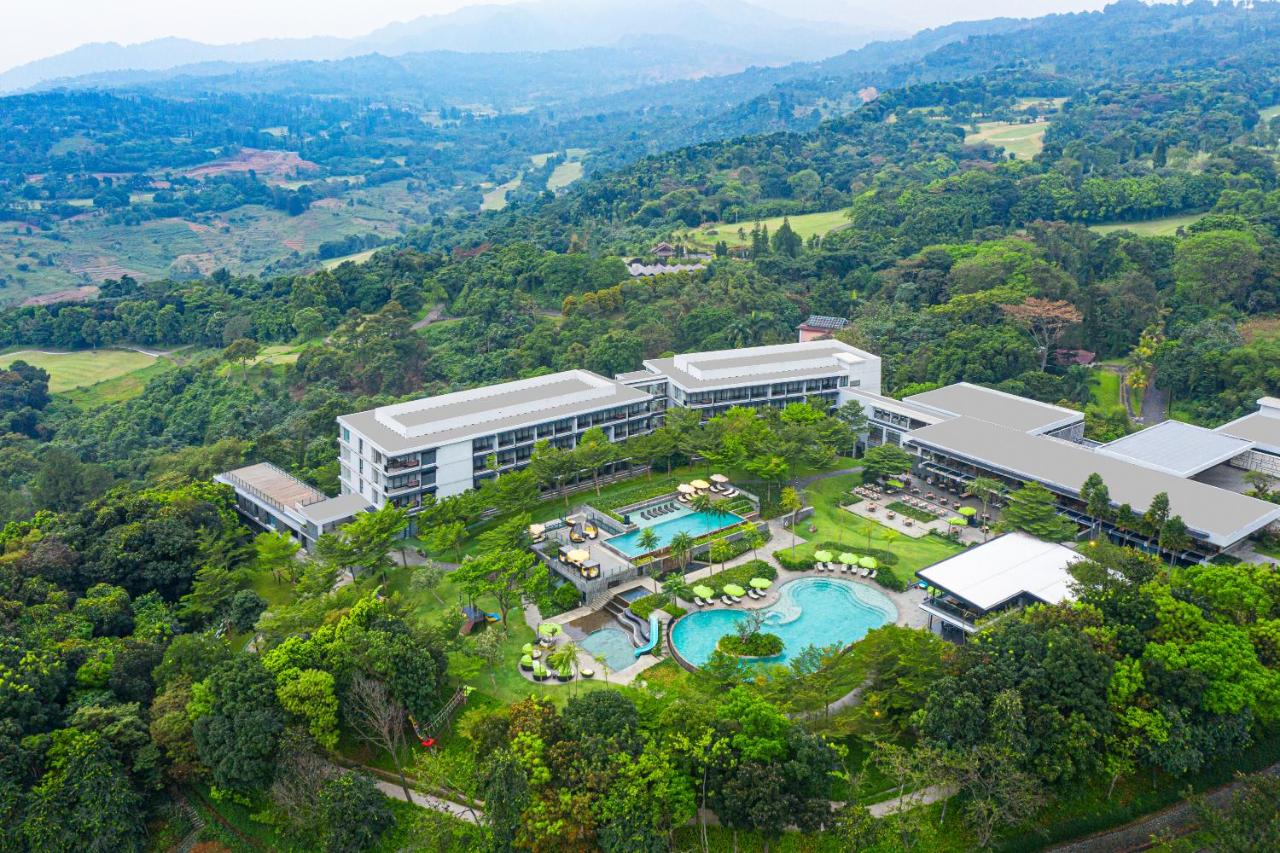 Royal Tulip Golf Resort Gunung Geulis
Located in Ciawi, Bogor, the 5-star Royal Tulip Gunung Geulis offers a sweeping view and invigorating mountain air, providing a perfect escape. Its vast 450 hectares of mountain terrain seamlessly blend with the golf complex, creating a tranquil and rewarding atmosphere. The resort boasts 173 luxurious rooms and suites, ranging from Deluxe Rooms to Royal Suites, all thoughtfully equipped with high-end amenities and complimentary Wi-Fi access, ensuring a comfortable stay in Bogor. Guests can unwind and relish room service while enjoying the picturesque scenery from their private balconies. With two restaurants and bars, along with a lounge serving snacks and bites, a delectable array of menu choices awaits discerning diners.