Zainal, the leader of the group of boys who brutally raped and murdered a 14-year-old schoolgirl in Sumatra, was sentenced to the death penalty by an Indonesian court on Thursday, September 29.
The leader of the gang accused of raping and murdering a teenage schoolgirl was sentenced to death in a court on Sumatra island. Four other members of the group were sentenced to 20 years in prison for their roles in the heinous and high-profile April attack. The victim, whose name was Yunyun, has become a figure synonymous with women's rights and the fight against sexual assault in Indonesia.   
While sexual violence against women and children shows up in the news semi-often in the archipelago, gang rapes and murder are more of a rarity.
The case of the of the 14-year-old girl's rape and murder prompted President Joko Widodo to sign a law imposing harsher punishments – including chemical castration and death – for attacks on children. The regulation has been submitted to Indonesia's parliament and is waiting for approval.
Judge Henny Faridha read the court order of sentencing Zainal to death for the "sadistic nature of the crime."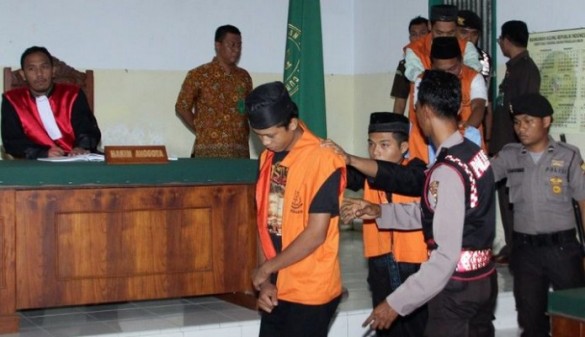 The crime was carried out by a group of 14 males, including eight juveniles, the youngest member being only 13 years old. The 14-year-old girl was attacked as she was on her way home from school on April 2. Her body was dumped in a nearby rubber plantation two days later after her parents reported her missing.
The police reported that seven of the gang members have been sentenced to 10 years in prison, one was ordered into a one-year rehabilitation program, while another suspect is still at large.
At the court sentencing, the victim's parents said the penalty was not enough to give justice to their daughter's death. Yana, the victim's mother, told reporters that all suspects should get the death penalty.
The crime was reminiscent of the brutal gang rape of a female university student in India's capital, New Delhi, in 2012. Just as it provoked a national outcry on the treatment of girls and women in Indian society, the Indonesian case has generated outrage, especially from women's rights activists groups, pressing the government to take violence against women and children more seriously.
Featured image via BP.Blogspot; image DeathPenaltyNews