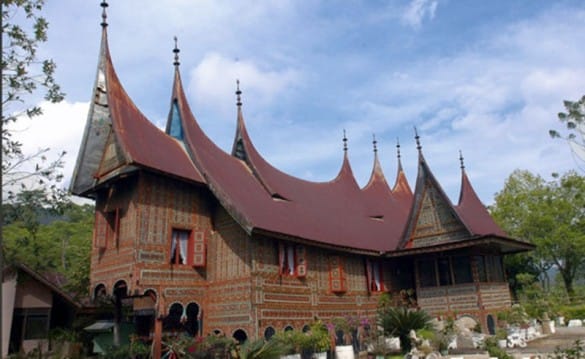 South Solok, located along mountain ranges of Sumatra, has a cool climate. While taking a trip from Padang city to this area, travellers will enjoy the beautiful hillside villages with a wide range of tropical forest plants. Things get more interesting as they also pass through the rivers on the sidelines.
Entering South Solok regency, travellers will be greeted by beautiful King Balun Palace, which is one of the palaces of Kings of Four (Raja nan Empat) in Alam Surambi, Sungai Pagi sub-district, Daulat yang Dipertuan Tuanku Rajo Bagindo Raja Adat Alam Surambi Sungai Pagu. He had authority to handle indigenous and economical affairs and excelled in tambo (historical records). In the palace, visitors can not only find heritage objects relating to the origin of Sungai Pagu people, but they can also see elephant skeletons believed to have originated in ancient times.
The lineage house (rumah gadang) turns 600 years old and has been burned in the Dutch period. Under Japanese occupation, its rangkiangs (small hut to store harvested paddies) were ever burned. The house still has many ancient texts and well-preserved equipments for the coronation of the king. Equally interesting, it is equipped with 24 pillars representing its clan names, Kampai nan Duo Puluah Ampek (Kampai of Twenty Four). Four of which are still original, wrapped in yellow cloth.
Moving further, visitors will arrive at Nagari 1,000 Rumah Gadang (One Thousand Rumah Gadang village). It is a traditional village located in Koto Baru village, Sungai Pagu sub-district, Solok Selatan regency, 141 km away from Padang City. Almost the entire dwelling places in the area are lineage houses. Natural beauty of the village was once used as the movie setting of Tenggelamnya Kapal Van der Wijck (The Sinking of Van der Wijck), an adaptation of a late 1930s Indonesian novel of the same title penned by Haji Abdul Malik Karim Amrullah, who is better known as Hamka.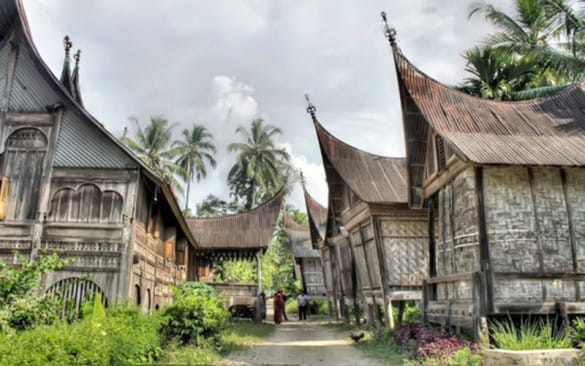 The name of 'One Thousand Rumah Gadang' village is given by Meutia Hatta, Women's Empowerment Minister in Yudhoyono's first Cabinet from 2004 to 2009, during her trip to the village. The name behind the village suggests assorted kinds of lineage houses based on clan names in the village such as Gajah Maharam, Bodi Chaniago, Koto Piliang and Surambi Aceh. While their buildings remain original thus far, the houses have their own uniqueness with or without stunning carvings on the walls. Regular maintenance is entrusted to younger offspring of each clan staying in the village.
Most of the lineage houses in the village are estimated to have been 90 years old and still function well for various cultural festivities. It is important to note that all customs-related activities must be carried out at rumah gadang. As a consequence, the lineage house plays a momentous role in strengthening ties of clan members involving mamak (mothers' brothers), nephews, and urang sumando (in-marrying husbands). Some houses in the region are used as guest houses for tourists, so that they can enjoy the thrill of sleeping inside the houses. Considering its distinctiveness, the government of the West Sumatra province proposes that the Nagari 1,000 Rumah Gadang in Koto Baru be a cultural heritage under UNESCO's World Heritage. In 2013, thanks to Tour de Singkarak (TdS) across West Sumatra, the local government of South Solok has allocated as much as Rp.4.8 billion to renovate the traditional houses. The budget, for instance, has been used to revamp the toilets that can be adapted to the habits of foreign tourists.
In South Solok particularly and West Sumatra in general, rumah gadang remains in existence to this day, but more as a symbol of tradition. Very few Minangkabau live in rumah gadang. The men have developed the tradition of merantau (travelling) to make a living for their mothers, sisters and wives away from the scarcity of land in their hometowns. Many Minangkabau women do the same for similar reasons, or simply because there are more opportunities in other provinces. They have outgrown the modesty and simplicity of the big house.
Travelling to the South, visitors will go through Sangir sub-district with Padang Aro as its capital. Visitors will see Mitra Kerinci tea gardens right at the foot of Mount Kerinci three kilometres prior to Padang Aro. Looking to the west side of the tea garden, they see how Mt. Kerinci stands firmly as the highest mountain in Sumatra. Furthermore, South Solok is also blessed with several waterfalls, like Ampek Tansi and Timbulun, as well as enticing Air Malanca River.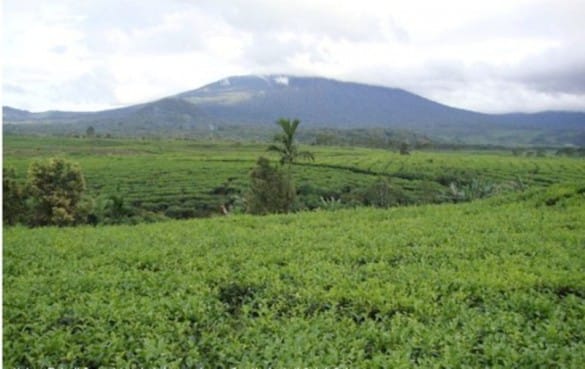 Another interesting tourist attraction in South Solok, counted as a historical site, is the office of the Emergency Government of the Republic of Indonesia (PDRI) in Bidar Alam. There are some historical sites yet to be identified and listed and are subject to development in the future. As for natural attractions, South Solok possesses potentials for tourism needed to be seriously managed, among others Lake Bontak at the foot of Mount Kerinci, hot springs in various places including Sapan hot spring near Pangkuo river, caves or grottos, river rafting and campgrounds in Batang Sangir river, Batang Bangko river and many others.
The tourism potential of South Solok may become an important sector in improving the economy of the community and increasing local government revenues (PAD). The development of the region calls for indispensable participation of all parties—government, perantau (wanderers), investors, and private sectors like tours and travel agencies.
The South Solok local government is right behind the promotion of Nagari 1,000 Rumah Gadang. Tourists can get there by renting a car at the airport in Padang and there are several hotels in South Solok areas.
Getting there
Daily flights from Jakarta to Padang are available with Garuda Indonesia, Sriwijaya Air and Lion.
Where to stay
Hotels :
Zam-Zam and Sulit Indah. Both are in Jl. Kampung Parak No. 66
Homestays :
Hilmalaya in Jl. Imam Bonjol No.34 A. Panjang
Wisma Zam-zam Melati in Desa Pasar Muara Labuh Sungai Pagu
Irwan Jaya in Desa Pdg Aro Kec. Sangir
Wisma Umi Kalsum in Jl. Bt. Laweh No. 21 Muara Labuh