The growling, battered 'executive' bus stopped in front of our hotel in Labuan Bajo, its engine hungrily pointing towards the road out of town. From this thriving, chaotic east coast port of Flores, we first rattled up a steeply forested road through an undeveloped countryside of corrugated-roofed, bamboo woven shacks in the middle of well-swept dirt yards with coffee, cacao and cloves drying on mats.
On the other side of the mountain, we descended on a newly built highway with stolid bridges, immense rocky river canyons under steep cliffs, then traversed vast expanses of rice fields. The bus was packed, limbs and boys hanging out of windows, Javanese pop blaring at ear shattering volume as we headed for the Bajawa Highlands, capital of Ngada Regency.
Home to the Ngada people, known in early Dutch literature as the Rokka, this mixed Malay/Melanesian race settled this high fertile plateau around 2,245-metre Mt. Inerie in the 17th century.
With great natural beauty on all sides, Flores is the Switzerland of Southeast Asia, one of Indonesia's most traditional islands, possessing so much more of a distinct Melanesian flavour than its neighbouring island of Sumbawa that it could constitute a foreign country.
After a gruelling all-day ride of tortuous mountain roads, shivering in the darkness under sarongs with freezing air pouring through every crack in the chassis, we were dropped off in the rain at 10pm on Jl. A. Yani, Bajawa's main street. The nearest hotel, the Korina, was the cheapest in town. Run by three sweet teenage girls, the rooms were small, the pillows brick-hard, rats scurried in the walls, but the place was clean, offered free Wi-Fi and breakfast.
Motorcycle Tours
Although an attraction in itself – clean, relaxing and refreshingly cool with a wide range of accommodations and rumah makan – high altitude Bajawa is principally used as a base for exploring the surrounding hilly countryside where indigenous animist beliefs still flourish, the volcanic scenery is spectacular and where famous sofi alcoholic drink is made and earthy full-bodied coffee is cultivated. No one hassles you to buy anything.
There was no problem finding a guide. They found you. As soon as we emerged from the Korina the next morning, a press of friendly but persistent touts, motorcycle ojek drivers-cum-guides, greeted us offering their services. After some back and forth bickering, we hired two guides who told us about a kesao house-warming ceremony that was to take place the next morning in the mountaintop village of Tolelo. We struck up a deal for Rp.150,000 for one adult and two kids on two motorcycles.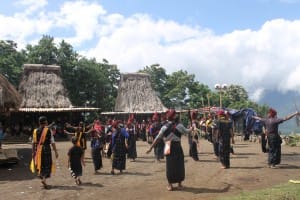 Dion and Hillalio were at the Korina at 10am the next morning. I asked them to draw a rough map and list in their own hand what stops were included in the price – Tolelo as well as the traditional village of Bena and dip in a hot springs along the way. The ride took us on a winding road out of town, through towering bamboo stands and at the end, a climb up a steep and muddy dirt path beside a stream as it twisted its way up a mountain through a tropical deciduous forest.
Just before the village, we passed a shrine to the Virgin Mary then paid our respects at the house of the kepala desa (village head) before wandering around and taking photos. We signed the guest book and made a small donation. Rows of high thatched roofed Ngadanese bamboo traditional dwellings and ritual houses with doorways decorated with jawbones and buffalo horns stood around a stone-edged central square.
Dancers were forming up around upright pole-like ngadhu and bhaga ancestor totem stones that were placed in between the structures. Separate groups of women and children started dancing in a circle with arms linked, revolving counter-clockwise. In these graceful 'round dances', they held out a long scarf and danced with shuffling steps, hands fluttering and bodies gyrating while advancing, retreating and encircling other dancers.
Then it was the men's turn, some with rawhide shields and painted helmets tufted with horsehair which protect the face like an uplifted welder's mask. Assuming a war-like stance, to the accompaniment of whistling, gongs and drumbeats, circling each other like cats. I sat for a while beside the deep-thumping Florinese orchestra, the best vantage point from which to view the hypnotic, unrehearsed performance in which the entire village took part.
By now it was the middle of the afternoon. Wanting to get back to town before dark, we said our goodbyes and started on the trail back down. Only 30 minutes from the Tolelo's parking lot, we made a stop at a river where all our exertions were awarded a swim in hot water that bubbled up from an underwater spring.
Our tour ended at Bena, the most visited of all the old traditional villages in the area, 19km southeast of Bajawa at the foot of extinct Mt. Inerie. This three-tiered village, with totemic figures and tomb-like megalithic structures in the village square, practices its own brand of animism as well as cultural and artistic traditions little known outside of obscure missionary journals. After taking photos of several women weaving ikat on their verandas, a boy took me up a hill for an amazing view of the sea beyond a cascade of green hills.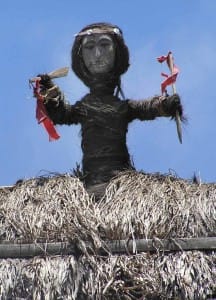 —
Fast Facts
Land size: Ngada Regency total area 1,621km square
Population (2010): Bajawa 36,082
Highest elevation: 1,100 metres
How to get there: Bus fare from Labuan Bajo Rp.100,000-Rp.150,000. AC buses cost Rp.250,000, 8-12 hours (depending on season). Any hotel in town can arrange tours and order bus tickets.
Stay: Edelweisse is upmarket at Rp.200,000-Rp.300,000. Budget Korina Hotel is Rp.150,000. Villa Silverin is simple but nice. Bintang Wistata is OK for a night or two. Marselino's Homestay is great for backpackers. Hotel Happy Happy is a small, well-run hotel with great breakfasts.
Whichever hotel you stay in, ask for a bucket of hot water, towels and extra thick blankets because it's cold at night!
What to do: Beno, Langa, Bela, Luba, Wogo and Tolelo villages for adat traditional houses and megalithic sculptures. Wawo Muda for volcanic lakes.
Guide services (min. 4 people) cost from Rp.75,000-150,000 per day, including transport and driver. Tours may be tailored to fit your priorities and time restraints. Guides are excellent sources of information on harvest festivals, ritual sacrifices, consecration ceremonies, weddings and other family celebrations.