When Andrew Miner discovered Batbitim Island in 2003, he found a remote shark finning camp in a vast sea devastated by dynamite and cyanide fishing. Where once the blood of sharks flowed, now stands the Misool Eco Resort: a discrete getaway woven with reclaimed tropical hardwoods nestled on the shore of a lagoon now teeming with life.
But that's just the half of it. According to Miner, the resort is a means to an end. For him, this picture-perfect resort pays for his real passion: funding the 1,220-square-kilometre marine conservation site that contains some of the richest biodiversity on the planet.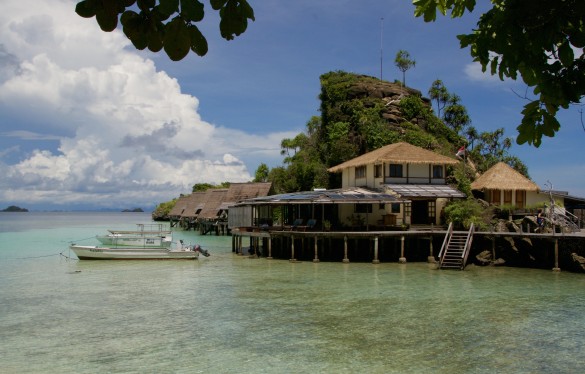 As Indonesia struggles to woo more tourists away from hotspots like Bali, it's out-of-the-way gems like Batbitim Island that will stand out. But the persistent use of blast fishing and the Jokowi administration's drive to increase tourism poses severe risks to the fragile ecosystems of Raja Ampat's coral reefs. Miner is hoping his resort may serve as a model for channelling tourism in ways that preserve local livelihoods and the environment.
"It's not just about investing in the business but also about investing in the community," said Miner in an interview with Indonesia Expat, his eyes sparkling when asked how he did it.
It wasn't easy. Old traditions were quickly fading. In the past, a nearby pearl farm employed locals who could simply buy fish they needed. Far from police or any regulation, those who made a living from the sea weren't above destroying habitats while they did it. Disposable income bought disposable goods. Soon plastic bags and used shampoo sachets were washed into the sea.
Miner had to earn the support of local communities and Raja Ampat's authorities. He did that by appealing to traditional fishery management called sasi – a local practice that bans marine harvesting according to the life cycle of several native mollusks and fishes. By prohibiting fishing during key developmental periods, local villagers are assured of an abundant supply of fish year after year.
Miner approached village chiefs and other officials to propose an eco resort that would employ local villagers, support waste management in the waters of Misool and empower those communities to enforce the sasi practice.
"The district head, the Camat. He was fantastic, and he got it straight away. Job opportunities, economic opportunities," says Miner. "We had all sorts of open discussions."
Village leaders were sold because it revived local traditions. The pearl farm owner was on board because cleaner water meant better quality pearls. The result? A ban on dynamite and cyanide fishing and a protected zone in a stretch of open water a little bigger than Hong Kong.
To help the communities monitor the area, Miner established three base camps and employed 15 permanent rangers. "We work both with the traditional leaders, the adat, and the marine police. It's very much about raising awareness," Miner said, using the catchall term meaning customs.
The hard work paid off. Beneath the sparkling turquoise waters of the lagoon, colourful parrotfish, juvenile reef sharks and even the wobbling batfish seem to thrive. Several marine experts involved in Miner's project from early on believe the volume of marine life in the conservation area has doubled in just eight years.
At the centre of Miner's effort is the resort itself. Each of the resort's 17 villas is crafted from more than 600 tonnes of reclaimed tropical hardwoods found in the forests of the island or washed up on shore. Each accommodation is meticulously designed with comfort in mind, but also to give guests a stunning view and access to the lagoon and surrounding reefs. The resort desalinates seawater for drinking, bathing and toilets for its max 40 guests and has a built-in cistern to collect rainwater for the more than 80 Indonesian employees living at any one time in the staff village.
A small kitchen turns out an amazing parade of delicious foods. Every meal has a vegetarian option that focuses on health and keeping the guests well-energized for their daily schedule of activities. Diving requires a generous number of calories, and so Misool's kitchen staff prepares four meals a day. But even in the kitchen there is attention to staying eco-friendly.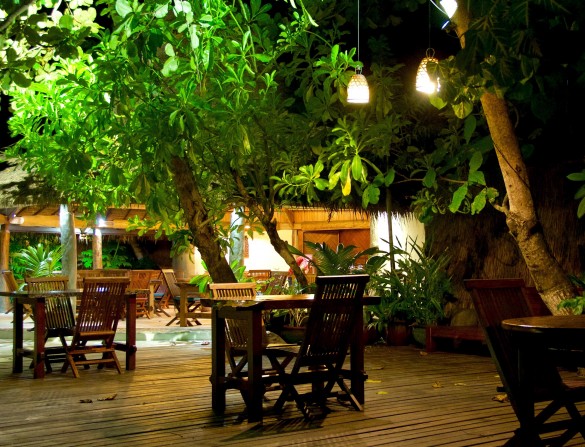 "We don't serve any shellfish," says Sue, assistant manager at Misool. "The shells generate more waste than our composting can handle."
Leftover food waste and other organics are composted. Sewage and wastewater are directed to one of the nearby garden containers that serve as a beautifully disguised means of filtration. Solids are trapped in the upper portion of the planters, then a series of porous pipes channel liquids through rocks and soil, fertilizing planters brimming with palms, ginger and heliconia, until fresh water trickles back into the sea.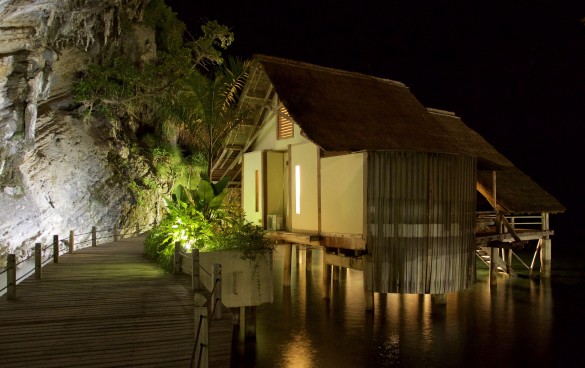 And the sea is the main attraction. Each of the more than 25 dive sites offers guests a staggering array of marine life. Snorkelers and divers who start their visit in the resort's house reef happen upon red snappers, king-sized groupers and even the tiny Raja Ampat seahorse no bigger than a grain of rice.
What Miner is doing in Raja Ampat could pay not just environmental dividends but economic ones, too. Economists say fish (especially the big impressive ones) are worth more alive than dead. A gray shark can attract US$33,500 in tourist spending each year. A reef manta: US$1 million. By contrast, blast fishing robs the economy of half a million dollars a day. Much of the country's reefs are already destroyed, and the government's drive to double tourist visitors to 20 million a year by the end of the decade may make matters worse.
To be sure, Misool Eco Resort may not be in everyone's budget. A week of diving will set a couple back $8,500, exclusive of airfare. But that's a reasonable enough price for a truly authentic experience where the tourists, not nature, pay the price of the trip and where divers leave only their bubbles.