The Indonesian archipelago, featuring 17,000 islands, has so much to offer insatiable adventurers. While more and more expat travellers are beginning to venture beyond Bali and Lombok, planning holidays in Eastern Indonesia can be tricky with the region's tourism industry still in its infancy and most information remaining offline.
But for those willing to make a leap of faith, rewarding experiences and unmatchable memories await. Eastern Indonesia is a vast playground of thrilling underwater escapes, unforgettable outdoor adventures and distinct historical cultures.
Don't forget to bring comfortable outdoor apparel and shoes, protective swimwear, a raincoat, sun protection, flashlights and extra batteries as well as plenty of cash. 
Makassar, South Sulawesi
Once an important port of international trade, Makassar has become a modern waterfront city with a royal history of ancient globetrotting sailors and fiery colonial battles. Within an hour's drive, discover the mountainous landscapes of Maros, the crisp seascapes beyond Losari Beach, places of cultural and historical interest and culinary adventures for carnivores.
Around Makassar: Go snorkelling around Samalona Island and sandbathe on her white-sand beaches. Take a scenic boat ride to view the Karst Mountains of Rammang-Rammang. Go caving around Leang-Leang to see prehistoric cave paintings. Trek the Bantimurung waterfall and learn about British naturalist Alfred Russel Wallace's legacy in the Bantimurung Butterfly Museum. Visit the musician Daeng Serang Dakko at his home studio in Sanggar Alam. Tour Fort Rotterdam for glimpses of Makassar's royal past.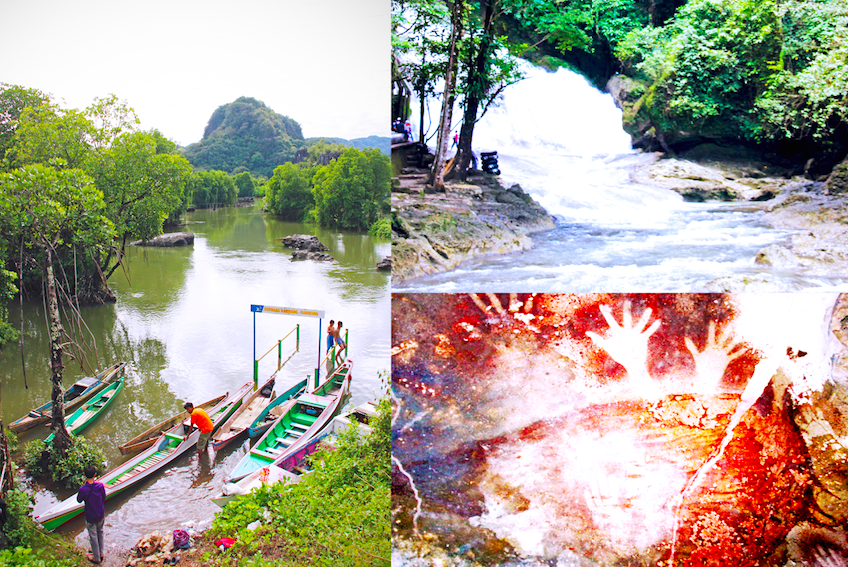 Further away: View the making of phinisi ships in Tanjung Bira. Go diving and turtle watching in Selayar. Attend a ceremonial burial in Tana Toraja. 
Eat: Coto Makassar (beef or offal stew in spiced peanut broth). Iga bakar (barbecue beef ribs). Ikan bakar nasi santan (grilled fish with coconut rice). Konro kuda (horse stew).
How to get there: Daily flights into Makassar International Airport from most Indonesian major cities. 
Tentena, Central Sulawesi
Lake Poso is home to tranquil white-sand shores, tall waterfalls, rich biodiversity hotspots and subterranean limestone catacombs housing human remains. Up in the Poso regency highlands, the Bada Valley is home to prehistoric anthropomorphic monoliths similar to those of Easter Island.
Around Tentena: Hire a local fishing boat to go snorkelling or fishing in Lake Poso –stop by the Watu Ngonggi musical rocks. Swim in Pantai Siuri and the Saluopa Waterfalls. See the endemic black orchid at the Bancea Orchid Park. Trek the Latea River and cocoa plantations to get to the Latea Cave, the final resting place of local ancestors.
Further away: Move up to the Bada Valley for a tour of prehistoric monoliths. Ask your guide to finish with a trip to the local hot springs.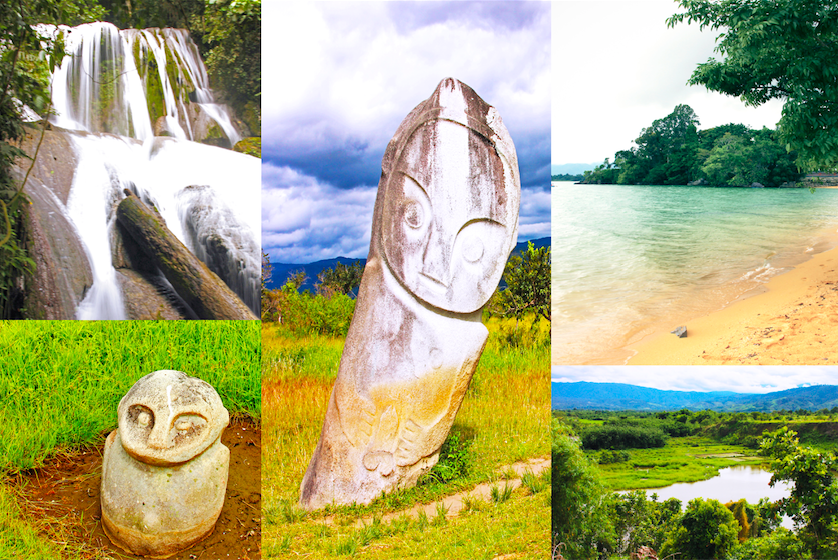 Eat: Woku sogili (Lake Poso eel wrapped in coconut leaf and spices). Tosu-tosu katue (grilled shellfish, similar to saté). Ituwu manu (chicken cooked in bamboo). 
How to get there: Fly into Poso via Makassar or Palu. Rent a car to Tentena.
Taliwang, West Sumbawa, NTB
If your idea of a holiday includes secluded surf spots and adventure sports overlooking scenic landscapes, Taliwang may be worth a visit. With plans to open the Sekongkang Airport later this year, and the rise of homestays popular among foreign visitors, Taliwang may expect a rise in tourism in the coming years.
Around Taliwang: Spend a day riding the waves at Sekongkang Beach or Kertasari Beach and have dinner at Maluk Beach. Ask your homestay in advance to help organize a paragliding excursion at the Mantar Highlands, or fly a drone from here. Jump into the waterhole at Tiu Kalela waterfall. Tour the Kemutar Telu Centre with a local guide to learn the history of Taliwang as a vassal state of the Sumbawa Sultanate. Check out the local Main Jaran horse races.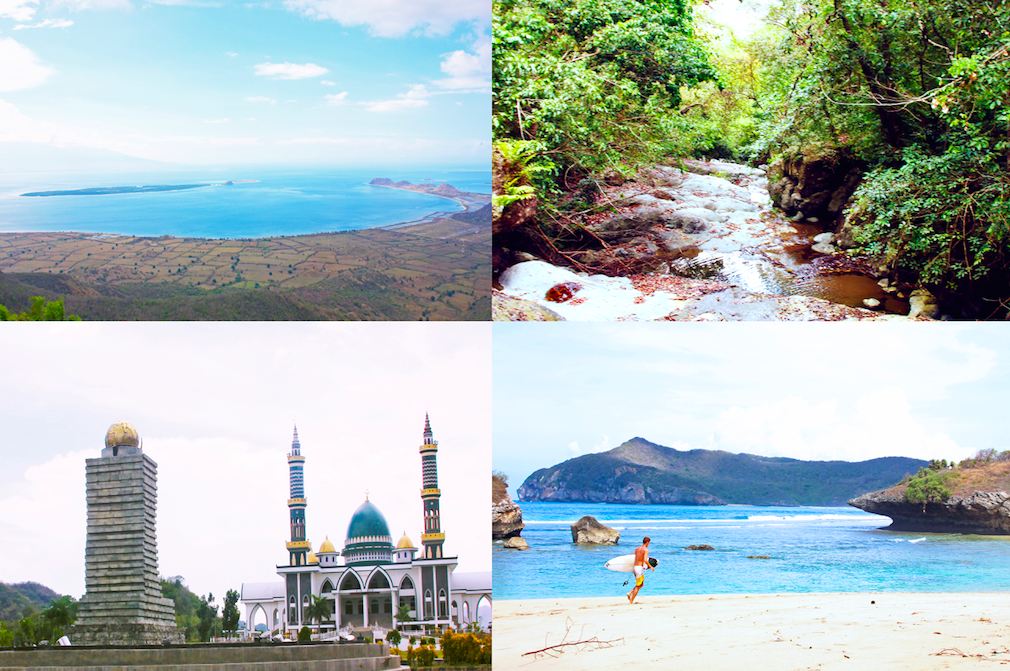 Further away: Admire the island-studded seascapes from Poto Tano seaport. Trek the savannahs of Kenawa Island.
Eat: Sepat vegetable soup with grilled fish. Singgang (fish or prawn curry). Ayam Taliwang (grilled chicken). Madu Sumbawa (wild honey) and susu kuda (horse's milk).
How to get there: Fly into Sumbawa Besar via Lombok. Rent a car to Taliwang or Sekongkang.
Kalabahi, Alor, NTT
Rising in popularity among expat travellers, Kalabahi is a balmy coastal town where tourism is discreetly present. Expect an intimate encounter with a multicultural Eastern Indonesian small town, underwater adventures brimming with local folklore and village communities eager to introduce you to their ancestral customs.
Around Kalabahi: Spend a day bumming around Batu Putih Beach. Dive and snorkel around Pulau Pura, Kepa or Ternate and visit the village to shop for naturally coloured ikat textiles bearing the turtle motif. Before watching the sunset at Alor Kecil, explore nearby historical sites such as the Dragon House of Baoraja, and Masjid Jami Babussholah which houses a Qur'an made of tree bark. Arrange welcoming ceremonies at Takpala and Monbang, the latter of which makes clothes out of an endemic wood bark. Visit the Museum 1,000 Moko to learn of the mysteries of moko, ornate copper drums believed to originate in Vietnam.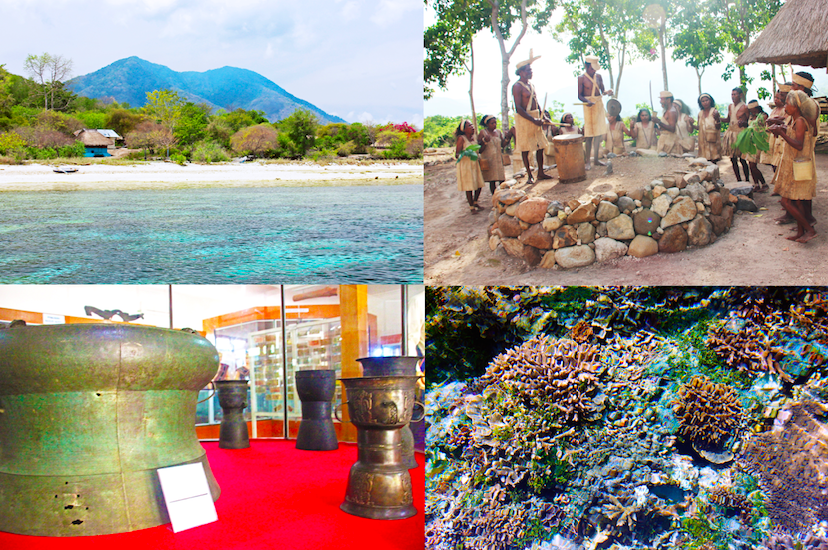 Further away: Take a dip in the Tuti Adagae Hot Springs in Northeast Alor. Trek the cliffs around Lingal beach in Southwest Alor. Cross over to Pantar Island and hike Mount Sirung to view volcanic craters and Alor from across the strait.
Eat: Cakalang kuah kuning (skipjack tuna in yellow soup). Sayur jantung pisang (banana flower curry). The seaside restaurant Warung Mama is great for dining in or packing Indonesian picnic lunches. Make your own trail mix from jagung titi (corn flakes), kenari (local almonds), kue rambut (palmsugar noodle cookies) and cashews.
How to get there: Fly into Kalabahi via Kupang.
Soë, South Central Timor, NTT
Proudly dubbed "the heart of Timor" by locals, Soe is situated at the foot of Mount Mutis, a major source for four major rivers which distribute water throughout Timor. If you don't mind DIY adventures relying on the hospitality of locals, Soe makes a great base for long distance motorbike rides across mountains, horse ranches, coasts and pre-Indonesian cultural villages.
Around Soe: Take a scenic morning walk along the Oelbubuk intercity road. Trek the forests around the Oehala waterfall. Have a Dawan language interpreter take you to Boti, a secluded pre-Indonesian kingdom which still practices the Halaika religion and natural dye ikat weaving. Camp overnight at Kolbano beach and watch the sunrise the following morning. Stay at Lopo Mutis in Fatumnasi to arrange an excursion to the Bonsai Forest and Mount Mutis. Visit Fatu Naussus and learn about the indigenous resurgence that closed down a marble mine in 2006 under the leadership of Mama Aleta Baun.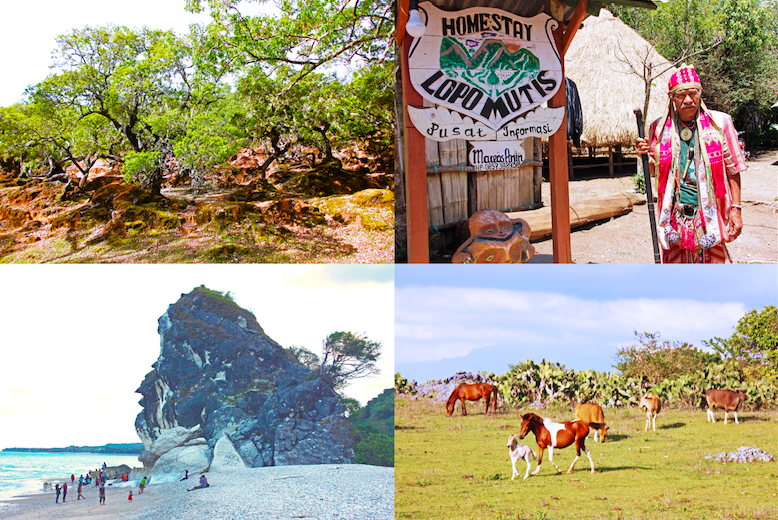 Further away: Make a day trip to North Central Timor to visit Gua Maria Bitauni, a natural batcave with a shrine for Catholic devotions to Mother Mary, and Sonaf Insana, a Timorese royal palace with a history of postcolonial resurgence. By the East Timorese border in Belu, view both countries from the highlands of Fulan Fehan cactus forest and trek to the prehistoric Timorese amphitheater Benteng Makës.
Eat: A complete meal of se'i babi (smoked pork), sate babi (pork saté), sup brenebon (bean soup in pork broth) and sayur bunga rampe (papaya flowers with bitter greens). Substitute rice with jagung bose (creamed corn with beans). Wash it down with sopi, the local sugarpalm wine.
How to get there: Daily flights into Kupang International Airport from Surabaya and Bali. Rent a car or shared shuttle from Kupang to Soe.