Divers dig the underwater magic of Bunaken's world class reef. The biodiversity is unmatched, but even experienced divers needs 24 hours of decompression before flying out. Many wonders lie above the water line in the countryside surrounding North Sulawesi's provincial capital, Manado.
The city itself hosts a public museum – filled with traditional costumes, weapons, ceramic ware and independence history – plus a broad range of hotels and restaurants. Still, nothing can beat the lofty views three volcanoes provide of the old city and sapphire sea. Only an hour's drive from the dock, the cooler climes of outlying villages offer diversions ranging from wooden kit houses to a Buddhist temple to fresh fish dinners on the lake, and of course, markets filled with local goods. The warm, welcoming Minahasa people create an inviting place to lose oneself or to break away and linger longer.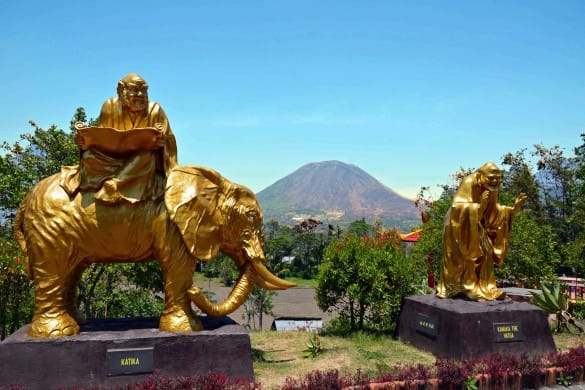 Outside Manado, a verdant landscape awaits. Dotted with neat, framed houses and fenced gardens, the countryside has a European feel. Despite the numerous churches left over from colonial influences, there is great respect for all beliefs. Head south to Vihara Buddhayana in Kakaskasen, where a scarlet flame sculpture and a seven-storey pagoda dominate the complex. The climb rewards with a spectacular sight, and as one quickly realizes, volcanoes are visible from nearly every location. The temple grounds' entryway is studded with golden Buddhist statues and teachings.
Further on, stop for a picnic at Kali Waterfall to delight in nature before continuing south to Tomohon. Known locally as the City of Flowers, the village sits in the saddle between Mount Lokon and Mount Mahawu. Neither of these sleeping sister volcanoes has been active since the late 1700s, but previous activity throughout the region has blanketed it with fertile soil.
Abundant fruit and vegetables provide self-sufficiency with a focus on spices, such as clove, nutmeg and vanilla. Arabica coffee, which thrives in such mountainous conditions, was introduced by the Spanish and brews a fragrant morning cup. A ride in a bendi, a horse trap bedecked in vibrant flags and tassels, makes for a fun tour of the flower street and historic Sacred Heart Church. Then, it's time for a steep, short walk up to a pleasant perch above it all. Look down on the Tomohon from Mount Mahawu from the rim of the 180-metre wide crater. From there, the vista of Mount Lokon, symbol of the Highlands, looms on the horizon.
Nearby Woloan boasts a main street of wooden houses for which the Minahasa are known. Single and multi-storied raised houses – to counter the rains – boast many details, like porches or symmetrical staircases, so if the devil enters, he will have two ways out.
The kit homes are not samples, but available for sale, after which they are dissembled, trucked and rebuilt onsite. Go ahead and bargain with a builder.
From there, drive alongside rice paddies outside Rurukan en route to Lake Tondano. The immense lake, nearly 4,300 hectares, is east of Mount Tondano and surrounded by hills. Many fisheries line the shore, some with restaurants attached. A fish dinner doesn't get any fresher, and a freshwater catch is touted to be sweeter than their salty sea-going relatives.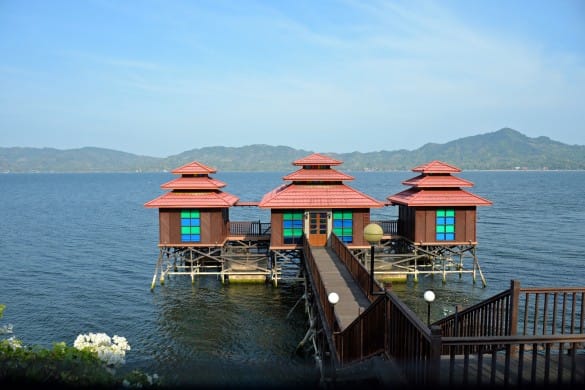 Alternately, Lake Linow is a small, colourful, water-filled crater. Small vents punctuate the crater wall, emitting hot gases and fluid. The vacillating chemical mixture causes the lake to fluctuate from red to green or blue. Watch your footing, regardless of the concrete-like appearance of the water's edge.
Pulutan affords the chance to purchase pottery. The cottage industry utilizes self-made, simple equipment to shape the clay by hand. A native pot, used to slowly cook a stew over wood fires, could be a useful reminder of those emerald hills.
Not for the faint of heart, Bukit Kasih, or Hill of Love, rises with a 1,000-step staircase, complete with balustrades. Near Kawangkoan, the monument represents the five religions of Indonesia, but sulphur's corrosive characteristics have left the spot less than lovely.
Completing a loop back to Manado, stop into Gardenia Country Inn. The resort can provide an overnight stay, and the restaurant, supplied by its lush gardens, can provide a sampling of local cuisine. Minahasans enjoy their dishes with liberal chilli, so be forewarned. The bubur, or porridge, is a favourite. A grandson to Sam Ratulangi, who was an independence hero and local educator and for whom the international airport is named, owns the establishment. Leonard's wife, Bernadette, is a hobbyist cook and gardener, and the restaurant became an outlet for her passions.
If days allow, travel east from Manado to Tangkoko Batuangus Nature Reserve. The park covers three mountains and 8,700 hectares. Rainforest conservation began in 1919, but habitat devastation and hunting still threaten many species. It is possible to see a variety of wildlife, including tarsiers; a tiny, indigenous primate; cuscus, the Sulawesi bear; and birds, such a macaques and hornbills. Rafting, trekking, dolphin tours and many outdoor adventures also are available.
The word Minahasa derives from the local language, meaning 'to become one', yet the diversity – from the sparkling seas to the panoramic volcano rims – of each wonder is unique to behold.
Fast Facts: Minahasa Highlands
Province: North Sulawesi
Capital: Manado
Province Population: 2,270,596 (2010 census)
Indonesian Airlines: Garuda, Batik and Lion Air
What to do: Vihara Buddhayana, Mount Mahawu volcano and rim walk, Tomohon, Woloan wooden houses, Lake Tondano Restaurant or Gardenia Restaurant for local cuisine
What to bring: A sense of adventure and awe, good walking shoes and cash to purchase pottery
Where to stay: Gardenia Country Inn – www.gardeniacountryinn.com and Highland Resort & Spa – www.highlandresort.info