"May we go back to our roots" highly correlate with my crucial lesson of "stay as calm as the waters".
Part One depicts my Water saga brimming with epicness (read it here). Meanwhile part two, or the Earth saga, reminded me of authenticity.
Hustle and bustle woefully neglect my true essence. It's as if I'm obliviously swaying through the stream without a stern clutch. I've always dreamt of working with National Geographic, or at least experiencing a day up close to wild creatures. Undoubtedly I'm terrified to do so but Belitung has turned my manifestation into fruition by wandering around Tanjung Kelayang Reserve.
Indonesia's flora and fauna are encountering tourism's detrimental impact. To be on wanderlust without bringing further harm, Tanjung Kelayang Reserve is an alternative for low-carbon footprint tourism by instilling a global impact strategy prioritising local communities, cultures, and conservation activities. Aside from South China Sea's crystal blue ocean and powder white sand beaches are the protected rain forest local wildlife reserve and UNESCO geosite. Search, improve and discover together with the area's team of experts and locals. 
On a buggy, Daniel took us on a brief tour of the reserve. "Gravel is natural to Belitung. This gravel pathway is the primary road. We preserve the environment with buggies to navigate around," he said.  Upon entering the gate, one will become a part of nature and highlights the encompassing beauty as they're coming into a wildlife territory, unlike a typical tourist destination. None of the trees are stripped nor is anything killed for humans' convenience and comfort. Everything alive is meant to be here. Not even replantation of foreign plants is done because it could mistreat the ecosystem.
Daniel showed us the natural habitat for flower mushrooms. It prospers only about seven days a year after a very dry season just as the first heavy rain hits. So rare, it's sold for Rp2 million per kilogram in the market but the reserve has no commercial intentions. Instead, visitors are encouraged to witness how the locals cook mushroom stew. 
"Notice street lights aren't found anywhere? We're aware nocturnal animals reside here and we wouldn't want the artificial brightness to disrupt their being," pointed out Daniel.
Clean water is also taken into account. Usually, drills deep into the earth's surface release springs of water applicable for drinking, bathing, etc. Tanjung Kelayang Reserve collaborates with a hydrologist professor from ITB University, Bandung to produce a zero-emissions water treatment plant with surface water at seven to 12 metres deep. Rainwater is collected as long as it's possible and reduces the heat caused by operations. We visited the reservoir rich in turquoise waters, backed by one of Belitung's natural resources, kaolin clay. Some animals have come by to quench their thirst. But they're not the biggest threat – the dry season is. Regardless, sufficient water consistently remains. 
The equivalent of giving back to the ocean – coral plantation and releasing baby turtles – to the land is planting your own tree. Previously, I mentioned entering a rainforest on a gloomy morning. This is Whistle Trail. 
What was meant to be at least an hour's trek deep in this rainforest turned into three hours. Akbar, the Resident Biologist, took the lead. He's spent most of his days researching and discovering all things within this territory – it's no surprise his knowledge is unfathomable. 
"Why is this named Whistle Trail?" I asked him. "It's inspired by the Whistle Bird. If we're lucky, we can spot it with this [a singular binocular]," he replied. Along our trek, we heard loud whistles. Akbar put up his phone to the sky, playing a real-time recording of the bird on one of his previous expeditions but spotting this charmer was challenging. At last, we saw it 100-200 metres away on a branch. 
Akbar explained that Belitung's natives lived in a rainforest like this. Nature was their sole source to meet needs; from medicines, wood for homes and boats, to food.  This trail is abundant with an array of critically endangered Pelapak Trees. Native to the rainforests of Belitung, this tree has variants of aromas from its sap. Akbar took bits of the sap and crushed it with his hands into a white powder that exerted an aromatherapy scent.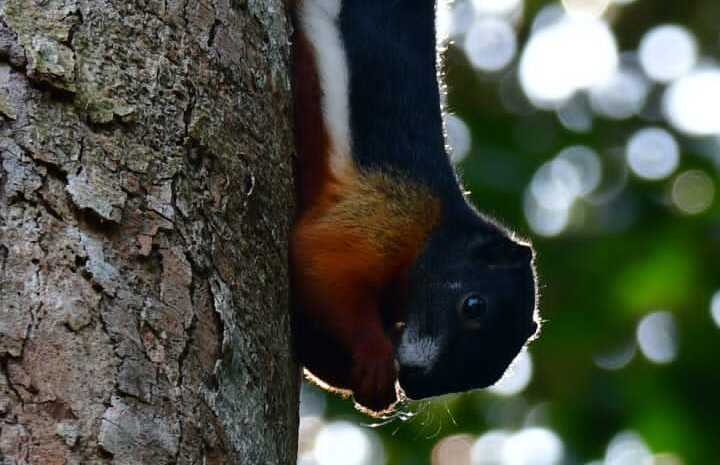 "Now you will help the Pelapak Tree to prosper. Plant your trees and write a message," said Akbar. Our message was: May We Go Back to Our Roots. Throughout this educational morning, we learned the importance of preserving whatever has been available to good use. This tree is a remembrance of life to Belitung's locals. And in our everyday life back home, we tend to strive for more when the available resources work just as well, if not, remarkably. 
Akbar took us to more spots. A massive tree acted as a home for the white-tailed eagle. The tallest tree in the area is always chosen for safety reasons. Sadly a thunderstorm deconstructed the nest. "That was actually their second nest. Here is the first – wow they rebuilt it bigger than before!" said an amazed Akbar. The white-tailed eagle normally flies to the beach during the day to hunt for food, then returns to its nest or picks a nearby island to rest. I want to be one. I cherished his explanations, and it's best to hear more from the expert himself!
Encountering wildlife continued after the dreamy beachfront dinner back at Sheraton. We sped to Peramun Hill Forest, an ecotourism managed by the Arsel Community, to spot a tarsier in its natural habitat! I was clueless about tarsiers but after Googling, I reckoned I'd seen it in National Geographic. 
Peramun Hill is located in the village of Air Selumar, Sijuk District; covered in dense forests and granite rocks standing 129 metres above sea level. From ancient times until today, locals believe this location is home to various local forest plants for treatment.
Fitriyadi, a ranger of the Peramun Hill Community Forrest, noted that Arsel Community has guarded the forest since early 2006 in hopes of maintaining forest preservation. The natural tourism of this site was only initiated when the Indonesian film "Laskar Pelangi" was released in 2013, which boosted Belitung's tourism. "Since natural tourism didn't exist yet, we tried to develop natural tourism to unexpectedly many enthusiasts," he commented. 
Visitors in the daytime ought to spoil their eyes with the exquisite natural forest, the South China Sea and the small islands around Belitung Island – all of which Arsel Community can be of guidance. Fitriyadi showed a glimpse of these natural wonders through pictures pasted on the wall. With an app, he scanned the pictures and transported me on a virtual guide of visual stories.
"The tarsier at Peramun Hill is different to other tarsiers in Indonesia. The distinctive features are the shapes of the head and the arrangement of the larger teeth," voiced the virtual explanation on a tarsier picture. 
The Indonesian Environment and Forestry Ministry has permitted Arsel Community to manage the forest for 35 years. In the past two years, rangers have mapped out the tarsiers' usual sightings based on independent research. "Because we already know the locations, it'll take about 10-15 minutes to spot one. Then we'll redirect it to the visitors' viewing area," he explained.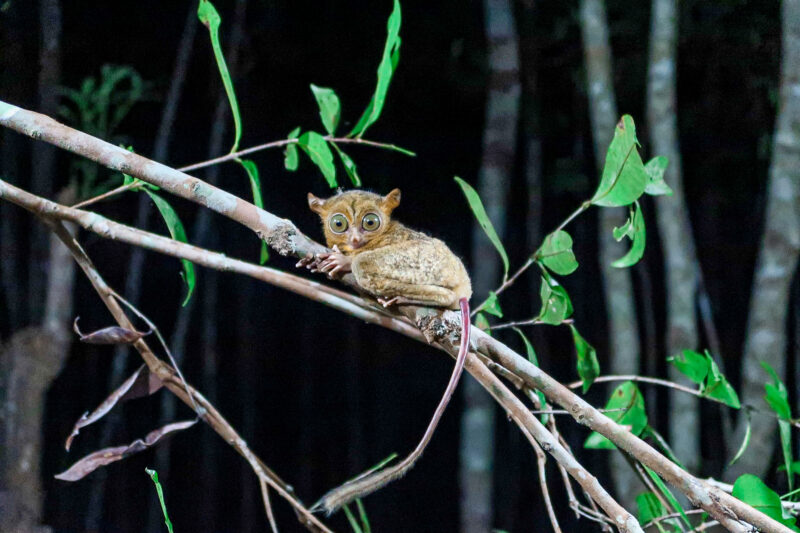 "We spotted one!" I overheard a ranger in Fitriyadi's walkie-talkie. "There are several rules when viewing a tarsier up close: stand at least 100 metres apart, turn off your headlamp, don't use flash photography and don't make drastic movements and noises," said another ranger before we were escorted out to the viewing site. The tarsier gripped tightly on a faint branch pulled down by rangers. It remained still and didn't flinch away even when I was told by a ranger to stand closer, with my camera in hand – truly unleashed my inner National Geographic photographer. Once done, the rangers gently pushed back the branch and the tarsier swiftly disappeared into the darkness. Walking back to the waiting lounge, the rangers were excited to show me other habitants crawling in the dark, such as the largest ant in the world. We bid our gratitude and goodbyes, who you can meet by visiting peramunhill.com.
Our final afternoon was breezy. After sightseeing the preserved colonial buildings (having different functions now) around the city centre, around 30 mins from the reserve, we stopped by the legendary Waroeng Kopi Ake. This is Belitung's oldest coffee shop serving since 1922. Apart from the ornaments on the walls, the coppered barrels, water distillation apparatus and kettle cooked in a charcoal brazier look outdated but these create the famed aromatic flavours generation after generations return for. The black coffee, milk tea and teh tarik all have perfect consistency, with nothing overwhelming from the sweetness. A couple of stalls beside is a meteorite jewellery shop selling satam billitonite turned into necklaces, rings and bracelets. There are even shreds of it for sale! 
A village of fishing boatmakers called Tanjung Binga was on the way. The boats use Puspa Tree woods because it's more stable for fishermen. According to a boatmaker, it takes at least three months to complete one fishing boat and each is worth Rp800 million including the engine, while the model itself is at Rp200 million. "We don't make sketches to refer to – everything done is made from memories and hands," he stated.
With a baby turtle keychain and conch secured as my physical remembrance of Belitung, I rushed over to Shine Spa by Sheraton to continue the day's rejuvenation. I indulged in the calamansi welcome drink before my 1.5-hour treatment. The spa therapist caressed my aching joints from head to toe with a massage oil infused with more calamansi. Abundant in Belitung, calamansi refreshes and detoxes the skin, as well as melts dead skin when one soaks in a jacuzzi. At least one kilogram was used in this treatment! Sitting inside the hot water pumping my soothed tension, I laid my eyes to rest as Twilight dropped her curtain down and pinned it with a star.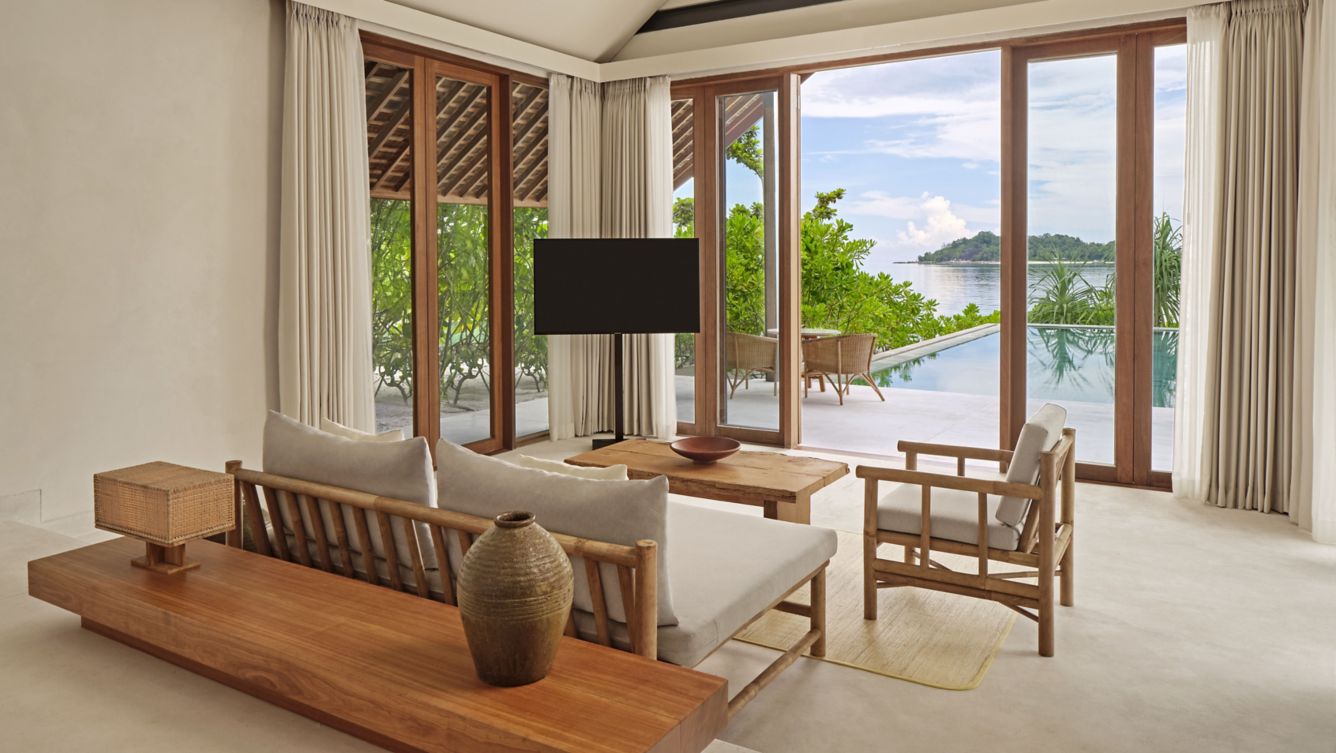 The glistening stars accompanied my stroll back to my villa. I had a brief moment to sit on the outside terrace to ponder. Sheraton Belitung Resort defines each decision on sustainability, including the materials, constructions, operations, and supporting local and global issues. A coconut-leaf beach hat was present on the coffee table. My mother asked if she could have it, knowing that she's a hat collector. 
Authenticity is in the form of remembering and sticking to who we are. We're all different in some ways, but we do live on the same planet. There's a tendency to take things for granted regarding the environment and our daily lives. Belitung has taught me to never stop setting the soul on fire with gleeful adventures by embracing my inner self – it'll subconsciously safeguard this one planet too.