"A tourist is someone who wants to escape their lives, a traveller is someone who wants to experience theirs."
This is a movie quote from the 2023 Netflix rom-com, "A Tourist's Guide to Love". I haven't watched the full movie, nonetheless, this quote struck me. I interpret "to experience theirs" comes off as a pivotal lesson as I spent four days in Belitung, Indonesia: never stop experiencing adventures that set the soul on fire.
My trip deserves a two-part saga: Water and Earth. As you read along, you'll understand my gist…
Living a fast-paced life undoubtedly has its pits and falls. Frankly, I've had enough of it. I hopped on the 7am flight from Jakarta, despite not being a morning person. Lasting for merely 45 minutes, palm oil trees surrounding H.A.S. Hanandjoeddin International Airport greeted my heavy eyelids. Silk roads dividing endless palm oil plantations, and the occasional local houses on stilts popping up is a refreshing sight. Soon, I arrived at a plain of tall trees, seemingly untouched except by its habitats in hiding. The terrain turns narrow; merely gravel on red soil which indicates one's arrival at Tanjung Kelayang Reserve. 
"Welcome to Sheraton Belitung Resort," said Daniel, the Director of Tanjung Kelayang Reserve. Daniel accompanied my group throughout our unforgettable stay. Not only is his mind flourishing with great facts, he's my life saviour as well. Island Restaurant's breakfast buffet was still on display, and multicultural families staying at the resort relished in the varieties of eggs, exotic fruits, cheese and more. I took a moment to reel in the beachfront access a footstep away from the glass doors. "Belitung, I have returned!" I exclaimed. It's been a seven-year gap since I first visited the island – all young and adventurous. Little did I know, my adventure this time around would be epic. 
Truthfully, I wanted to have a momentary snooze fest in my suite but the boat was calling. Geared in my swimsuit, activewear shorts, flip flops and bucket hat, we went to the beach and boarded a very comfy boat with cushions, accommodating 10 pax. "We're off to your Private Island Moment," grinned Daniel. "Private… Island?" I wondered. 
I haven't been on a boat nor swam in open water since 2019. Clearly, I was excited. No one but us and the resort's wholesome F&B team were on this island. A very relaxing and aesthetic set-up awaited where one could dine, have a beach picnic and have private access to the calm water Belitung is famed for.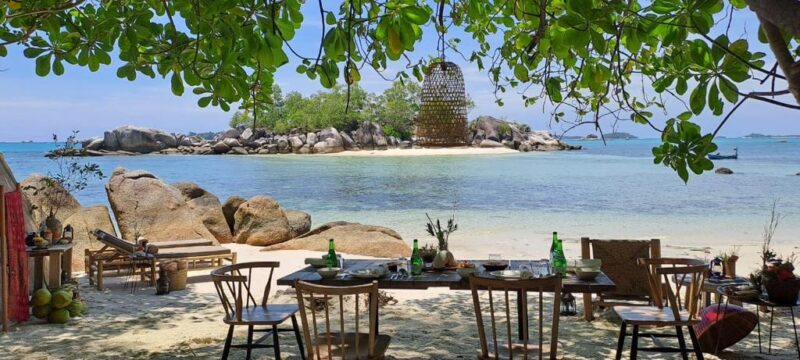 Lunch itself comprised Belitung flavours like the Gangan soup (blackspot fish infused in rich spices), then more fresh crabs and grilled shrimp. I can't stop emphasising how calm the water was, and how shallow. "Bu, aren't you going to snorkel too?" asked mba Sari, one of the staff on the island. I told her in a bit as I captured the shore's view in my memory. 
The warm water was soothing, especially how tiny waves hit my body. Mesmerised by the wee fishes below me, easing to the goggles after years turned into a catastrophe – I caught saltwater in my eye which struggled me to stay afloat but fortunately, Daniel assisted me to get back into a mermaid. My legs were at their capacity so I sat half submerged in the waters to catch a long breath.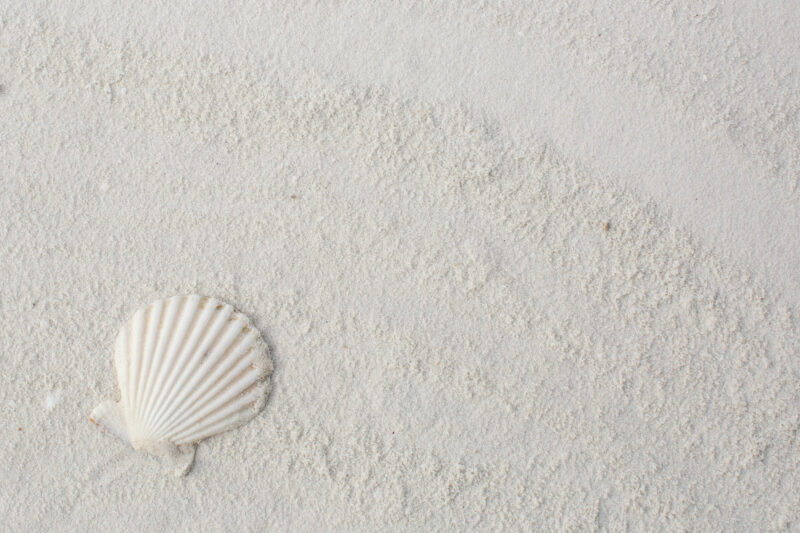 We climbed up on the granite rocks to a spread of afternoon tea. Here, a clear view of the surrounding islands betwixt shades of blue and the sound of crashing waves against the granites was absolutely therapeutic. "Do you see that bright yellow light? That's Venus. And the orange light is Mars," pointed out Daniel to the sky, giving us a crash course on stars. The sun slowly disappeared into rays of orange and pink, while we sipped on fresh young coconuts along with tea, sandwiches, risoles, cakes and more snacks. Back in my suite, frogs serenaded me to a lullaby as the night unfolded. This is my kind of Monday! 
The next day started off gloomy, although we planned on another boat day filled with marine sustainable efforts. That morning was spent in the rainforest (more on this in part two). Belitung is Indonesia's biggest Red Snapper export source. Of course, I had to try one in Sheraton's twist. I opted for the Pan-seared Red Snapper (with light fish broth, vegetables, capers, olives and caponata). Creamy, savoury and light – perfect to fuel my water expedition. 
Here comes the epic essence of my Belitung trip… We stopped by an island filled with local children at the shore giggling in utter joy. "Hello, Mister!" they repeatedly chanted to my travel companion, Edo, reciprocating pleasantness to see them. They were beyond thrilled to take a picture together and exchange peals of laughter. Absolutely astounding to feel no heat despite walking barefoot on the soft white sand during midday. Resident Biologist Akbar escorted us into the island's woods, where a lodge stood. Inside, we saw pools of numerous baby turtles crashing into one another before they were deemed ready to swim in the vast ocean. "The Hawksbill Sea Turtle is a critically endangered species, thus making them vulnerable. We aim to protect their existence from hatching until a couple of weeks later, then released for their natural calling," explained Akbar.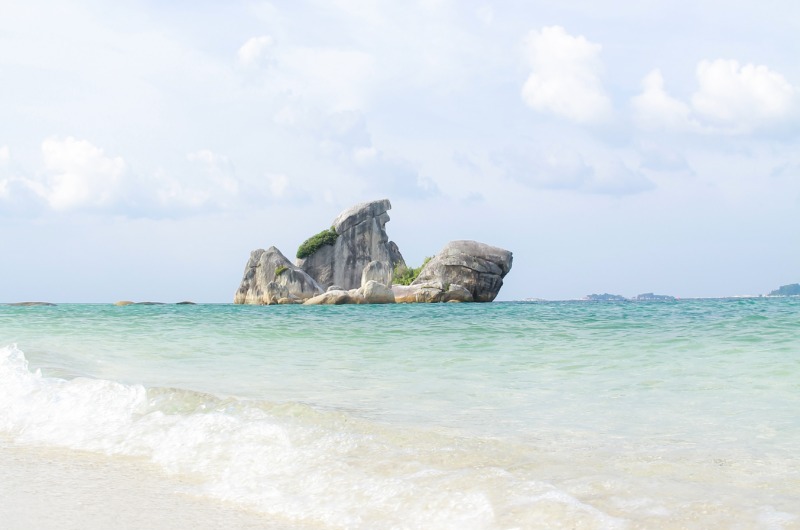 Prior to releasing a baby turtle, Akbar noted that we would also assist in a coral plantation. I've never done this – I have, however, viewed coral plantations throughout a snorkelling trip in East Java. Ecstatic, I tightly gripped three corals with layers of flex cuffs in order to sustain their posture and placement on a cemented base, which was then discarded into the ocean. After all, coral reefs safeguard coasts from storms and erosion, provide jobs for local populations, give recreational possibilities and provide fish meals and fresh medications. Scientists believe that there are millions of unknown critters living in and near coral reefs. My message to my plant babies went along the lines of: "You are loved by many. Flourish in your own way!"
Time to release a baby turtle; each of us held one and walked towards the shore. "Live young, wild and free little buddy!" I exclaimed to mine. We cheered on them to overcome the waves. An urge to help them fight off the obstacle as a mother would but it's their calling to survive in the wild. There was no longer sight of my little buddy – I hope they make it out there. 
Back on the boat, we headed off to a snorkelling spot filled with eccentric coral reefs and varieties of sea critters. I came prepared with a pair of fins so I can be as amused as The Little Mermaid is seeing land yet in my case, to see the underwater wonders. Over an hour passed and I returned aboard, sipping on a glass of fresh water while stunned at my reality. The sun was setting although it was merely 4pm. Daniel decided to take us to Kelayang Island, where a cave is often visited by tourists. 
Another catastrophe was bestowed on me. As we climbed up and down the granite rocks surrounding the island, we noticed a pool of calm waves hitting a small spot. "I used to be adventurous like Dora the Explorer so I can overcome these granites!" I thought. I did, actually. I placed my phone on a rock, thinking that it would be steadily lying but to no avail, it slipped down and I heard a plush. "No!! My phone!" I internally screamed. Quickly I placed it on another rock, which had a flatter top. We floated on our backs in silence and I dismissed my phone's well-being.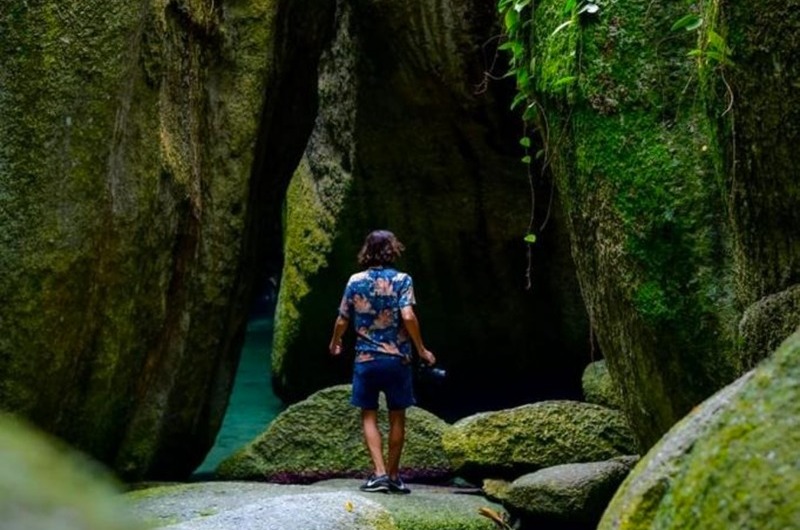 We trekked over to the cave, where shallow water hit the rocks. Busy checking my phone, Daniel stood on my 10 o'clock and stressed, "Whoever is in the water needs to get out right now!" A sea snake was swimming near us! Akbar quickly took his camera for a video and I stood behind him holding my phone above, still magically working, exerting light for the money shot. "No, I don't see it anymore," he said. Suddenly, Edo yelled, "It's behind you, Ella!" I screamed back and hopped on the steep-edged rocks, with every ounce of my body shaking. Everyone else joined me. "I don't know which way to go to return to the boat," I confessed. 
Along the ride back to Sheraton, we discussed how astonishing yet scary it was to encounter a sea snake like that. "I am 90 percent sure it was behind Ella," gushed Edo. Envenomation by sea snakes can be lethal if not treated properly. In short, the paralysis of the diaphragm and skeletal muscles, respiratory impairment or drowning might ensue. I've never seen a sea snake before in my life and to have it creeping on the waters behind the rock I was standing on gave me chills. "Maybe the sea snake was observing and following its prey," said Daniel. "Since I was the source of light, maybe that's why it was behind me," I replied. Somehow, we managed to laugh it off. 
I realised my phone was completely dead on the boat back to Sheraton for an early beachfront dinner. At least I wasn't, right? Especially to experience a majestic sunset boat ride.
On our final day, Daniel took us on the boat to stop by a wobbly floating barge of narrow plywood where fishermen nestle their catches. Sunardi, one of the fishermen, explained these fish are exported to Hong Kong once in two months. He sails far away from the spot to catch rare fishes like the Leopard Coral Grouper which can amount to one to two kilograms at once. "Choose your catch of the day. This will be your Omakase dinner," Daniel pointed out. I let the men decide to secure the well-being of my camera after yesterday's phone fiasco. 
By dinner time we boarded the boat. I thought it would be a dinner cruise but I saw no plating placed. Passing by the mainland, we saw twinkling lights on one side that transpired to be a wooden chalet of our Omakase dinner. A skilled chef in Japanese cuisine was specifically flown from Jakarta to Belitung to prepare this special meal. He whipped up eight courses based on the catches of the day, including other sea critters, as well as bottles of white wine. Divine.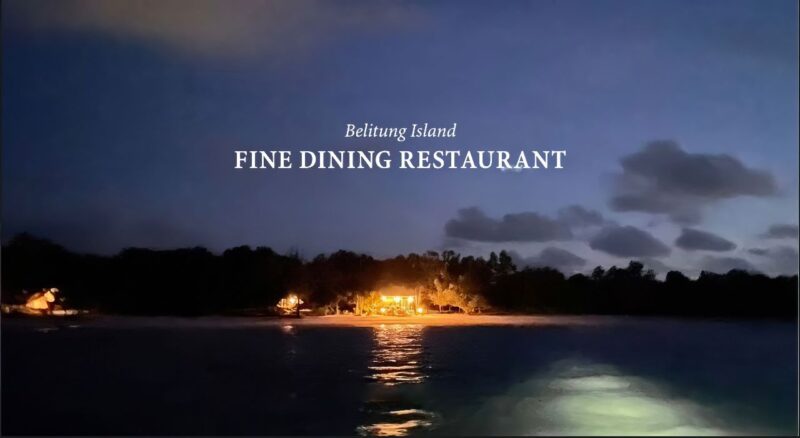 Back on the boat, drifting slowly, Daniel and Edo took turns holding a torchlight in hopes of spotting some sea turtles and anchovies. Venus, Mars and friends were remarkably sparkling against the dark sky. "This is our last night to see stars this vibrant," I claimed. I had never been on a boat in awe of what mother nature has nearing midnight, swayed by the high tide and witnessing glimpses of the ocean's habitats. Thus, the phone fiasco brought the silver lining of embracing my inner traveller buried deep all these years.