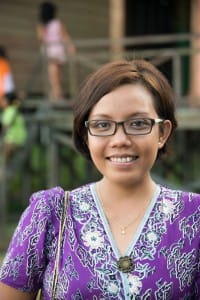 Aini Abdul was born in a small village in Southwest Kalimantan to a Dayak Iban father and a Javanese mother. Nothing particularly unusual about that in this part of the world's third largest island, but Aini is a very special person.
At the age of 14 this determined young woman decided to follow in her father's footsteps and become a sailor. She joined the Navy to prove that she could do anything that boys could do and hold her own against the opposite sex! After a year of proving herself in this activity, she then decided that getting an education was more important, so she moved to the city of Palangkaraya and lived in a dormitory with her sister, determined to complete high school and get good grades so she could qualify for entrance to university.
Her parents struggled to pay Aini's university fees so she found whatever work she could as a cleaner, a cook and eventually found a good revenue stream in making doughnuts to sell to her friends and fellow students. These efforts eventually paid off when Aini graduated in 2007, opening the opportunity for her to be a schoolteacher.
As well as a university graduate, Aini is also a multilinguist and speaks five languages; Banjar, Ngaju Dayak, Javanese, English and Japanese, which is a testament to her application and intelligence.
In 2008, Aini joined Kalimantan Tour Destinations, a tour company that now operates four boats on the Kahayan and Rungan rivers, taking tourists through these ancient waterways to see orangutans and visit the Dayak villages.
It was on these trips that she noticed the kids in the villages had no schoolbooks and very little educational support despite a willingness to learn.
Reminded of how much her parents struggled to support her education she was determined to do something to help these children from poor families.
Two years ago Aini set up Ransel Buku and convinced some of her teacher friends to help donate their time on the weekends to teach the children in the villages. Whatever money Aini could save or any tips she earned from working on the boats went straight into buying books and school supplies for the children.
Her determination to help others and support the community has inspired others, including me, to help fund this project, which now involves paid part-time teachers, school books, resources, supplies and a health program. Ransel Buku currently supports 70 children.
Aini is determined to keep developing this program and spread it out to more villages in the area that face similar challenges. She sees her future in community development and empowering others to take action to support the communities in Central Kalimantan and not sit back and wait for the government to react.
I think Aini Abdul is a remarkable woman and a positive inspiration to those around her. She has emerged from a challenging and humble upbringing and proven that with the right attitude and determination anything is possible.
If you wish to support Aini and her education programs in Kalimantan please donate to http://www.gofundme.com/Sitis-Dream. To support Ransel Buku, please visit http://www.gofundme.com/ranselbuku