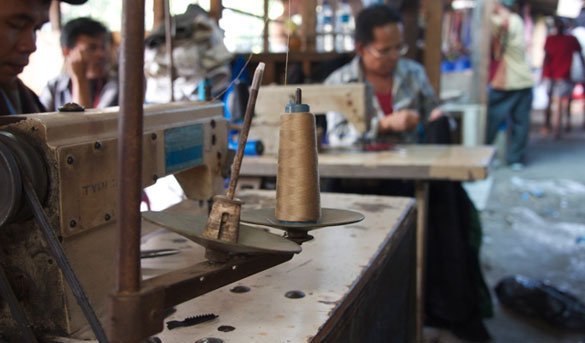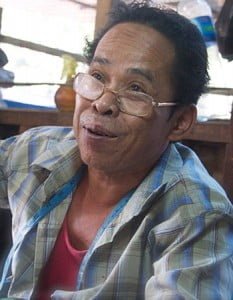 Yasirly works away on his sewing machine as the trains go thundering past his little workshop in Kebaron Baru, oblivious to the noise they make, a mere 10 metres from his workstation. The sewing machine man hails from Bogor and moved to Jakarta six years ago in search of customers when times were tough and he could not generate enough income to survive.
A father of five, with children aged between 10 and 22 years, Yasirly works seven days a week and sleeps on the floor, next to his sewing machine. He makes the journey to Bogor every Sunday evening, back to his original home and then returns for work Monday morning.
Unfortunately, the income he earns from sewing repairs does not earn him enough to keep his kids in school past junior high, so the kids stay at home except the eldest son who works in a factory in Jakarta. Yasirly's income is split two ways. From his clothing repair income he is able to keep half the amount he makes but the other half goes to the owner of the machine, as he cannot raise the Rp 1.5 million required to purchase his own machine.
Lebaran is a good time for Yasirly as many customers are in a more generous mood and he gets some good tips. "Any tips I get," Yasirly said, "goes towards the kids' school uniforms and books."  Yasirly's wife earns a small wage from selling eggs.
His father is from Sumatra and was also a sewing repairman, so the skills and knowledge have been passed down through the generations, however his eldest son has no interest in the trade. His youngest son seems to be keen and takes an interest, so Yasirly hopes that he can pass on his work skills and train his son and pass on the legacy.