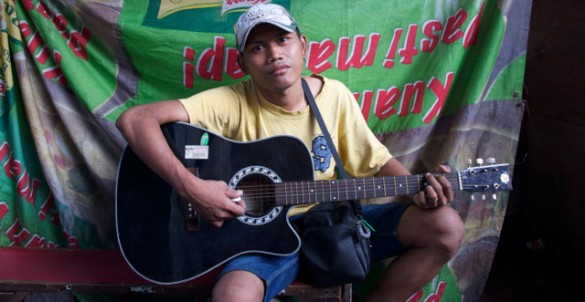 I met Abdul on a street near Block M, while he was taking a break from singing.
The self taught guitar player performs to commuters on the buses during the day and on the streets at night, generally working from early morning until late, depending on how many tips he receives.
His home is in Tangerang, which is a long way from Block M. Abdul does not always make it home and sometimes sleeps on the streets. His main motivation for doing what he does is to earn enough money to pay for his 14-year-old sister's school uniforms and books, so she can complete high school.
He is very concerned that she may go down the same path as their brother, who contracted H.I.V from sharing needles and passed away in jail. Abdul himself became addicted to drugs but luckily he got help. In 2007 he had the assistance of an NGO that provided free access to a rehabilitation program and he was able to break the habit.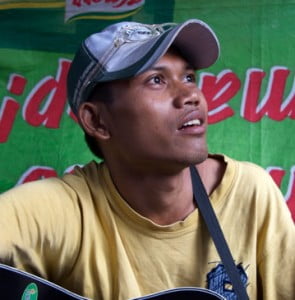 Playing guitar on the streets can be a challenge as he has been caught by security guards on three occasions and sent to a Social Centre, which he does not see as a bad thing, as he gets a roof over his head and food provided.
His parents also struggle economically, as his dad is a construction worker and his mother is a maid earning less than Rp.400,000 a month. They could not afford to pay for Abdul or his brother's education, so they both dropped out of school after Junior High at the age of 13.
Abdul loves to sing and it's his dream to be a musician in a band. He likes to play Bob Marley and Kurt Cobain songs and his favourite Indonesian musicians are Slank and Ari Lasso.
I was quite saddened by this interview in many ways, but greatly respectful of this 26-year-old who is dedicated to helping his sister stay on the rails and out of harm's way. He had a gentle sadness about him and a deep compassion and love for his sister that was very inspiring.
Next time you see a guitar player at the traffic lights or a bus-commuter musician,  spare a thought for Abdul and others like him for they all have their own stories.
David Metcalf
www.davidmetcalfphotography.com