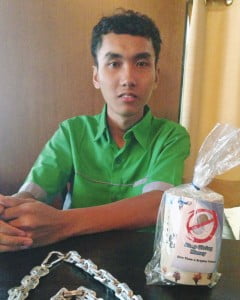 When 20-year-old Andreas Ahmad Setiawan lost his entire family in the 2004 tsunami, he didn't know where to turn. He felt alone. He felt scared. He ended up on the streets. First in Medan, Sumatra, then here in Jakarta, where a chance encounter with a member of the KDM rescue team helped turn his life around.
"My parents passed away when I was still very young because they were in Aceh at the time of the tsunami," said Andreas, who was born in Meulaboh, one of the hardest hit areas of the 2004 disaster. "After their death I started to live on the streets of Medan. Then I came to Jakarta hoping to find a job, but I ended up living on the streets again. Reality changed when the rescue team from KDM gave me the opportunity to start a new life at KDM."
Just beyond the gates of Kampus Diakonia Modern, in Bekasi, which provides education to street children, lies a colourful and inviting alternative to the streets. Comprised of creative classrooms full of computers, a state-of-the-art metal-working shop, a mushroom farm and sidewalks lined with bins for recyclables, KDM's campus serves as an opportunity for street kids to have a second chance. It's an immense campus where children of all ages, offered an alternative from the streets by the rescue team of KDM operating across Jakarta, are provided with a safe place to live and the opportunity to return to their studies.
"I consider myself very lucky to be in KDM," Andreas said. "If you're a street kid and you live in such a wild reality, you find it very hard to get away from that environment. When I met the rescue team for the first time I was hesitant to accept their offer to go to KDM. I thought, what if my life keeps being as bad as this? But then I saw the reality, I knew it couldn't be any worse. I knew I had to take a shot."
Andreas moved on to the KDM campus back in 2008, and he soon realized, once the habits he used to have on the streets were far left behind, his life started to change, in a way he could have never imagined being possible.
"I'm so proud of what I accomplished during my stay at KDM," said Andreas, who initially dropped out in elementary school. "I finally received a basic education."
Caring volunteers at KDM also provide the children with a range of stimulating activities, from singing to sports, English lessons, to KDM's renowned Green Project, developed to spread the understanding on how to recycle, and to teach children how to live a more sustainable lifestyle. For this purpose, the Green Project asks households close to the area of KDM, as well as schools and offices, to donate their recyclable trash.
The ability of Andreas in carefully separating what's recyclable from the non-recyclables, as well as subdividing the recyclable materials depending on their different categories, is something that he is very proud of. After he graduated from KDM's informal education program, he began his internship at KDM Green Project. Andreas, along with other interns and staff, are the brains behind the Green Project trash sorting processes that every week allow three to four tonnes of trash to be recycled, leaving only five percent of the waste they collect heading to the landfill.
If there is one thing he feels the most confident about, Andreas explains that it is his ability to show others the power of recycling and share valuable green lessons with those around him.
"Now, thanks to my recycling skills, I have the power of making a difference in society," Andreas said. "It's something I will share with people the rest of my life. Also, now I know what I want to do with my life. I want to open a recycling business."