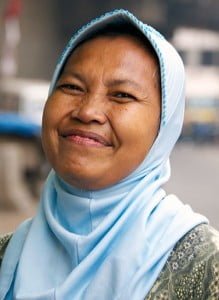 Salyem is 39 yrs old and has been selling her herbal-based medicines for eight years. Her Aunty educated her in the world of Jamu and would take Salyem with her, through the back streets of Kebayoran Lama. Her well respected and knowledgeable Aunty seemed to play a critical role in keeping the street sellers of this area healthy providing her concoctions of medicines to help with all sorts of ailments from stomach problems to liver cleansing.
So, what is in these colourful bottles you see slung across the back of a Jamu peddler? Sambonoto is the name of the mixture in the black bottle, which is used to treat allergies. In the orange bottle the mixture is called Kunir Asam, which keeps the body from smelling, a very useful aid in the hot, humid climate of Jakarta. There is even a red bull equivalent. This one is called Sirih, a medicine to help with tiredness, which also acts to stimulate fertility in woman.
Salyem's day typically starts at 7 am. She walks the streets selling her products until 12 noon and then returns home to mix up more medicines for the afternoon sales.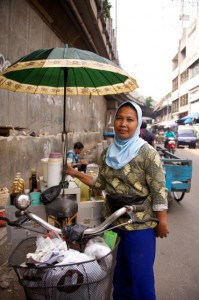 She sells the equivalent of one bottle of medicine per day and earns around Rp.100,000, which represents a profit of Rp.50,000. Salyem was married at 16 years and has been married for twenty-three years. Her husband is a balloon salesman and between them they manage to survive, although their rent is Rp.300,000 a month and they have concerns about the rising cost of living.
They have two children, the 11 year old lives in Semarang and is cared for by Salyem's grandmother and her other son is 19 years old and has applied for a job with Astra. Salyem and her husband are trying to save enough money to buy their 11 year old a laptop, but feel that this is a dream that may not become a reality.
I tried a few of Salyem's medicines and the energy drink definitely worked! She would not accept any money from me for the herbal drinks as she considered me a guest in her country, testimony to the character of these warm, genuine people of the streets.