The Indonesian president, the maritime minister and the Supreme Court are all too weak to stop a Chinese mining company from operating illegally on a small, protected island in North Sulawesi. Unchecked environmental destruction sets a dangerous template for the nation's future.
What do you do when your country has some of the most beautiful and biodiverse marine areas on the planet, capable of providing food and jobs for millions of people? If you're a local government official in North Sulawesi province, you illicitly license the destruction of this natural richness for short-term financial gain. And despite fiery nationalist rhetoric against foreigners taking Indonesia's wealth, you bring in a Chinese company to do the dirty work.
Such is the fate of Bangka Island, located northeast of the provincial capital Manado. The island is part of North Minahasa regency and covers just 4,778 hectares. It is home to about 2,400 people, most of them making a living from fishing, farming and tourism. The island should not be confused with Indonesia's better known Bangka Island off the southeastern coast of Sumatra.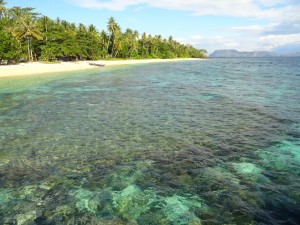 Bangka's woes started back in 2008, when the Regent of North Minahasa, Sompie Singal, issued a permit to PT Mikgro Metal Perdana (MMP), a subsidiary of China's Aempire Resource Group, to explore for iron ore on the island, despite opposition from locals. A broader permit was issued in 2012, even though mining is prohibited on islands smaller than 200,000 hectares under Law No.27/2007 on the Management of Coastal Areas and Small Islands.
Local residents, supported by conservation groups and the operators of Bangka's five small eco-resorts, sued Sompie over the illegal permits. They won. The Supreme Court in 2013 upheld a lower court's ruling that the permits must be revoked. Sompie challenged the verdict. He lost, but pressed ahead with the mining project.
In July 2014, then-Mines and Energy Minister Jero Wacik – who was later forced to resign and arrested as a corruption suspect – issued MMP a license to mine on Bangka. Locals sued. East Jakarta District Court in July 2015 ruled the mining license illegal and ordered it be revoked. Sompie ignored the ruling. Police in North Sulawesi, who are under the leadership of Brigadier General Wilmar Marpaung, are refusing to enforce the ruling. Instead, officers of the Mobile Brigade (Brimob) anti-riot police are guarding MMP's facilities on Bangka.
You may think: Indonesia has more than 17,500 islands, so what difference does it make if one little island is mined? It makes a huge difference because such flagrant disregard for the law bodes disaster for the country's future. There is nothing clever about generating wealth for a foreign company and its local political patrons by unsustainable, illegal exploitation of natural resources. Future generations will be left with a legacy of pollution, destruction and poverty. Anyway, Indonesia has 13,466 islands, as many of those counted in the 17,500 tally are submerged during high tide, so do not qualify as islands.
Tipping the Balance
The most high-profile opponent of the Bangka mining project is a man named Akhadi Wira Satriaji, better known to millions of Indonesians as Kaka Slank, lead vocalist of legendary rock band Slank. This band was credited with securing Joko 'Jokowi' Widodo's election as president. In early July 2014, when it looked like former general Prabowo Subianto would be propelled to the presidency by his well-organised and well-funded campaign, Slank staged a massive show of support for Jokowi with a free concert attended by about 75,000 people in Jakarta. Taking place just four days before the election, it received nationwide coverage and proved to be a turning point that tipped the balance back in favour of Jokowi, who won with just 53 percent of the vote.
Jokowi was extremely grateful to Slank and still has the occasional meeting with the band. So it was not surprising that the president had the State Secretariat in April issue an official letter to the Home Affairs Ministry, ordering it to deal with Sompie's defiance of the Supreme Court's ruling. Maritime and Fisheries Susi Pudjiastuti is reported to have also sent an official letter, asking Energy and Mineral Resources Minister Sudirman Said to put a stop to MMP's activities. These letters proved to be worthless. North Sulawesi's officials use regional autonomy powers as justification to do as they please, violating national laws and court rulings.
National Police chief Commissioner General Badrodin Haiti has failed to take action against Sompie and MMP. Last year, when Badrodin was deputy police chief, he met with Kaka Slank and Bangka representatives, telling them that police would take action if Bangka is mined without permission.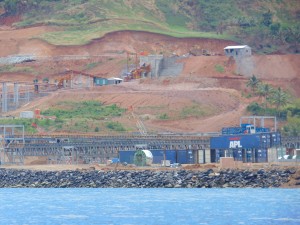 Mining is yet to commence, but locals fear it will start soon, now that MMP has constructed most of its supporting infrastructure, including a harbour, conveyor belts and staff accommodation.
After the mining license was ruled illegal, MMP slowed down its activities and laid off some Indonesian workers, while Chinese staff remain on the island. "The court's decision means nothing," says one dive resort operator. "The local government acts as if nothing happened at the court."
Construction of MMP's harbour damaged reefs, destroyed mangroves and created significant sedimentation. Visibility in some previously spectacular dive sites has decreased from 30 metres to just 10 metres.
The company even damaged the once clean spring water supply for Kahuku village, which has opposed the mining from the outset. Villagers now rely on a smaller spring that produces brackish water. They are dismayed that no one in power has the political will or clout to uphold the law.
Coral Triangle
Bangka is located in the heart of the Coral Triangle, which is home to more than 75 percent of all known maritime species on the planet and a global priority for conservation. The roughly triangular area encompasses part of the seawaters of Indonesia, the Philippines, Malaysia, Papua New Guinea, Timor-Leste and the Solomon Islands. Under the Coral Triangle Initiative, Indonesia is committed to marine biodiversity conservation, but the government's failure to protect Bangka's coral reefs has made a mockery of that commitment.
In addition to the Coral Triangle, Indonesia is committed to a commercial maritime development called the Bitung Special Economic Zone. The port city of Bitung is located on the southeastern shore of North Sulawesi's northernmost tip. Alongside it is an island called Lembeh, while to the north is Bangka.
North Sulawesi Governor Sinyo Harry Sarundajang says Chinese businesspersons have agreed to invest Rp.35 trillion ($2.46 billion) in the Bitung Special Economic Zone to develop infrastructure, as well as fisheries processing, manufacturing and pharmaceutical industries. Once completed, the economic zone will become a major trade hub between Indonesia and China, and the largest container terminal in eastern Indonesia.
Part of the project is the planned reclamation of up to 241 hectares of coastal waters. Environmentalist Robin Marinos, founder of the Earth Advocates group and an occasional visitor to Bangka, says reclamation destroys coral reefs and other marine life, "for the financial benefit of private investors and their political patrons".
If North Sulawesi were to expel MMP for its illegal activities, such action may jeopardise the Bitung investment deals at stake with China. Or it may simply send a signal to play by the rules.
Is there any hope for saving Bangka? Maybe. Indonesia will hold local-level elections on December 9. Sompie is standing for re-election as a candidate of the Indonesian Democratic Party of Struggle (PDIP) – the same party as Jokowi. There's a chance he may lose to his popular predecessor, Vonny Panambunan, a former corruption convict who is now with Prabowo's Great Indonesia Movement Party (Gerindra). Locals say Bangka has a better chance of being saved if Vonny wins, although her corruption record does not inspire great confidence.
Angelique Batuna, who manages Bangka's Murex resort, describes Bangka as a gift from God that doesn't need further work, let alone mining. "The island is beautiful with white sandy beaches, mangroves, endemic species. The underwater life is just amazing. Tourists from Europe, Asia and the US travel more than 20 hours just to come and enjoy all that. All we have to do is take care of it."