Meet Natalia Perry. Founder and Director of Safe Childhoods Foundation, Natalia has spent over a decade supporting abused children around the world.
She has worked in 11 countries in 11 years, in a range of therapeutic settings and institutions. SCF is currently based in Bali. The Mission of SCF is combating crimes against children in developing countries, including child trafficking, child sex tourism, and online child sexual abuse in Indonesia.
When did you first visit Bali?
I came here in 2001 and fell in love with the country and its people. I also noticed major child protection challenges here and vowed to return to help.
Your organization helps so many children here. What is your background?
I grew up in middle England in a very archetypal beautiful countryside with cottages. I grew up on horseback. That kept me close to nature and spirituality. To fast forward to now – a lot about The Sanctuary embraces the healing power inherent in nature. I received my BSc in psychology and neuropsychology in England. I did counselling of rape and sex abuse survivors. I worked all across the UK with different groups of victims from young offenders, to adult sex offenders, to gangs in the city of London. I worked with survivors of abuse for two years.
What led you to focus on young children?
The turning point for me was a little six-year-old boy in the UK who was sold by his dad, who was a heroin addict. He was sold for sex in return for dad to get heroin since he was a baby. At six he was taken into care. He would smash his head into the wall and on to the floor, so I was holding him and he was really struggling. I kept holding him and finally he turned to me with tears in his eyes and said, "Why? Why?!"
That was my turning point. Even if I knew why, I couldn't explain it to a six-year-old boy. But it was really important for me to work out why. That was when I realized I had to work with offenders. I did so for six months, which enabled me to get a perspective of why they do it as well as their behavioural patterns.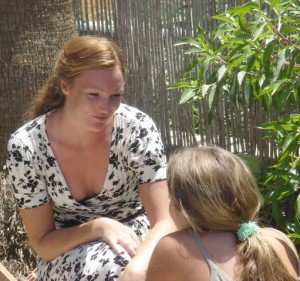 When did you start your foundation here?
In 2008 I started as the Sacred Childhood Foundation. The period of childhood is sacred. You only have one childhood. An abused childhood creates long term problems. It was interpreted as religious and we are not a religious organization. We had a lot of criticism. Our trustees in Australia said we should not use the term 'sacred' because in Australia you have a lot of problems with victims coming out and saying they were abused in Catholic churches and orphanages that were run by priests. Now is not a good time to be associated with religious organizations. So we changed the name to Safe Childhoods Foundation.
What do the mothers do while the children are in school?
We set up a place next door for the mums where they can work. It is called the Happy Workshop and provides training and employment for the mothers of street kids. They work for us beading, sewing, making jewellery, etc., and their kids won't be begging on the street. We break the cycle. We outgrew that space and got a much bigger space with medical facilities. Now there will be regular checkups and medical records will be kept. We are doing profiles on each child, going to their homes, being aware of abuse and how we may help the situation. Now we are a complete holistic package. Our hope is that this generation of children will grow up without having to beg on the streets.
What is the biggest change you see from the school?
When we first started the slum school we asked, "What will you do when you are older?" They answered that they would have babies and go out begging! This was their only reality. Now if you ask them that question their arms shoot up and they shout, "A teacher! A nurse!" They seem to be taking life in a whole other direction now.
Tell me about your school in Sulawesi.
It is in Makassar, Sulawesi. There are a thousand children living and working on a dumpsite. Our school educates 350 children a day. We teach the children in shifts so they may continue working. As soon as we have scaled up our production, the long term plan is to have them start making jewellery and clothing to get the children completely off the dumpsite.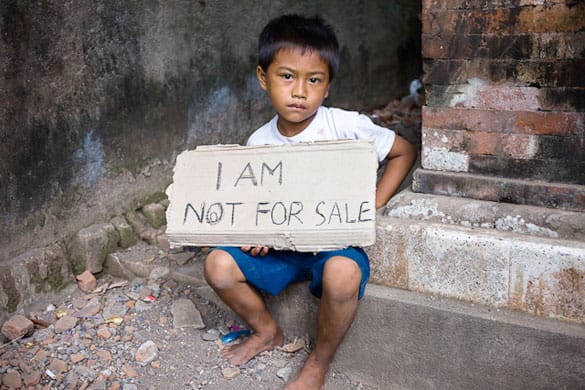 You have so many projects going on!
We actually have 12 projects going and also offer protection and aftercare. It entails rescuing children from abusive situations and, when it is necessary, to transfer them to a safe haven which we call The Sanctuary. It is a safe eco-village where protection and aftercare are provided for children rescued from the sex industry and trafficking.
We provide 24-hour protection and therapeutic aftercare in a beautiful natural environment.  Nature heals. We have support programs for reintegration into society. We are working now on awareness and protection, along with intelligence and advocacy. SCF has started going to five-star hotels for Child Safe Workshops; presentations so staff will recognize child sex tourism and what to do about it. We are bringing programs to International schools, teaching safe touch and what to do if something is wrong.
Making the Internet safe is another goal. Child pornography is online a lot in Indonesia. We work with internet service providers to block this abusive material. We work with cyber crime departments to keep cases going against offenders. Our media campaign hopes to get posters in major airports across Indonesia. One poster reads, 'If you sexually abuse a child in Indonesia this is what 15 years of your life will look like.' The picture is of prison bars.
Child exploitation is a crime. We encourage underage children to come forward. In sex tourism the signs can be subtle; here in Bali, they are very subtle. We are making it our business to protect the children of Indonesia.
Thank you, Natalia. If you would like to report any concerns about a child or a person you think might pose a risk please contact SCF immediately.