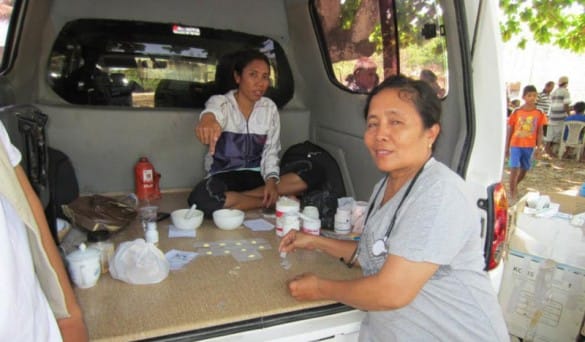 Dr. Rani (Dr. Alhairani Manu Mesa) is a young doctor working among the poor and underprivileged at the Humanitarian Permaculture Project, Indonesia.
Rani is a young Christian missionary doctor who was educated in Bali and has returned to her homeland in East Sumba. Rani provides essential healthcare to the extremely poor indigenous village people who live in these remote regions.
Dr.  Rani took time out from running the major hospital RSK Lindimara in Waingapu, to speak to me about her plans to create a free medical centre that will service people from surrounding hamlets. At just thirty-four years of age, Rani spends her weekends accessing areas that require between two and twelve hours return travelling time by road, in order to treat patients.
"I grew up among the people of East Sumba. I was raised a Christian, but I know that many Sumbanese people still practice a form of ancestral religion called Marapu faith – in combination with their religions. I consider them my own people. I have seen their struggles and efforts and know I must do something to help them help themselves; to have better lives for the next generation."
Dr. Rani has been working at Rumah Sakit Kristen (RSK Lindamara) since February 2011. The current medical centre operates by utilizing small amounts of profit from service fees, which is just enough to pay her staff. But Rani hopes to align with a partner in order to build a new centre closer to her village people.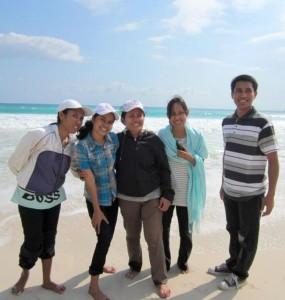 "There are only three hospitals in the main city, Waingapu, and only 22 public health centres, which are poorly equipped with no doctors or trained staff. Our people live behind hills and in remote places too far away from health services. They have to walk on foot for hours to get help, or travel by truck six to eight hours to reach the hospital. Time is critical when saving lives, and I hope we won't lose mothers and babies just because they can't reach a hospital or because they bleed to death. We need to have a medical centre built among them with trained staff."
Sumba Island is part of East Nusa Tenggara with a combined population of 700,000 (East Sumba has a population of 237.956 in 2012). Most are located around the towns of Waingapu in the East, and Waikabubak in the West. Some villages are scattered throughout, from which limited crops are cultivated. There is a marked difference between the more tropical west and the dry east, most of which now is 'savannah grassland' since the forests were depleted.
Tarimbang on the south coast is said to be the next tourist destination after Bali.
Dr. Rani has secured an area for a medical centre and offers tourism development if associated with a support system for the centre. A major permaculture programme needs to be developed as a role model for all villages of East Sumba.
"We wish to implement a permaculture program to teach our people how to provide their own foods and to preserve nature, something they can pass along to next generations. I think permaculture is a complete package. I am not an expert in this field and we have to learn more, but we have a permaculturist coming in March to help us. We will be teaching people how to grow local, nutritious crops and at the same time, show them how to cook and prepare the produce in order to retain all the vitamins, minerals and the goodness of food."
Sumba has many horses and goats, some cattle but little else other than fruit. The livestock needs better nutrition and like the Sumbanese people, they are very thin and suffer malnutrition. Rani's story is symbolic of the inadequacies of the Indonesian health system and she works under great pressure to improve a lot of the poor and disadvantaged, treating medical issues such as malaria, typhoid, dengue, tuberculosis, anaemia, diabetes, cirrhosis, heart and kidney disease, and hypertension. Lung disease is a concern, with children smoking at young ages.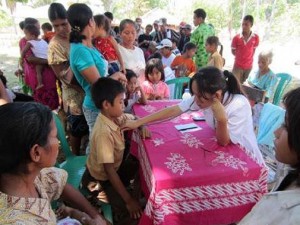 "We have patients with chronic obstructive pulmonary disease, mouth and lung cancers, bronchitis, emphysema and other lung diseases that have correlation with smoking. We have babies with respiratory diseases because parents or grandparents carelessly smoke near them. Most of them seek help at a late stage, so we treat them the best we can. It is a strict policy at the hospital that we keep the hospital area free of cigarette smoke. We put up promotional materials and make sure all staff are able to tell people not to smoke, and show them the risks.
Rani is the biggest asset in dealing with local people, as they have trust in her that goes beyond medicine. She also has staff working for her who come from
coastal areas. Foremost she is a devout Christian with the ability to reach out to people from all likes in the community. She has the gift of intelligence, and as a doctor serves all people from any religion with the utmost integrity.
"It would be great to connect with others who can help us make this happen for the people. I am not sure how long I'll be around but I would like to see my people be able to stand on their own two feet and have better lives and futures."
Readers can volunteer their permaculture and human development skills or teach women how to increase income. There is also a school for children with special needs. Doctor Rani requires donated medical equipment for the centre and a donated ambulance for transporting patients, in cases of emergency.
For more information contact Dr. Rani: [email protected]