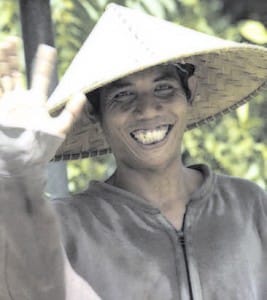 One of the wonderful things about exploring the Bali countryside is coming upon the duck farmers as they herd their precious ducks down the road and into the rice fields, generally early in the morning and late in the afternoon, as the sun sets across the fields.
Made has been a duck farmer for seven years, deciding to take up this role after struggling to make ends meet as a wood carver in his village of Kemenuh, near Ubud. Made is 42 years old and has two daughters and a son and earns about two million rupiah a month breeding ducks and selling them, mostly for use in local ceremonies.
He buys the ducklings from the duckling salesman in Klungkung Regency for Rp.5,000 each, fattens them up for three weeks on a diet of water, mixed with sugar and turmeric and a little bit of rice, and sells them for around Rp.35,000.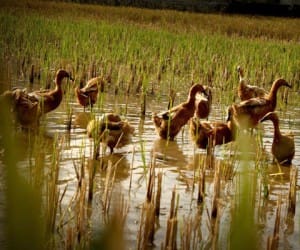 However, not all the ducklings survive, and they have to be protected against the dreaded Aluthe lizards of the rice fields, always on the search for an easy meal. Dogs are also a danger and Made needs to always keep a watchful eye on his ducks when they are in the rice fields and not safely tucked away in the many cages he uses to protect them.
Made has 800 ducks in his portfolio at present, and is a very happy man as there are many ceremonies happening on the island at this time and he hopes to get a slightly higher selling price than normal. Supply and demand economics are alive and well in the world of the Subak (sustainable irrigation system) community, as elsewhere on the island.