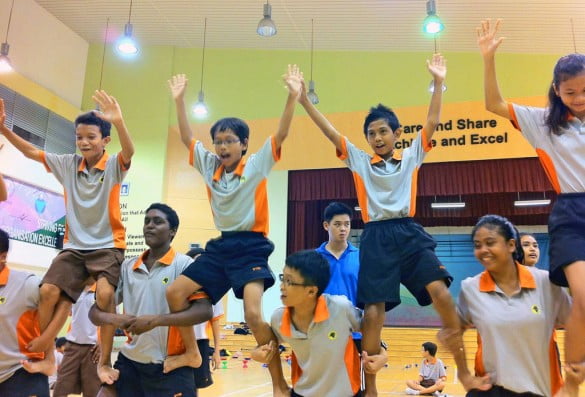 There was a time when the circus was a travelling show with performers, freak shows, and a herd of animals as good old family entertainment. In the early 20th century, though, television and cinema stole the audience and so the performers found other places of employment and the activists returned the monkeys, bears and lions back to their natural habitats. The circus had all but disappeared.
But, for reasons too complicated to explain in the next 700-or-so words, the circus has reinvented itself and has re-emerged as what people are now calling contemporary circus.
It's a broad term that encapsulates everything from traditional circus skills such as clown, object manipulation (juggling, among many other things) and acrobatics (trampoline and trapeze), as well as a range of performing arts. In the 21st century, you're more likely to see these types of performers on the street, at a festival or in a theatre than you are in a big top circus tent.
The elite in this new world of the circus are groups such as Cirque du Soleil, an international entertainment company that is built upon all the elements of contemporary circus and recruits the best of the best in circus skills and acrobatics to perform in their grandiose shows.
Slowly but surely, as circus reintroduces itself to the world, that element of elusiveness that circus has for so long possessed is evaporating. It is still far from being mainstream, but it is gaining popularity as a hobby and, in some cases, a good work-out and the simple fun of learning a few circus skills has drawn people of all sorts out to join (not run away with) the circus.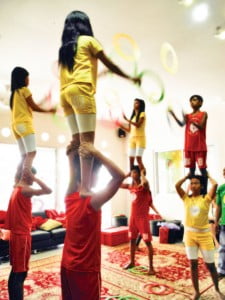 According to Jay Che, the principal instructor at Circus in Motion in Singapore, those who are new to circus would usually begin with developing their coordination skills by learning to juggle, spin plates and spin a spool on a piece of string (a prop commonly known as the diabolo or the Chinese yo-yo).
For balance, or "your equilibristic skills," as Jay refers to it, you could expect to begin with a bit of stilt walking and the rollabolla (a balance board) before maybe having a go at the walking globe (literally, walking on top of a big ball).
Intermediate circus students would begin working on more complicated juggling and diabolo tricks and learning how to juggle flower sticks (also known as devil sticks) and might even try their hand at twirling fire poi or fire staff.
A circus is physical and fun, but there are other benefits that are much less obvious. Circus teaches self-esteem, self-discipline, creativity, teamwork and social skills, and it is multidisciplinary, meaning anyone can find something they can do within the freewheeling world of circus. There are no limits to who can benefit from circus arts and social circus. For all of these reasons, the circus is widely used as a tool by community workers to help them engage with marginalised and at-risk youth and communities. Social circus, as it's known, is a growing movement that is already being used across America, Australia, Europe, and here in Southeast Asia.
Jay Che uses circus to engage with youth in Singapore. Having studied social work at the National University of Singapore and after receiving training in a social circus under Cirque du Monde, the international social circus network of Cirque du Soleil, Jay says he is convinced of the benefits associated with it.
"I was inspired by the stories of fellow instructors from Asia Pacific and was convinced that social circus was a better tool than conventional counselling."
In 2012, six years after it was founded, Circus in Motion was recognised as a "social enterprise" and is now a member of the Singapore Social Enterprise Association.
"In the school settings, we are working with the lowest 15 percent of the academic cohort. They often do not turn up for school. With the circus programme in place, the school has reported a higher attendance rate on circus workshop day. Teachers have also viewed non-academically inclined students differently, more positively, for doing circus at school."
Jay sees circus as a way of teaching perseverance, helping students gaiself-esteemem, discipline and teamwork.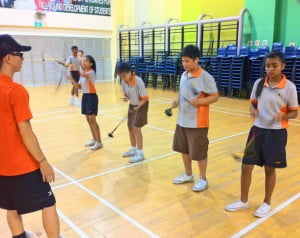 Andrea Ousley, a circus trainer under Cirque du Soleil who has spent the past six months in Jakarta working with the staff and children at the Jakarta-based social circus the Red Nose Foundation, says a sense of community, too, is one of circus' best attributes.
"It's amazing how many cultures still possess that same idea about circus, that marginalized people or those who don't fit in run away to join the circus. That still sits in the back of people's minds."
And that's why it works, Andrea argues, regardless of someone's experience, physical ability, age, culture, language, and socio-economic status.
"The circus is a place where people can fit in… People crave being a part of a community, and circus is wonderful because it gives you that sense of community."
That fact is certainly not lost on Dan Roberts, the founder of the Red Nose Foundation. For six years Dan has been using social circus to engage with children living in two impoverished villages – Cilincing in North Jakarta and Bintaro Lama in South Jakarta. Five days a week, the foundation's staff are working between the two villages, teaching circus to almost 200 children and running other arts and education classes.
Dan, who studied theatre and worked in a social circus in Chicago before jumping on a plane to Indonesia to set up the foundation, also teaches private circus classes at two of Jakarta's private international schools.
"Circus transcends cultural boundaries. It's fun and it's hard. There are steps that you have to follow if you're going to succeed, no matter your race, religion, or culture. No one learns to juggle three balls without juggling one ball first," says Dan.
"Circus is an almighty equaliser. It brings everyone to the same level."