Jakarta Governor Basuki "Ahok" Tjahaja Purnama will be jailed for two years following the Tuesday, May 9, verdict in the long-running blasphemy case which has gripped the city.
Prosecutors had previously called for a one year sentence with two years probation under Criminal Code no. 156, which punishes persons found to be spreading hatred or hostility against one more groups in Indonesia.
In the final verdict, Ahok, who is ethnically Chinese and a Christian, was found guilty of violating Criminal Code no. 156A, which targets religion.
"Basuki Tjahaja Purnama (Ahok) was found legally guilty of violating criminal law of blasphemy," Chief Judge Dwiarso Budi Santiarto said during the verdict at the Agriculture Ministry Hall in Ragunan, South Jakarta.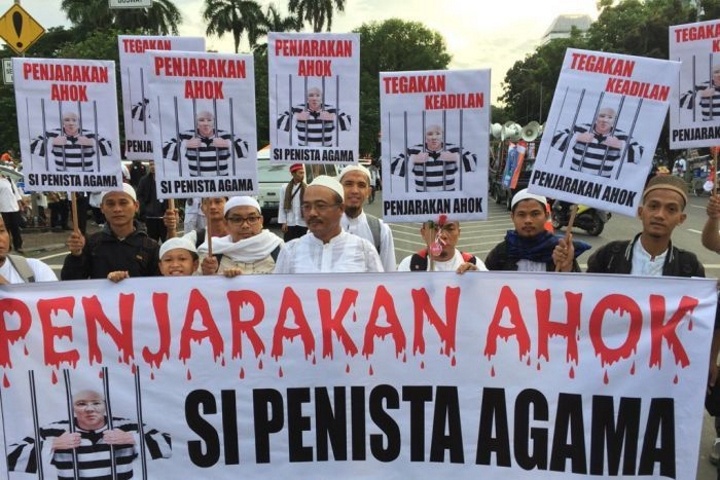 In previous sessions, Ahok was not found to have purposely spread hatred or hostility but by the verdict, this view had changed.
The charges come following comments the governor made during a campaign event in the Thousand Islands late last year in response to a growing hardline Islamic movement to rid the city of him.
"It is possible to not vote for me because you are being manipulated (by people) using Al-Maidah:51 of The Qur'an. That's your right. If ladies and gentlemen feel that they should not vote because of fear of going to hell, being manipulated like that, it's okay", Ahok said in October.
"From the sentence, the suspect assumed that Al-Maidah of the Qur'an is a tool to manipulate society […] and with that assumption, the suspect has insulted Al-Maidah:51 of the Qur'an according to the court," Santiarto said.
Despite the entire case playing out during the Jakarta gubernatorial election race, the judicial panel found there is no connection between the case and the incumbent's loss.
"It is not related to the election but a purely criminal matter regarding blasphemy," the panel ruled.
The verdict outraged supporters of Ahok that had gathered at the hearing, with reports of a supporter assaulting a passerby.
Ahok is believed to be in custody and under transportation to Cipinang Penitentiary.
"I received a call from the prosecutor telling me that Ahok is on his way to my penitentiary," Cipinang Penitentiary warden Asep Sutandar confirmed to Detik.com.
Ahok continues to protest the charges and is set to appeal.