Kenneth Yeung looks at Eastern Promise as it prepares to celebrate its 30th anniversary with 30 days of entertainment.
Step Back in Time
1989 was a momentous year in history. Revolutions swept Eastern Europe, culminating in the fall of the Berlin Wall. South Africa began dismantling its apartheid system, and China unleashed a deadly crackdown on pro-democracy protesters.
Almost no one used mobile phones or email, although the first commercial internet service providers were about to appear. A couple of little-known TV shows, The Simpsons and Seinfeld, aired their first episodes.
In Indonesia in 1989, the authoritarian Suharto regime ruled supreme in business and politics. One US dollar was equivalent to 1,750 rupiah. The highest denomination banknote was the Rp10,000, which featured feminist hero Kartini. A few of those purple banknotes were sufficient for a good night out and a taxi ride home. The Rp20,000 banknote would not appear until 1992.
Jakarta was a different world back in 1989. Schoolgirls were suspended when they insisted on wearing the headscarf. There was no Islamic Defenders Front, no text messages, no social media. Most expatriates were Westerners. A glass of beer cost Rp3,000, a packet of Marlboros Rp1,000, a pack of kreteks about Rp500.
If you wanted to contact a friend to meet for a drink after work, you'd have to call from the home or office landline, or from a blue payphone that accepted 100 rupiah coins. There were comparatively few Jakarta nightlife venues for expats. The small number of four and five-star hotels had exclusive bars, where you could be denied entry for wearing jeans. There were the sleazy bars around Jalan Falatehan in Blok M, the "cheap and cheerful bars" on the Jalan Jaksa backpacker strip, wild parties at the now tame Cafe Batavia in Kota Tua, the long-running Jaya Pub, and the legendary, lamented Tanamur disco in Tanah Abang.
In 1989, Englishman Carl Gilchrist opened Eastern Promise (EP) in Kemang, South Jakarta. Carl was a pioneer of the Jakarta bar scene. One of his earliest jobs in Indonesia was food and beverage manager of Hotel Asoka. You've never heard of Asoka? It opened in the 1960s and was torn down in the 1980s to eventually make way for Plaza Indonesia and the Grand Hyatt Hotel.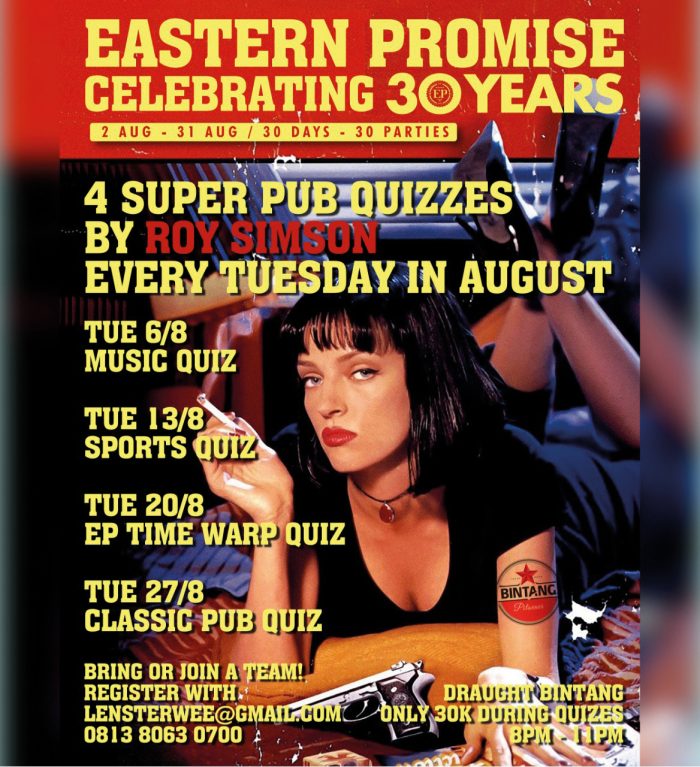 Carl opened his first bars in the 1970s. These included the George and Dragon, the King's Head and the Eye of the Wind (in Ratu Plaza), creating a mini-British Empire in Jakarta. Carl was originally a chef. Rumour had it that he worked at London's Savoy Hotel in his younger years. While the expertise of some expat managers is firmly on the drinking side of the bar, Carl was passionate about providing good food and service.
He personally trained his kitchen staff, ensuring they could make proper meat pies, British curries, fish and chips, weekend roasts and much more. Even now, five of the current EP kitchen staff were trained by Carl in English cuisine. EP's current chef, Pak Heri, was part of Carl's opening teams for many of his pubs' kitchens and has worked at EP since the day it opened in August 1989.
Carl was a traditional, perhaps old-fashioned, style of publican. There was never any loud music played in Eastern Promise and there was only one small TV for the evening news. EP was a place to congregate over a meal and a drink (or several), rather than a nightlife venue. There were occasional raffles or quiz evenings, before patrons would head northward in search of further entertainment.
Enter the BuGils Group
Following the collapse of the Suharto regime and the Indonesian economy in 1998, plenty of expat-oriented bars came and went. One of the newcomers was the Dutch-themed Bugils Bar (bugil means naked in Indonesia, while the bar's name was a contraction of bule gila – crazy foreigner), run by one Bartele Santema, at Taman Ria in Jakarta's Senayan district. It quickly became one of the most popular bars in Jakarta, famous for its food, atmosphere, live music and colourful clientele. It also hosted an excellent monthly pub quiz. Bart tirelessly promoted Bugils through regular online newsletters, which were widely read, as he focused on amusing or insightful news.
Before the lease for Bugils permanently expired in 2008, Bart and the BuGils Group had begun seeking new locations. Several people were keen to put their money into a new venture. This resulted in the opening of Cazbar in Mega Kuningan in November 2005. Then in 2006, Carl moved back to England because sadly he had been diagnosed with leukaemia. He sold his only still-running pub, EP, to the BuGils Group.
Some of EP's diehard regulars worried the new ownership would bring about drastic, unwanted changes. Instead, the BuGils Group went out of its way to keep these regular patrons happy, while also rejuvenating the premises. The new manager of EP was Lens ter Wee, a former English teacher who had been such a regular customer at the original Bugils that he started looking after the bar when its manager was away.
Under the new management, EP soon restored some of its former glory. The previously unused back garden was transformed into a live music venue and started drawing big crowds. When Kemang was hit by severe floods in 2007, the Iranian carpet shop next door went bankrupt, so EP expanded, opening a separate sports bar (after an indoor golf idea failed to reach the fairway).
In 2008, Lens and EP regular Brendan Goodenough devised the still immensely popular Pressure Hour: a free-flow of Bintang beer for one hour, every Friday between 5pm-6pm, until someone leaves the bar or visits the toilet.
Party Time
Throughout the years, EP has always come up with innovative celebrations, such as its now famous Beach Parties, where the parking area is covered in sand and festooned with umbrellas, a BBQ, live music and plenty of liquid refreshment. The 24th anniversary was a 24-hour event. Now, the 30th anniversary will be a 30-day-long celebration with live tribute bands from the Smiths to the Cure and Oasis, four pub quizzes, a special hash run covering all five BuGils Group bars and ending in EP, stand-up comedy, comedy and rock bingo nights, karaoke, and of course the beach parties. Celebrations begin on August 2 and end on August 31. Check the EP website, epjakarta.com, or Facebook page for the full schedule of activities.
Great Food, Great Community
EP is famous for its curries and is the only place in town to serve an authentic balti curry. The chicken tikka masala is a signature dish, while there's also a top selection of Western meals, including weekend roast pork. The restaurant recently installed a smoker in the back garden, so smoked brisket, ham and pulled pork can be added to the extensive menu.
The food is so popular that EP has carved out a tradition of catering for international schools, embassies, sports events and many private functions; offering Indian, Western and Indonesian meals, in addition to BBQs and smoked meats.
At the bar, signature drinks include the Lagerita (lager beer with frozen margarita) and Brainwash (for those desirous of a cerebral soaking). In addition to regular draught beers, EP also has craft beers on tap.
Despite being one of the oldest pubs in Jakarta, EP is not slowing down. Its Friday and Saturday live music nights are as busy as ever. Televised foreign sport always draws plenty of spectators. After the thrills and disappointments of Wimbledon and the recent Cricket World Cup, next up is the Rugby World Cup. Don't worry if any games coincide with Australian football or European football matches – there are enough screens to show everything.
Quiz nights, usually held on the final Tuesday of each month, also draw strong crowds. The winning team gets to drink free and also gets to set and present the next quiz. The four fun quizzes for August are all designed to leave participants feeling smarter, rather than perplexed.
EP has always been a big supporter of many of the societies in Jakarta, such as the British Women's Association, the Dutch Club (DNC) and the Java St. Andrew's Society. EP is also a proud sponsor of numerous sports clubs, including the Jakarta Komodos Rugby Club, BuGils FC in the Jakarta International Football League, and the Kombinasi and Pink Wanitas field hockey teams. In addition to all that, EP fields three teams in the Jakarta International and Ladies Pool Leagues.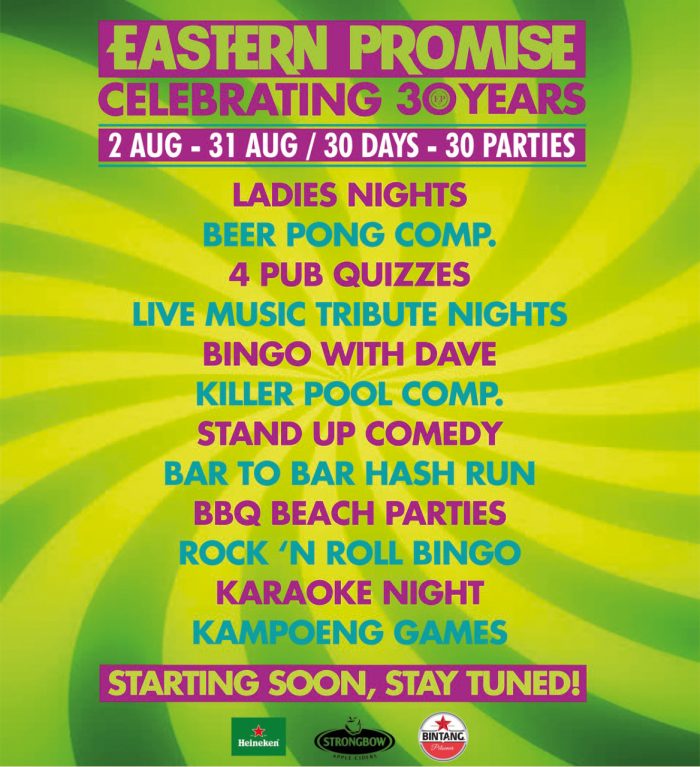 For those who prefer less competitive sport, EP is home to the Jakarta Gentlemen's Club. This is a group of men of all ages and backgrounds, who conduct social activities together, such as bowling, paintballing, billiards and even ping-pong competitions. They also go on annual Bali "retreats". The only prerequisite is a fondness for camaraderie.
Here's to the Future
Despite the declining expat market in Jakarta and ever-increasing competition in the bar scene (there's even a Hooters over the road), EP is a firm favourite. In a market inundated with style over substance, EP remains refreshingly unpretentious. Online critics may claim it's smoky and too old-fashioned, but there's nothing wrong with good old-fashioned service, quality and conviviality. As for the smoke, the restaurant is smoke-free, while a new extractor fan has been installed in the front bar.
Lens admits that EP is perhaps not everybody's cup of tea. "We are not for people who like a club or a lounge. People come here because there will be someone they know, or they can meet someone new and have a good chat over some drinks. Also, many customers met their future husband or wife at EP."
EP certainly isn't frequented only by older Western males. There's a growing number of female customers, Indonesian clientele and Asian expats. "I'd like to think we have a good mix of regulars: expats and locals alike, young and old. We even have a kids' playroom," says Lens.
Some of the customers have been regulars since the early 1990s, establishing a community spirit, exemplified when patrons help worthy causes. There are also pot luck nights, where the regulars bring a home-cooked dish for sharing. When that classic spirit of community was fused with the Bugils spirit of great fun, it created one of the best bars in Jakarta.
Jakarta has evolved almost beyond recognition over the past 30 years, but one bar continues to deliver all that it promises. Let's raise our glasses to EP. Long may it continue to reign.