Ramon is owner and boulanger of Levant Bakery in Kemang, South Jakarta. Together with his business partner, Ramon opened up shop in December to serve fresh baked bread, pastries and viennoiserie.
Ramon, where are you from and how did you end up in Jakarta?
I am from Lyon, France, and I came to Indonesia in 2007 for the opportunity to teach music at the French International School in Jakarta. I did that for seven years, until we opened the bakery in December 2014.
What inspired you to open a bakery in Jakarta?
Baking is my passion, it just makes me happy. I started out with a normal Kenwood home bread-making machine which I used with yeast I made myself. Then I tried making sourdough by hand and using my kitchen oven. Eventually I bought one large and one small oven, and for the last two years whilst teaching, I was also making lots of bread at home for my friends and neighbours. There was high demand, so the idea came from there. I never set out to make money – I just wanted to bake. And twenty years teaching music was enough!
Do you have a background in the food and beverage industry? Where did you train?
I have a background in agriculture. I spent years running an organic vegetable farm near Bordeaux. Farming is very hard work; you don't get much money or holidays! So I suppose that is my connection to food. But I am a self-taught baker – I went to Paris a year ago to spend time in a pâtisserie and perfect the art of the croissant, and I learned sourdough from two boulanger friends of mine.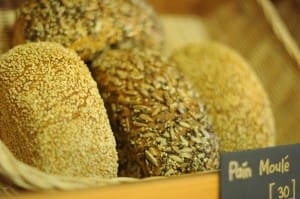 Why did you choose the Kemang neighbourhood?
I have a local business partner – an architect with an office nearby, who knows this area well. We searched for the right premises for six months. Originally I didn't want a shop, I just wanted to sell to restaurants and hotels (which we do) – but here we are now!
There's plenty of competition in the area; what do you make of it?
Yes, but I know that most of them do not make everything in-house, they buy in frozen croissants and bread.
We are, to my knowledge, the only bakery in the South Jakarta area that makes all products 'sur place' – we are unique.
How's business?
It's not bad – we haven't been open that long so we are still getting the word out. The goal was always to have prices that are not high. But the Government's import taxes make this really hard. 90 percent of our ingredients are imported, like butter from Europe, cream from France, rye flour from Australia and Germany.
Who are your customers mainly?
Of course, friends from the French community and International School, as well as passers-by. It's a large majority of expats and mostly through word-of-mouth. Customers appreciate we are not exactly a restaurant – the food we offer is exclusively related to bakery products, like quiche, sandwiches, plateaux aux fromage or campagne (with new assisettes coming soon!).
When are your busiest times?
We are open every day from 7am to 8pm, but we're busiest on Saturday and Sunday mornings, when people come in to buy viennoiserie and pâtisserie for the weekend. We also do delivery in the Kemang, Pejatan and Cipete areas.
What are your most popular products?
Croissant and pain au chocolat are the most popular pastries. Quiche Lorraine is a big seller for lunch. Customers love the mini apple, pear and chocolate tarts too. People here seem to eat less bread than in France, but baguettes sell. We hope to become famous for our authentic sourdough!
It is one of the oldest types of bread. It is leavened with a sourdough 'starter' and—unlike what you may find for sale elsewhere in Jakarta—should not contain anything like today's modern yeasts. The starter is a culture of natural yeast and lactobacillus that can be kept cultivating for many years – there are said to be starters in Egypt that are 1,000 years old! I brought mine over from a friend's bakery in France about a year ago. Each one has a unique 'personality' and taste because it reacts with the air it is in. It is easier to digest and more nutritious than normal bread, due to the way it interacts with the body. It has a lower glycaemic index too, so you're fuller for longer.
You can keep it in the fridge for three to four weeks, and we can slice it for you for freezer storage. I chose to specialise in it because I grew up eating sourdough all my life – until I moved here and couldn't find it!
What time does your day start – you must be up early to bake?
Well, levant means 'rising' – as in, with the sunrise! Bread dough needs time to ferment or 'prove', so in the morning it is a sequence of putting baguettes and croissants in our temperature – controlled room at specific settings to achieve this. I usually arrive here around 4.30am. In boulangeries in Paris they might start at two or three in the morning to be ready for the rush at 7am.
What do you make of modern TV shows like Great British Bake Off and Masterchef? Do you think they help to popularise your chosen form of art? 
There are similar programmes in France. I think they're funny but they are not reality. Taste is so subjective, even if you are a supposed 'expert' in an area, it is still personal to each judge. I watch them, but occasionally I find them annoying!
What's your vision for the future for Levant Bakery?
For the short-term, just attract more customers. Long-term there is the potential for us to create a brand and sell our bread more widely. But for now, one shop is enough! If we did grow, I would be very careful not to compromise our quality in any way, which can be hard with expansions.
Thank you Ramon. To get in touch, please email [email protected]
—
Levant Bakery, Jl. Benda Raya No 12A, Kemang, Jakarta Selatan
+62 (0) 21 7884 7454, www.levant-kemang.com