Hallo Klaas Kemp! The Dutchman with Indonesian citizenship who first came to Indonesia in 1947 on a Navy ship.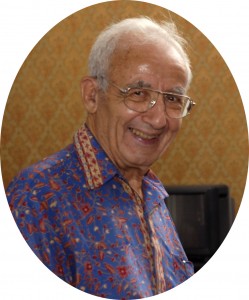 You are quite well known among the expat circles in Indonesia. How long have you been living here and how did you first arrive in Indonesia?
Including my time in the Navy, I've been here 44 years. In 1947 I was drafted for the Dutch navy. After three months training in Hilversum, I got three weeks tropen verlof and on September 6th I boarded the troopship Sloterdijk voor N.O.I. and my first landfall was at Sabang. The next stop was Batavia where I disembarked, a few days later I was sent to Soerabaja (Surabaya) where I boarded the Ambon, a small war ship that was being repaired. Half of the crew was on vacation in Bali and when the next party went to Bali I was included, that was a good start for me. My first patrol brought me for a two week duty between Semarang and Rembang. The following months we patrolled the islands in the Riau Archipelago, followed by trips to Borneo, Celebes and in August 1948 we visited the island of Ambon for a celebration when the Dutch first landed on the island 350 years ago. In Makassar we stopped a week for small repairs en then went on to Batavia. When entering the narrow mine free canal I was standing on deck and saw something floating, the guy next to me shouted a mine, panic. We were off course and in the middle of a mine field! The water was crystal clear and we were all posted along the railing to watch out for mines. With a machine gun they managed to sink the mine and we arrived safely in Batavia. Upon arrival I got a message that I was transferred to the MLD mess on van Heutzplein. I remained in Batavia the rest of my tour of duty and returned to Holland with the troopship Zuiderkruis. The end of November 1949 I was dismissed from the navy with a medal engraved with; voor orde en vrede (Order and Peace).
A couple of months after my return from N.O.I., I was accepted by de Holland Amerika Lijn. On May 5th 1950, I made my first trip as waiter on the S.S. Veendam and served with the HAL for 24 years. I was often training new waiters when the cruise season started, that was my hobby.  When the company started with Indonesian staff in 1971 I was sent to Indonesia as training manager in de Hotel school in Bandung. With five HAL staff and Indonesian teachers we trained 1400 boys to work on the cruise ships. In September 1973 the training was stopped and we were sent back to Holland to work aboard the HAL cruise ships. I resigned from the H.A.L and was accepted by Aero Wisata-Garuda-KLM hotel group as training manager for the newly open hotels. I signed a contract in Den Haag and arrived in Jakarta Kartika Plaza Hotel early December 1973. I worked for the group until September 1977 and accepted an offer to work as GM in hotel Homann in Bandung to be close to my family. This was a mistake and I resigned in March 1978. In April I accepted an offer from Oasis Restaurant where I introduced the Rijsttafel.
 What is your most memorable memory from serving in the Dutch royal navy in Indonesia?
The navy also made use of RP's (river patrol boats) in the Riau Archipelago with a crew of seven. All food was canned and heated on a charcoal fire, weather permitted. One of the RP's got in a fight with a speedboat, several crewmembers were wounded and one died. The Ambon was called for help, the wounded and dead were taken over and brought to Tanjung Pinang.
You managed 'Memories', the Old Dutch Colonial themed restaurant which was very famous in Jakarta. What's your best memory from these days?
My fondest memory was when a group of Naval Officers asked me to play the music HOLLANDS VLAG JE BENT MIJN GLORIE and they all were singing along.
Is the restaurant business a difficult industry to run in Indonesia?
If you have enough money and know your way through the bureaucracy it is not a difficult business to run.
Do you ever want to return to The Netherlands?
The answer is NO! When I returned to The Netherlands in 1949 I promised myself to return to Indonesia, as I love the country and above all, the people.
What is life like in Bandung?
Nice, cool and no disturbing AC. I stay home over the weekends as the Jakarta tourists overflow the city.
Are there any sights in Bandung that a visitor must see?
The Tangkuban Prahu Mountain is a must. An angklung (a musical instrument made of bamboo) performance is also highly recommended.
How did you stumble into the world of antiquities?
When I came to live in Bandung, when working for the H.A.L., every night some men passed by with all kinds of antiquities. They started unwrapping the stuff and I got interested and bought some pieces. My wife also liked it and soon my house was overflowing with all the stuff I bought.
Any advice for someone who would like to start collecting antiques in Indonesia?
Know that 99% of what you're buying is a fake.
You celebrated your birthday last week. May I ask how old and did you celebrate in style?
I am now 85 years old. Our traditional dish for festivities is NASI UDUK with our family.
Do you have any advice for our readers on how to live a happy life?
If you have a quarrel with you wife, don't go to sleep before you've made up.
That's very good advice. Thank you Klaas! If you'd like to get in touch with Klass, email him at [email protected]