The Founder and Director of Bali Animal Welfare Association (BAWA) is dedicated to saving all animals in distress, especially the world's oldest and most diverse breed of canine; the Bali dog.
Tell us about your background and what brought you to Bali.
I was born in Japan and was raised in the USA. I came to Bali in 1973 on my way to India. I credit most of my education to the experiences and lessons gained through travelling throughout Africa, Afghanistan, Pakistan, India and Southeast Asia, trading in handicrafts, gems, and jewellery. I spent 16 years practicing the silent, rigorous meditation of Vipassana in India, where we took vows to refrain from killing any living being, not to lie or steal. But it was the Bali dog that determined Bali was to be my home.
Have you always had a love of animals?
Yes! As a child I wanted to be a veterinarian but realize now I would not make a good vet as I hate to see animals suffering in any way. In Africa, I studied the migration of animals. I have always felt we have a lot to learn from all life forms, especially the animals we live amongst.
How was BAWA born?
I rescued a white Bali Kintamani dog 33 years ago, who was tied up and suffering. I asked the owner how much to buy the dog to which he answered 100 dollars. I got him down to ten dollars and took the dog home. Over the following years I rescued many Bali dogs. In 2004, the law restricting importation of dogs to Indonesia was abolished, which led to many new problems.
With the foreign bred dogs came new diseases, and the pure strain of Bali dog, after thousands of years, was breeding with other species. The dog population grew and there were many more unwanted street dogs. There was much more traffic and less access to water. Dogs were bought and abandoned or left in cages and abused; we can see this every day in Bali. We started picking up these abused, hurt dogs and bringing them to Denpasar. People would call us when they found dogs at risk. We have seen horrible cases of abuse and neglect. BAWA was born out of need.
Rabies became a new issue here in 2009. How did BAWA deal with the problem then and what services are available now for rabies?
BAWA set up a rabies pilot programme in 2009 once dog vaccines became available on the island. Until then the government relied on killing dogs, but this did not work and rabies spread throughout the island. Due to the success of the pilot programme, BAWA was able to work all over the island until May 2011 and managed to reduce canine rabies by 86 percent after the first programme compared to the prior year. Vaccinating at least 70 percent of all dogs will establish the herd immunity needed to eliminate rabies. Vaccinated dogs actually can help eliminate the spread of rabies as these dogs are able to chase away an infected dog (once a dog is infected it always dies within 10 days). The answer is to continue vaccinating until rabies is eliminated. BAWA has a 24/7 hotline for people that need help or have seen a sick or suspicious dog. BAWA trains personnel who will pick up sick animals and advise people on medical assistance and procedure.
What are the greatest challenges facing the Bali dogs?
Before 2004 we mostly had the pure Bali dogs, the oldest breed of dog in the world according to genetic scientists. They were just the average village dogs that have been a part of Balinese life and lore for centuries. More recently, we have seen a surge in popularity of imported breed dogs that has encouraged the establishment of cruel puppy mills and backyard breeders. Pit bull fighting is gaining in popularity, dog meat is a commodity, and the incidence of new infections and diseases like rabies is increasing. The culling of dogs through mass poisoning or worse is also taking a huge toll on the survival of the Bali dog. We are losing the pure breed.
We need to preserve and promote these indigenous dogs and it is achievable as long as urgent action is taken through a robust vaccination and education programme. Our method of mass canine vaccination worked when BAWA managed the island-wide vaccination programme until mid-2011; experience and expertise from around the world shows that culling is cruel and ineffective. We also need the right to export healthy Bali dogs to other countries to protect and conserve the pure Bali dog breed. It is illegal in Bali to do so at this time.
What other services does BAWA offer?
We have a 24-hour hotline for emergency rescue and treatment. We vaccinate, sterilize, rehabilitate, adopt, educate and advocate for animal welfare.
Tell me about your educational programmes.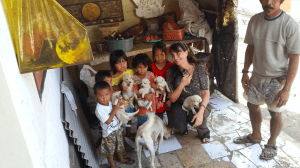 We go into public schools as well as international schools and teach about being respectful and caring for dogs. We teach children the five freedom concepts for all animals:
1) Freedom from hunger and thirst – water and diet
2) Freedom from discomfort – proper shelter
3) Freedom from pain, injury and disease – medical prevention and treatment
4) Freedom to express normal behaviour – the setting to do so
5) Freedom from fear and distress – assessing conditions and treatment
We teach the children how to avoid being bitten. We tell them to avoid dogs they do not know, but to stay calm and still when a dog approaches. Dogs can feel our emotions and will react accordingly. There is a need to educate the youth about the value of dogs and to respect them. We also partner with the International Fund for Animal Welfare (IFAW) on a highly successful community participation-based programme working within villages.
You do all this while maintaining a full time job with your jewellery company, Janice Girardi Designs?
Yes, it's all pretty full on! BAWA has 60 employees and the jewellery business has well over 100 staff, and many have worked for the company for over 20 years. Travelling the world, I was able to work with some of the finest stone cutters and jewellers. I love ancient Balinese techniques and although it is becoming a lost art, we still promote and encourage these designs. We now have a new line of 'animal paw print' jewellery sold in BAWA shops in Bali and worldwide to help raise funds and awareness. We have just opened a jewellery outlet in Centro Manado, where our shop will help promote animal welfare.
What is one of your favourite pastimes?
On weekends, I take all of my dogs to a river valley for a long hike – it is our quality family time! I also enjoy cooking for myself and my dogs. One dog likes surprising us all by jumping from outside the house in through the kitchen window and over the counter, often spilling chopped veggies all over the floor!
Thank you, Janice! To get in touch, email: [email protected]            
If you see an injured animal in Bali, please call the hotline: 0811389004