Alberto Remondi was born in Italy in 1963 and grew up in the family home in Rome, one of the world's most beautiful cities.
He started living independently at age 18 when he and a friend moved into their own apartment. By age 28, he had visited almost the whole of Europe – England, France, Austria, Germany, Holland, Yugoslavia, Switzerland, as well as making three trips to Australia. After taking up residence in Bali in 1996, Alberto worked in Lombok and Bali at Novotel Hotel, Nusa Dua Beach Hotel, the Hilton and several other four or five-star hotels as an agent for a well-known Italian tour operator. From 2002 to 2006 he worked for the clothing company Animale, then managed seven restaurants for the Lotus Enterprises Group. In 2009, Alberto started his own business, Alfred Pasta, the only commercial homemade pasta producers on Bali.
What is your educational background?
To be honest, I was not the best student in school. I took some professional courses at university, but never found the right field of study to suit my needs.
What jobs have you had in your life?
My best teacher was the street! When I was 17, I was already working part-time for a small company that produced plastics. From that moment on I have never stopped working. At 22, I opened my first music pub, Jazz Pub, near Saint Peter Basilica at a time when pubs were very popular in Rome. After a few years, at the urging of my family, I decided to work for a government agency. I don't regret the experience, but I was never cut out for that kind of work. In my spare time, I was always looking for other opportunities in the food and beverage business.
When did you first visit Bali?
Each time the father of an Italian friend who married an Indonesian woman returned to Italy, he always spoke glowingly of Indonesia and its people. In 1991, I decided to visit this amazing country of which I knew nothing. When I arrived in Bali, I fell in love with the island. From 1991 to 1996, after several visits, I dreamed of moving here, but it was a difficult decision to make. Finally, my mother, seeing my agony, told me to just follow my feelings. Within three weeks I resigned from my government job, bought a ticket and arrived in Bali to begin a new life!
How did you get the idea of producing pastas?
A few years ago a dear friend of the family Luciano Armezzani came to visit me on holiday. After a few more visits over several years, he convinced his son Carlo to come here on vacation and during one of those holidays, talking about this and that, they decided to make a business investment in Bali. After knocking around some ideas, we came up with making pasta on a commercial basis. Today father and son are my business partners, without whom Alfred Pasta would never have been realized.
Alfredo was the chef who started with us and made some of our initial recipes. One night after a few beers Alfredo became Alfred, so why not to call our brand "ALFRED"?
Considering Bali's big Italian expat population, hasn't any other Italian ever tried to start a pasta producing business here?
Good question! I have heard of some others in the past who have tried but have not gone far. I guess some of the reasons why they were not successful are the same reasons why it has not been easy for us! The licenses weren't easy to get. We had to import all the production machinery and the dryer from Italy. We learned that the change in temperature and climate affects both the preparation and success of the pasta mixtures. For a whole year we worked on getting the flour and the mixes right before starting actual production.
Why are the type of flour used in pasta and the drying method so important?
For dry pasta, the flour and method of drying are crucial for maintaining stability during cooking. Even with our imported pasta dryer, which is digitally temperature calibrated, we sometimes don't achieve the desired results. For ravioli and other pasta that is not dry, the process is considerably simpler, although we still use the same specially selected local flours and ingredients.
Do you produce other products besides pasta?
Fettuccine, fusilli, ravioli, lasagne, cannelloni and other traditional pasta and various sauces are our main products, but we also produce pre-cooked products that are ideal for those with limited space and time.
What is special about your food products?
All are strictly natural without preservatives and dyes; cooked, packaged and frozen at high temperatures to maintain freshness.
Where are your Alfred Pastas sold?
You can find our products in almost all supermarkets and in some delis in Bali. We also supply five-star hotels, fine restaurants, small cafes, private villas, schools and small boats for tourist excursions. For two years now we have distributed our products in Jakarta, Lombok and Surabaya. Some people even find our pasta in Kalimantan, but honestly, I don't know how!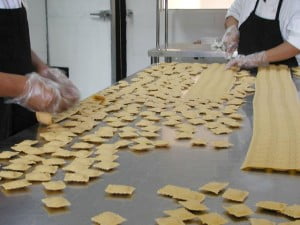 Is it practical to make good pasta in the home kitchen?
My grandmother often made her own pasta by hand with flour and eggs – those were wonderful times! But by my mother's generation, she was already making homemade pasta less often. The times have changed and people's needs are different. Now if you don't have one of those small home pasta-making machines, no one has the time anymore.
Which tastes better, boiled pasta or microwaved pasta?
100% boiled and fresh pasta! We do produce precooked lasagne and some other precooked foods that you only need to warm up in a microwave or drop in boiling water. Of course, it is not fresh lasagne that comes out of your oven, but taste-wise almost the same.
Tell me, do your pasta sauces have a secret ingredient?
Come on! Secrets are secrets! I can't make public the secrets of the chef, but I can say that passion and good ingredients are a key part of our success.
What is the best way to contact you?
My email is [email protected] Remondiand my office telephone is +62-0361-878-4379.