Originally from New-York, Amy Rachelle has been teaching her culinary raw vegan food retreats for nine years in Ubud, through Nu-De, her Holistic Nutrition & Detox School.
As a naturopath, Dr. Amy's predominant focus on food is not only on taste, but also on true healing and wellbeing. She has been on raw vegan food since 1996. Through her pro raw chef and teacher Jillian Love from California, Dr. Amy is the concept creator behind the recipes. She is much more of an educator than a chef. "Food is medicine when we know how to use it to heal naturally," she says.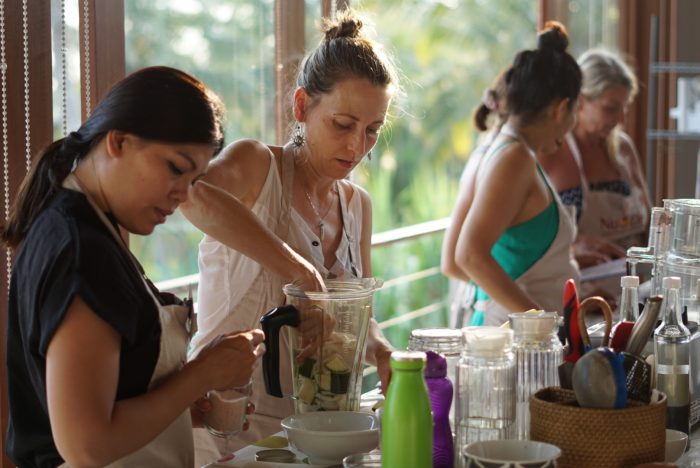 As the festive season is approaching quickly, why not dare to prepare something completely different for Thanksgiving, Christmas or New Year celebrations, instead of the usual turkey, foie gras and champagne? How about adding a mozzarella Caprese salad or Indian spices veggie burger to your menu? Dr. Amy Rachelle will lead you through her master chef training with science class, meditation, yoga and sharing circles. Nu-De is not only about food, but it's also a holistic approach that teaches you how to detox with fasting and juices.
"In everyday modern life, the food we eat is often compromised" she asserts. We can achieve what she calls "ultimate health," building an immune system that keeps us healthy all the way, primarily when giving attention to what we eat. We can age and be healthier than we were when younger, the naturopathic doctor says. Dr. Amy indeed teaches a medicinal approach to healing with whole and raw foods, to be fully alive and release our "superpowers," as she mentions with an enigmatic smile.
But what exactly is raw food? Well, it is mostly understood as a dietary practice made of uncooked and unprocessed food. It can also be prepared as sophisticated gourmet cuisine. If you go vegan on your rawism, this means you also want to clean up your kitchen from meat, fish, and dairy. At Nu-De, you will learn another concept very important to Dr. Amy's approach: proper food combining. As raw food has now come a long way from obscure to fashionable, it has fallen into the hands of chefs who give more focus on taste than well-being.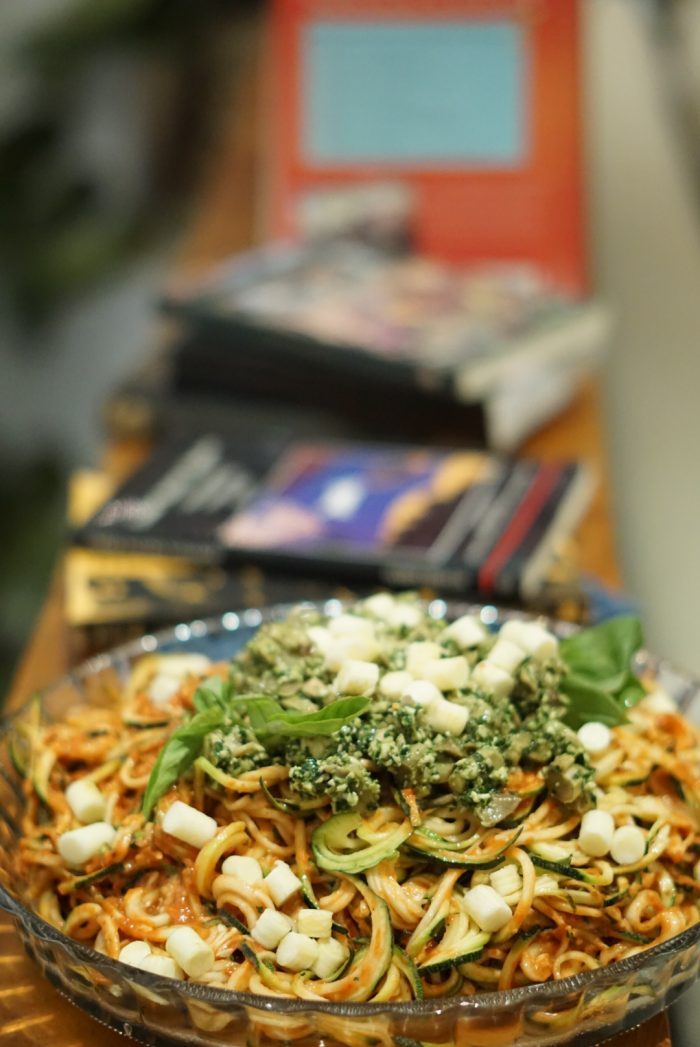 Though delicious to the tongue, improper food combining most often creates fermentation in the gut, which is the root of different issues, from digestive to skin problems, fatigue, and other impairments. In her holistic approach, Amy Rachelle recommends little nut use for instance. She also teaches how to make healthy sweeteners with low to zero glycemic index. During the training presented in a 3 X 5-day program, you will learn how to prepare raw food for every day, how to detox and how to do business with what you have learned at Nu-De.
Raw veganism offers more variety and options in a daily diet than you may have thought possible. And don't worry about the practical side of where to buy food and supplies. Dr. Amy will give you all the tips and tricks to be a smart raw food chef in Bali, thanks to her extensive network – complete with farmers, suppliers, and healers – in Ubud, the Mecca of alternative healing and well-being. You will learn what inflammatory free foods are and how to avoid demineralised hybridised foods such as soy, corn, cashews, and peanuts. On top of your newly acquired kitchen skills, you'll become an expert on food facts too.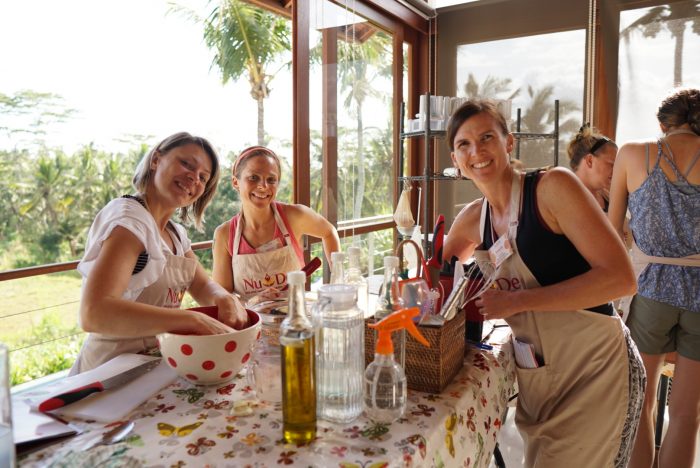 What about the equipment? On this site, you will need appliances like a high-performance Vitamix blender, a food processor and a dehydrator. Combined, these three basic machines cost less than the average stove and oven. Another must is a good source of water, which can be a problem in Indonesia. A good filtration system is necessary to protect your gut microbiome daily. Concerned about parasites in Bali? Dr. Amy suggests eating organic, knowing your food source, and soaking your produce for two hours in food grade hydrogen peroxide water before consuming.
To summarise her mission for well-being through food, Dr. Amy mentions six important keywords of why raw food. First, water, because we are made up of 70 percent water. Second, fibre; keep in mind that meat and dairy contain zero fibre. Third, pH balance – eat foods that are pH balanced. Fourth, bio-electrical current, because high heat cooking destroys the (nerve) electricity we run on. Fifth, oxygen, we need it to breathe but also in our food. And lastly, enzymes… these useful scavengers clean up our system and are almost annihilated when food is cooked.
So, are you ready to become a raw food "cook"? Yes, true, the word "cook" is not proper anymore in a raw food kitchen… The only revolution you need to go through is one of your minds. Switching towards a new mindset is the key to success when turning to it. People need guidance to achieve this change of diet properly and, as Amy Rachelle puts it, "unfortunately, most raw food chefs don't even know or care about the medicinal aspect of food." In the end, good hygiene and quality control on top of raw food preparation skills and knowledge will guarantee anybody a healthy diet and a "super-powered" life. And you know what? It's delicious… Good appetite!
www.amyrachelle.com
Free tips and delicious recipes if you contact Amy directly at [email protected]
Image: Bali Seniman Photo