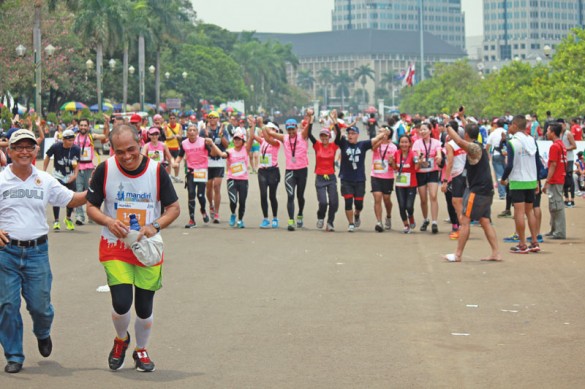 Jakarta held its very first official International Marathon, supported by the Ministry of Tourism of Indonesia on October 27th. Runners from 50 countries hit the streets to run in one of the five race categories: Marathon, Half-Marathon, 10 K, 5 K and Maratoonz (sprint for the children). Despite challenges, it was a great event for sports promotion in the Indonesian capital.
I run. I started to run years ago because I thought it was easy to just put my shoes on and start running. No equipment, no need to go to a specific place, just get up and run. Unfortunately, there is nothing easy about running in pedestrian-unfriendly Jakarta. The organizers of the very first official International Jakarta Marathon had a tremendous amount of challenges to overcome to make it happen and this weekend they proved it was possible. Hopefully, the first of many others to come.
There was a great turnover at Monas' departure line at 5 am on Sunday morning; Indonesians, expats and visitors alike. According to the Jakarta Marathon organizing committee, 7,400 runners of the 11,100 registered showed up on race day. The atmosphere was cheerful, it was nice and tidy and animation was well done, in Indonesian and English.
The run course of the marathon covered Jakarta's city landmarks, such as Kota Tua, Pasar Baru, Jakarta Cathedral and Istiqlal Mosque, Bundaran HI, Pancoran Statue, and GBK Stadium. A great point of view and unique opportunity to see the beauties of Indonesia's capital city.
To me, an important part of the success of this event is due to the engagement and willingness of Indonesians and expat volunteers. Along the course and the finish line, every single volunteer I met was smiling and was eager to help.
Although I enjoyed the event very much, a few things were lacking in the organization, starting with the Race Pack collection. My husband waited almost six hours on the Friday before the run to get our chip and shirt. This is longer than running the actual marathon itself! Kuddos to the organizers on the quick decision-making. The day after, most fellow runners picked up their gear in a few minutes. In order to speed up the process, Jakarta Marathon decided to distribute Bibs (race numbers) randomly instead of manually searching for the corresponding name for each athlete. Therefore, people ended up running under other people's names. But at the end, it turned out to be funnier than anything else, as people were trying to find their alter egos through social medias and I hear new friendships were created.
There are a few other things that could be improved next time, starting with the traffic control. The problem was mainly toward the end of the race as the Car Free Sunday people started to hang out on the streets. After reaching the end of my 10 kilometer race, I had given everything I had and was not in any condition to zigzag between bikes, kaki lima and other obstacles to get to the finish line. I can't imagine how full marathoners felt about this. Organizers confirm that four people were hit by motorbikes during the race.
Another thing I was not a big fan of is the people smoking at the finish line. To those of you tempted to shrug their shoulders and say, "This is Jakarta," I reply, "It will be as long as you let it be." Non-smoking signs and sensitized volunteers could have done the trick. This said, after the cloud of smokers to the finish line was a well-organized welcoming party with free flow of water and bananas.
Overall, I think the Jakarta Marathon organizers can say job well done! In a country where a lot of people smoke and where walking to work is almost impossible, promoting sports starts by setting an example as Ndang Mawardi, spokesperson for the Jakarta Marathon explains. "Interest in running is increasing right now in Indonesia as proven by the success of Car Free Sundays. People are becoming more aware of the importance of having healthy living, despite the smoking and motorcycle industries, which are typical for a developing country. By having more running events, we hope we will contribute to educate people."
I could not write about this event without mentioning the incommensurably sad death of two fellow runners: Mr. Ignatius Sumarya, 61 years old and Mr. Lars Weddeler, a 34-year-old expatriate. I can't even imagine how distressing it is for the family and friends and would like to speak on behalf of the Jakarta Expat team to express our deepest condolences.
Jakarta Marathon Website: http://www.thejakartamarathon.com