Miund expects to be heckled. She's used to it. As one of Indonesia's up-and-coming stand-up comedians, she has to be. It's only when she's not being pestered by the audience, when they're so engrossed in her bit they fall silent, that she gets nervous. See Miund, a radio personality whose morning show runs from 6 to 10 a.m. Monday through Friday on 97.5 Motion Radio, is used to having her co-host Ari Dagienkz take shots at her all day. She needs the peanut gallery more than they need her.
"When it comes to stand-up comedy and being heckled I feel like I have an advantage," says Miund, "Ari heckles me every day. I have to be able to respond accordingly. We're live on air so you have to be able to think fast and you can't let it get it you." Miund, who considers herself a radio personality first and a stand-up comedian second, broke onto the stand-up comedy scene last year when Ernest Prakasa and Pandji Pradiwaksono used Twitter to create a now-thriving stand-up comedy scene that spread quickly from clubs in Kemang, Bekasi and Semanggi to Yogykarta, Balikpapan and beyond.
"Ernest and Pandji invited comedians and gathered the crowds creating this aura in the clubs that helped it spread nationwide," says Miund. "The clubs and Kompas TV's Stand Up Comedy Indonesia made it grow like a virus, citywide and then nationwide. It's everywhere and it's a positive vibe. The older comedians who are famous for their skit comedy are trying their hand at it and the transition is working out well for some of them."
Stand Up Comedy Indonesia is now holding auditions for its second season and although Miund has no inclination to audition, she's still looking to try out her material at any club that will have her. "I keep asking organizers and clubs to have open mics on Saturday or Sunday. I have to be at work at 6am on weekdays. I'd do more shows but I have a real job too. I have to get up and go to work every morning."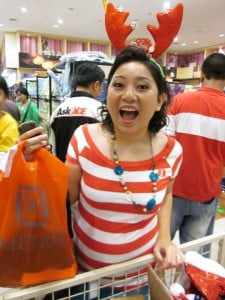 One comedy event Miund did manage to fit into her schedule was last February's Koper Stand Up Comedy, a powerhouse of eight acts organized by Butet Kertaradjasa and staged at Taman Ismail Marzuki for two nights. "Sakdiyah and I were the two female acts. Sakdiyah is from Yogyakarta. She wears a jilbab. I think she has a PhD. I think she wrote her thesis on comedy. She quit midway during season one of Stand-Up Comedy Indonesia but she made her way back into comedy and we performed at Koper. It was six guys and two girls."
But being a girl has never really mattered to Miund. She doesn't see herself as a female comedian. She's a female, yes. And she's a comedian, yes. But not a female comedian.
"I use the standard formula. It's best to laugh at yourself. I talk about women because I know what a pain we can be. It's funny, women think I am defending them, but it's the opposite. I'm being cynical and pointing things out. That's why it's funny. That's why both men and women can laugh."
And while Miund says that Indonesian stand up has come a long way it still has a long way to go. "People here in Indonesia say they can take jokes about religion or race but the truth is they can't." Most writers abide by the mantra, "Write what you know, cook what you can't burn" Miund likes to stick to the same philosophy when she's onstage.
"I'm a woman. I'm a Christian," says Miund, who grew up listening to comedy albums from the likes of Bill Cosby, Weird Al Yankovic and Judy Tenuta.  "I don't know a lot about religion so I don't talk about it. But I know what it's like to be a woman and I know what it's like to be in a relationship so I talk about that."