December is approaching and the excitement is building up because of the Christmas and New Year vibe in every corner. Even though Indonesians don't expect snow in December, but you can expect the fun and joy of the Festive at Hotel Borobudur Jakarta.
This year, Hotel Borobudur Jakarta has chosen Old English Christmas as the theme of the Christmas. You may stroll around the English atmosphere and decoration at the hotel. The seasonal Borobudur Fair is also coming back to the hotel starts from 28th November – 27th December 2018 at 10 am – 9 pm. With the atmosphere of Christmas in England, you can find variety of handmade souvenir, craft, accessories, light snacks and many more. Experience the warm Christmas at Hotel Borobudur Jakarta with special room package starts from IDR 1,000,000 net per room per night, valid from 1st – 27th December 2018. Talking about Christmas, we should also talk about the delightful Christmas dishes. Bogor Cafe presents Christmas Buffet for IDR 508,000++ per person, Christmas Set Menu at Miyama Japanese Restaurant for IDR 458,000++ per person, Menù di Natale at Bruschetta Italian Restaurant for IDR 478,000++ per person and Christmas Set Menu at Teratai Chinese Restaurant for IDR 498,000++ per person, all available on 24th December 2018 for dinner and 25th December 2018 for lunch and dinner.
For you who want to add more fun during the Christmas celebration, enjoy the Christmas Afternoon Tea Buffet at Pendopo Lounge for IDR 148,000++ per person, special beverage of December's Last Touch starts from IDR 78,000++ per glass, go grab the Panettone for IDR 28,000+ per portion and Stollen for IDR 238,000+ per portion, also Borobudur Festive Hampers starts from IDR 988,000 net per box at Borobudur Gourmet. The kids would not want to miss the infamous Christmas Kids Activities available at Bogor Cafe on 25th December 2018 at 11 am – 4 pm for IDR 160,000 net per child 5-12 years old.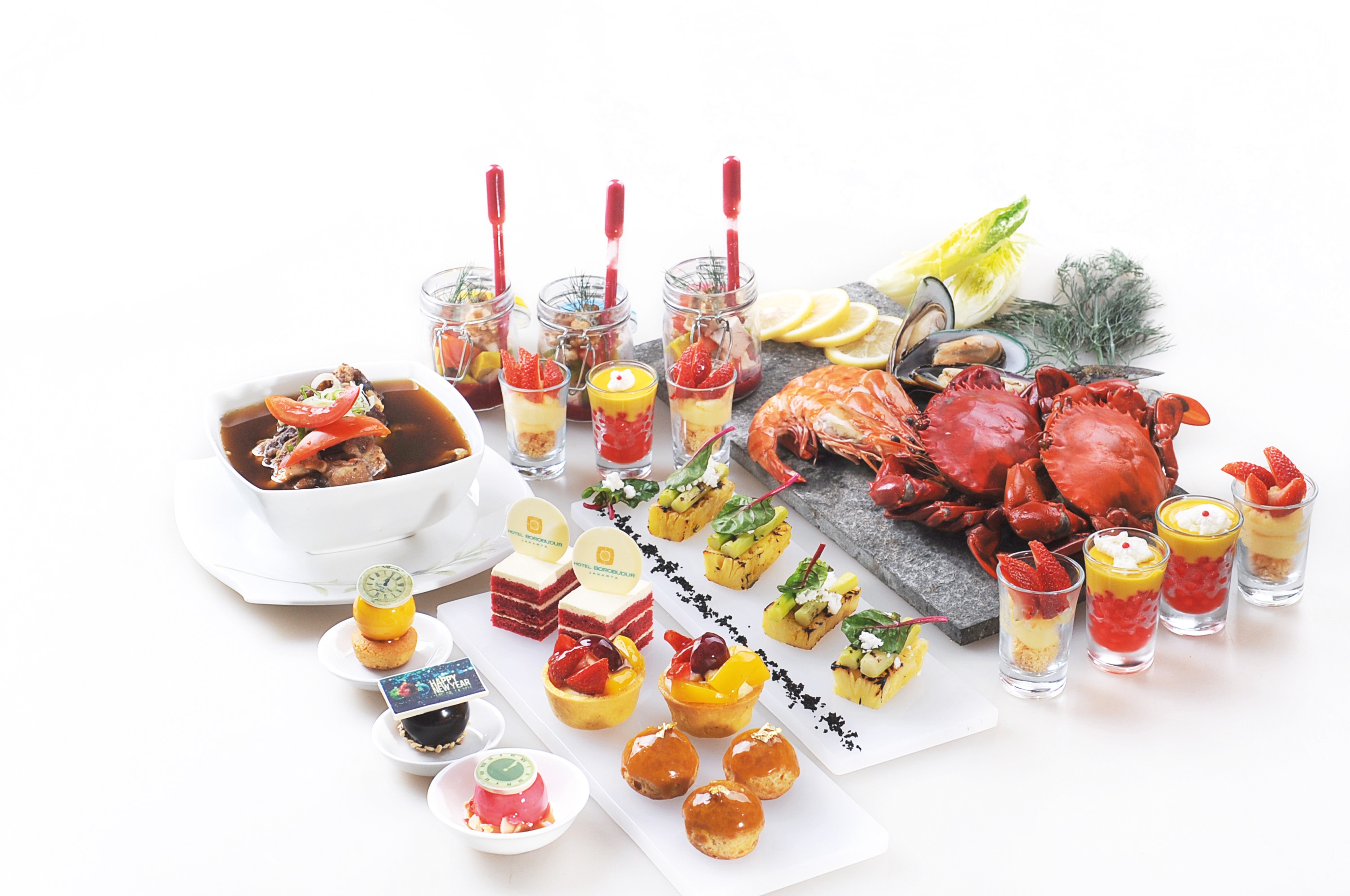 For the New Year's Eve, Hotel Borobudur Jakarta goes with the theme of FUNtastic Cinema for the party. You can look forward to the New Year's Eve party that will be held in Flores Ballroom with the amazing performance of Judika and Denada, the combination that will usher us to the 2019's countdown. You will also love variety of entertainments such as street magician, fortune teller, kid's activity, live band performance, dance performance, photo booth, costume character, door prizes, party favor and prepare yourself to be amazed with the spectacular fireworks display live from the hotel's swimming pool side area.
Be ready to party on to welcome the New Year and experience the wonderful moments at Hotel Borobudur Jakarta. Choose from variety of FUNtastic experience that suits your night. FUNtastic Stay at Hotel Borobudur Jakarta starts from IDR 3,400,000 net per room for 2 consecutive nights (30th December 2018 – 1st January 2019 or 31st December 2018 – 2nd January 2019) and get the benefits of 20% OFF New Year's Eve dinner at designated restaurants, also save IDR 800,000 for FUNtastic Show with Judika and Denada, terms and conditions apply. Enjoy a wide array of culinary choices of FUNtastic New Year's Eve Dinner at the restaurants starts from IDR 488,000++ per person. Or perhaps you prefer to be the witness of the FUNtastic Show with Judika and Denada, get the ticket only IDR 1,500,000 net per person with limited seating only. Don't expect anything less from this year's party at Hotel Borobudur Jakarta. For more information and reservation, please contact (+62-21) 380 5555 ext. 73333/73334 or email at [email protected]