Indian cuisine is a vibrant tapestry of flavours, where every dish tells a story and every bite is a journey to the heart of culinary artistry.
I've finally got a chance to have a tasty experience at one of the well-known Indian restaurants in Jakarta, Kalture Resto & Club. This is the very first time I visit an Indian restaurant, in particular this one. The first thing that comes to my mind when I visit Kalture is the lavishness. This restaurant is located on the R floor of BTPN Tower in the Mega Kuningan area, which is one of the reputable business districts in Jakarta. The whole floor is specialised only for Kalture.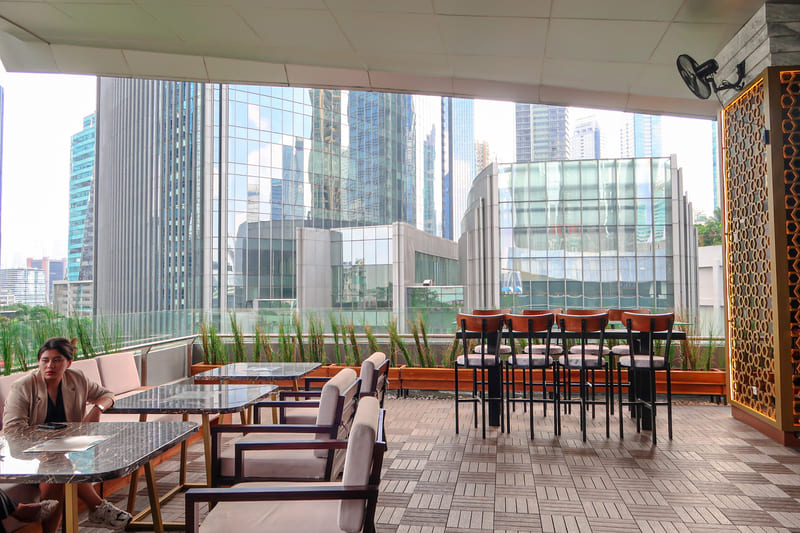 Talking about its lavishness, Kalture carries a pretty wide area, including the indoor and outdoor areas, with a bar at the centre of it, yellowish lights shining throughout the restaurant, and classic music playing all the time enhancing its luxury vibe. The mini bar is a perfect place for savouring some tasty wines or cocktails. The most recommended cocktails are their Signatures, Kalture Cocktail, Kalture on Fire, Sunset in Kalture, Golden Dream, and Yin Yang. If you want to have a drink with friends, don't worry as Kalture provides three long curved couches (two maroon couches and a white couch which is the longest among all) to provide a perfect "drink-with-your-friends" gathering.
Kalture also provides a rooftop outdoor area since the restaurant is located on the top of the building. The restaurant directly faces the skyscrapers of Mega Kuningan, which shows a stunning city view. If you want to experience the view, the outdoor area is the impeccable spot for you. However, if you want to have a quiet dining experience, then indoors is more recommended. Kalture can accommodate up to 100 people (45 indoor and 60 outdoor) and even up to 250 people for a standing event. This restaurant can be a good option for holding a party or gathering event.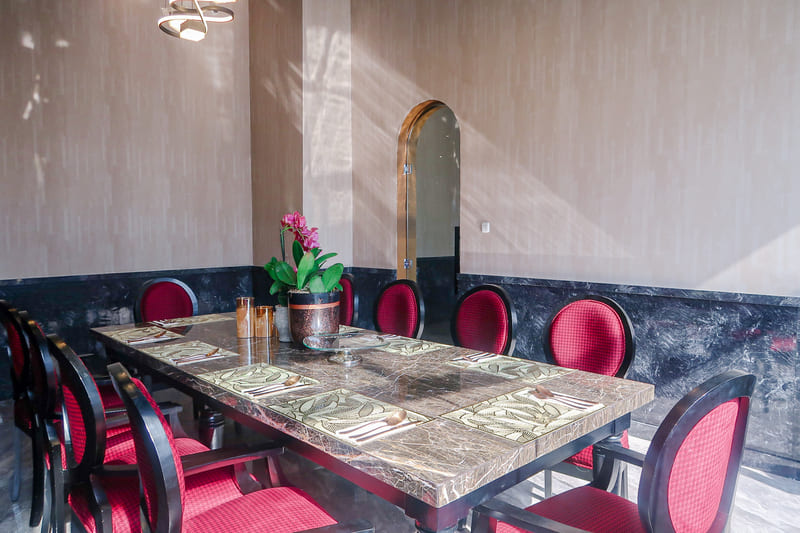 There is also a VIP room which highlights the lavishness of this restaurant. The room can be used whether for special celebrations, business gatherings, or simply seeking an elevated dining experience. It can accommodate up to eight people in the room.
Now, let's talk about the food. I was served the top four recommended dishes in the restaurant, namely Chicken Naan Pocket, Chicken Curry Bowl, Chicken Biryani, and Nanza.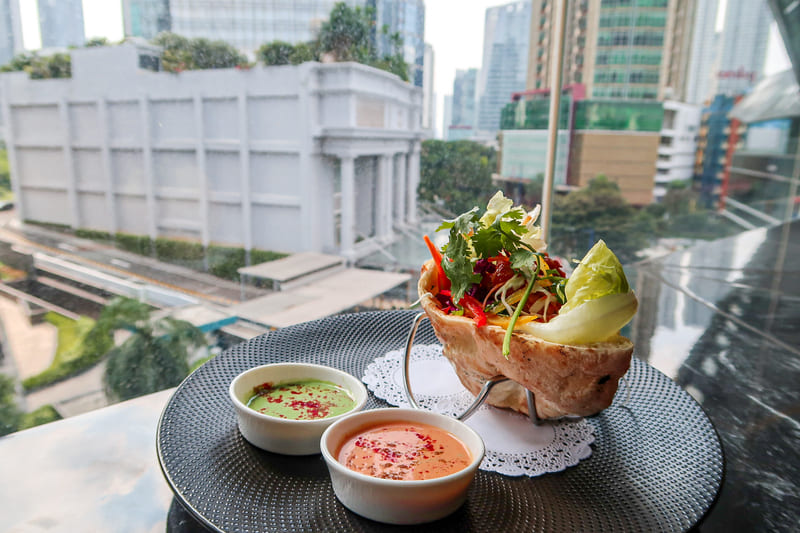 I'm going to start with Chicken Naan Pocket first. It contains Naan (Indian flatbread), and Tikka slices of chicken, and is full of vegetable topping. The dish is shaped like a ship, more likely a taco, and is served with two kinds of sauces: mint-flavoured and spice-flavoured sauces. Honestly, at first, I didn't know how to eat this food since its unique shape. "Should I break it or eat it as a whole?" Tastewise, the slices of chicken are what I really enjoy the most. Its smoothness, smoky flavour, and spices are mixed into one high-quality taste, especially when eaten with Naan. I recommend this one as an appetiser and because of its large size, this chicken pocket is proper for sharing food with friends.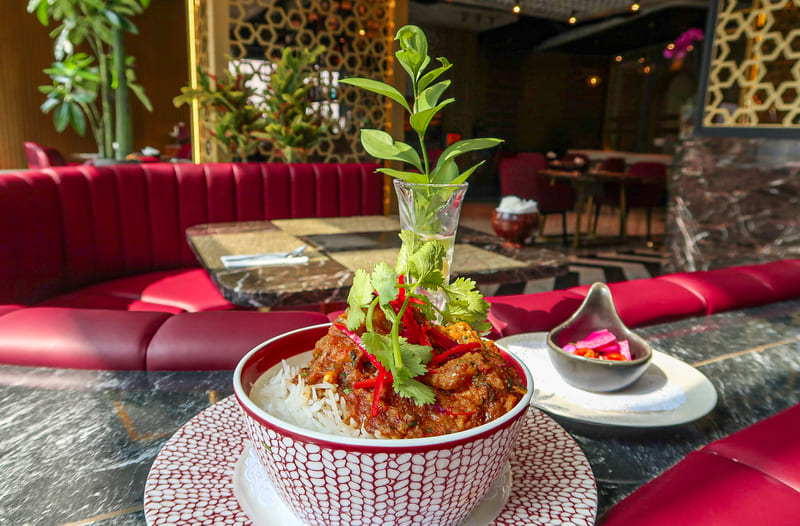 The Chicken Curry Bowl is served with aromatic rice and is paired with tender chicken pieces, tangy red onion pickle, onion flakes, and absolutely savoury curry. It has a rich and flavourful taste with a combination of savoury, aromatic, and slightly spicy flavours, resulting in a satisfying and well-seasoned dish. This curry bowl is perfect as a main dish and I am sure this will satisfy your stomach as Kalture aims to enhance the convenience and homemade dishes by introducing this curry bowl.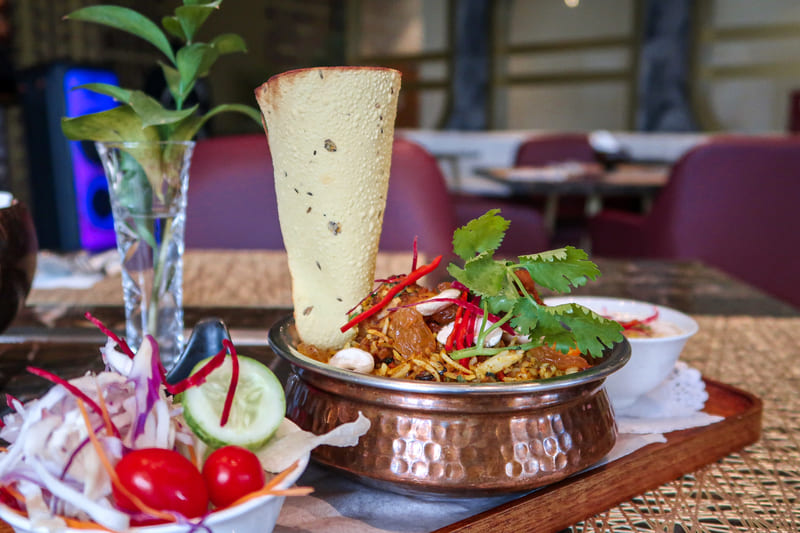 The next one is Chicken Biryani. A bowl of biryani is filled with slices of chicken cooked with traditional homemade spices and is combined with saffron-infused, aromatic shukriya long-grain basmati rice. The meal is served with raita, papadum, and red onion salad. This biryani not only has a stronger spice taste than any biryanis I have ever eaten but also is completed with various kinds of tastes: sweet, creamy, and crunchy. The raita added a creamy texture to the dish and the papadum gives a crunchy bite. The portion of this biryani is sufficient to fulfil your hunger at lunch or dinner time.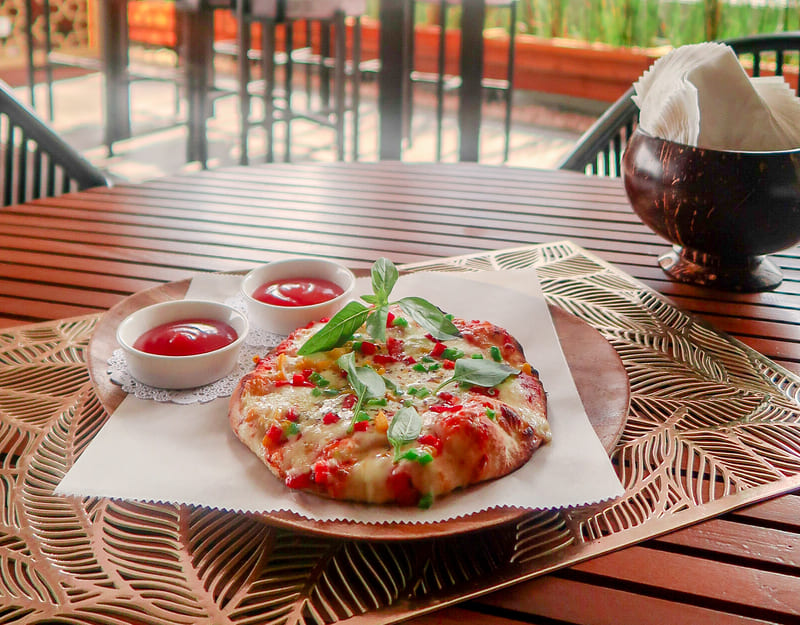 Last but not least, the Nanza. It is a complete Naan bread topped with either Chicken or Tikka. The naan bread serves as the crust, providing a slightly chewy and soft base. The toppings, such as cheese, sauce, vegetables, and meats, meld together with the naan bread to create a fusion of flavours. I personally think this one is suitable as a side dish since this is a four-slice pizza, so it's not that big.
What I love about these foods is their naturality. It means that all the colours of the dishes are natural without any chemical mixtures. Thus, besides their delicacy, they're also healthy foods. In addition, all the ingredients and spices are directly imported from India.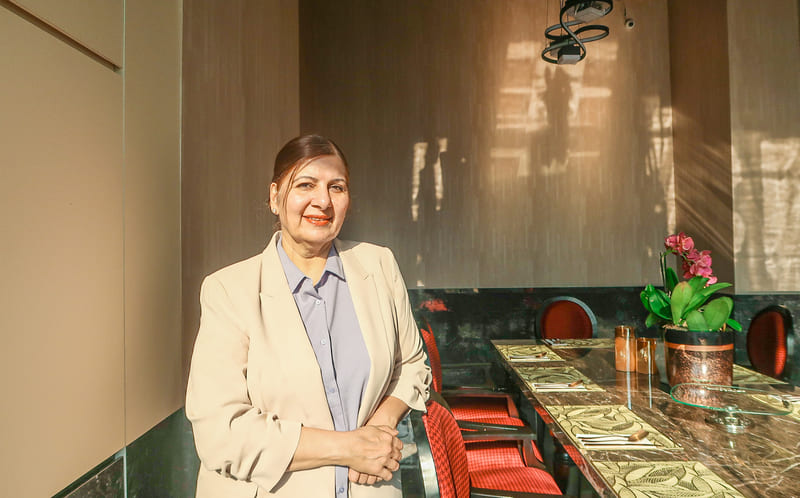 I also met the owner of Kalture, Chef Madam Geetika Sainani. She is a nice and humble person and loves to talk to people. We had a small talk in the restaurant and I found out that she was once chosen as the executive chef for the Prime Minister of India, Narendra Modi. When the Prime Minister visited Indonesia in 2018, he invited Chef Madam Geetika to come to their kitchen in The Ritz-Carlton Jakarta, Mega Kuningan to collaborate with the Hotel's chefs. He also came to Kalture to have some food and he liked it as it reminded him of his mother's cooking in India. So, this restaurant has a good reputation. Why don't you visit and taste all the dishes here, as well? You are going to eat the same dishes that the Prime Minister of India had tasted and it feels as if you are having lunch with him. It's going to be a great experience, isn't it?
Kalture is open for everyone who wants to taste homemade, authentic Indian food. But if you want to taste something else, the restaurant also provides some Indonesian, Japanese, and Korean foods. The restaurant opens every day starting from 11 am-11 pm and it's better to make a reservation before experiencing the food delicacy this restaurant offers. With its wide area, this restaurant is suitable for any kind of event, such as social gatherings, iftars, standing parties, and reunion parties. It's worth a try!
Kalture Resto & Club