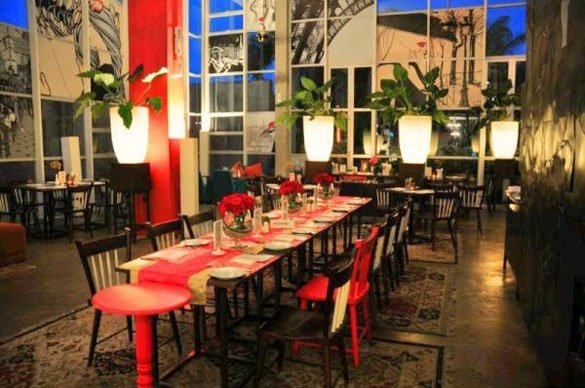 Jakarta may not seem much from an outsider's perspective, but for us that live here, we know that hidden within the city's walls are little pockets of cool in places most people wouldn't think to look. We found a little French art nouveau bistro tucked away at the back of a modern building on Jalan Kemang Raya behind an interior design shop – who wouldn't think to look there?
With high ceilings and lots of natural light, Madeleine's interior has left no detail overlooked. Designed by Aileen Rahman, mother of DJ Riri, a famous Indonesian DJ who has been on the circuit for over 20 years and coincidentally is one of the owners, this artsy bistro feels much like a hip loft conversion. Floors are made of concrete and dotted with less than new-looking carpets and the dining area is made up of wooden tables and chairs as well as sofas decorated with brightly coloured plush cushions ideal for a coffee break or just for hanging out, which Jakartans do best. Frames of all sizes adorn the walls, inspired by the affinity that Paris has for frames and oversized potted plants light up in the evening to give the bistro an ooze of je ne sais quoi – best enjoyed with friends.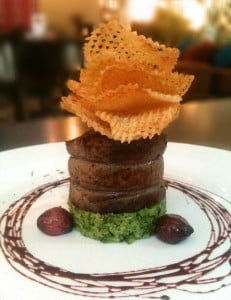 So why come here? On the menu is traditional French food and Indonesian food with a French flare. DJ Riri tells us they don't want to be a fine dining restaurant: "We are a serious bistro where you can dine casually and enjoy fine food." You can also enjoy their friendly staff and hilarious Operations Director and/or Maitre d' Susilo who speaks very good English and will be more than happy tell you all about every dish on the menu in detail. Signature dishes include Foie Gras aux Pommes Caramélisées, Vol au Vent de Fruit de Mer and Ballotine de Volaille aux Cèpes and Fillet de Boeuf au Porto for mains. Starting with some homemade bread with delicious herb butter, we sampled some of the delights on offer.
The seafood Vol au Vent is a puff pastry with a spinach sauce and fresh salmon, mussels, prawns and squid on top and tastes were a mix of crispy, creamy, fresh and savoury. We also sampled their take on the classic Caesar Salad which had a surprising twist of Dill, adding a freshness to what can oftentimes be a stodgy salad.
Before the mains, a refresher of Pineapple Sorbet was served to cleanse the palate and this was followed by the signature Filled de Boeuf au Porto. This steak was sweet, succulent and soft, perfectly seared and rested which retained all the moisture and flavour and was presented rested on top of a bed of minced broccoli and accompanied by fragrant red wine reduction which was flavourful but not overbearing with a nice tartness complimenting the caramelised shallots.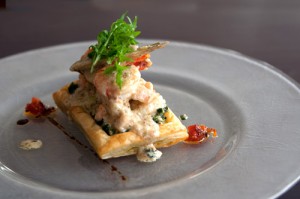 For pasta we sampled the Gnocchis Fait Maison, homemade potato gnocchi cooked well and dressed with a creamy mushroom sauce with pine nuts and sliced Portobello mushrooms, flavourful with a zest that cut the cream perfectly. All dishes were beautifully presented. Of course we had to try a desert and cracked our way into a Crème Brûlée revealing a thick and creamy delight infused with real vanilla pods and served with pumpkin seed brittle, sliced strawberries and a raspberry jelly. Delicious.
Prices are a bit pricey, but this is because everything is homemade and most ingredients imported. "We could use local produce, but it would impair the taste," says Susilo with a grin. If you value interior design and great food, take a gander into Kemang 89 Building, check out the colourful happy chic home decorations on sale and settle in for an enjoyable meal at Madeleine. Bon appétit!
Madeleine – French Bistro
1st Floor, Kemang 89 Building
Jl. Kemang Raya No. 89
South Jakarta
021 7179 4538
[email protected]