Meet Chris Littlechild. The Comedy Club consultant from England who likes to unwind in the boxing ring.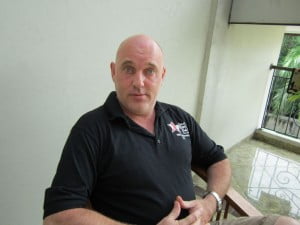 So Chris, where do you come from and what is it you do here in Jakarta?
Reading , England. I'm a consultant for Singapore based The Comedy Club Asia.
How did you get involved in the Jakarta Comedy Club?
Back in the UK, I was working as a promoter in the events and entertainment industry and was approached to take on a new challenge in Asia. I deliberated for a good couple of minutes before phoning a cab to the airport.
What are your thoughts on the local comedy scene?
The comedy scene here is rapidly becoming fashionable and has a plentiful supply of confident newcomers who are eager to take to the stage. We have worked with many young local comics who show tremendous enthusiasm s and now some of which are regularly performing for the TV networks.
So who tickles you pink? Who are your favourite comedians and why?
Early memories of comedy in the UK   were the multitalented Ronny Barker especially in the Slade Prison based sitcom TV series "Porridge". Spike Milligan and the wonderful Tommy Cooper who was nearly a magician! Present day; Gethro, Lee Evans, Rich Hall. There was a fantastic act around until a few years ago, George. W. Bush, but I have no idea if he is still on the circuit or not.
What's the biggest difference between English and Indonesian humour?
Without a doubt I would have to say the language.
Jakarta can be a pretty stressful city, what do you do to unwind or de-stress?
A particularly relaxing pastime of mine is collecting and repairing vintage time pieces. So if there are any kids reading this, best prices paid for your father's watch! Then the boxing gym at Senayan   Stadium has excellent coaching by former Indonesian Middleweight Champion Ervin "Hidung Pesek" Marbun and his energetic side kick Harry.
Boxing is a pretty tough sport, are you any good?
Check out my impressive career below.
Fight History: Fought 2, Won 0, Lost 2, Drawn 0
Fight 1: TKO, Round 3 (technically I was totally exhausted by round 3)
Fight 2:  Disqualified in Round 2 for Low blow, 7 times. (At least I had the dignity to leave the ring without assistance, unlike my opponent).
Currently contemplating a future within the sport. For anyone who fancies practicing the noble art, contact Ray at:   [email protected]
Best and worst things about life in Jakarta?
Best: The Indonesian are a great bunch of people and easy to laugh with.
Worst: Big holes in the roads of which I have found many and the rainy season.  When does it end by the way?
Final question…best one-liner joke?
Last night I dreamed I ate a ten-pound marshmallow, and when I woke up the pillow was gone.