In Italy, a cantina is a kind of cellar found below most private residences, where the household's wine, cured meats, cheese and pantry staples are kept. In these underground havens, the temperature is kept below 18?, and families often find themselves hanging out, slicing up parmeggiano and prosciutto, enjoying an impromptu get-together.
If, like me, you've ever fancied yourself as the Mamma or Papa in your own Italian family fantasy, the thought of this will appeal to you. Get ye, therefore, to Cantina 18?, which opened in South Jakarta's restaurant-magnet district of Senopati about six months ago. It's not about fancy surroundings and expensive menus, nor cheap and cheerful trattoria-style Italian dining. Cantina 18? offers you something in between: good food in a relaxed atmosphere. Perfetto.
We went on a Sunday lunchtime with empty stomachs, in preparation for a proper four-course Italian feast. The restaurant boasts two Italian chefs, Omar and Stefano. Omar took us through his specials menu, which changes at least weekly depending on the new, fresh ingredients he and Stefano find in the marketplace.
The focus here is on the authentic Italian charcoal grill, installed for your viewing pleasure along one side of the restaurant.
There's no wood and no gas involved– it's all charcoal, so as the flames lick upwards, offset by the deep Tuscan red of the dining room's walls and napery, you know you're in for a treat.
We started with antipasti. From the specials menu, we enjoyed a whole breaded and baked goat's cheese (Rp.140,000), which oozed out onto generous piles of earthy parma ham – a simple combination which proves good quality ingredients is half the battle. We also tried the traditional Parmigiana di Zucchinie e Melanzane (Rp.73,000), a layered aubergine, courgette, tomato and mozzarella dish, which was homely and satisfying.
Antipasti is usually followed by pasta or risotto, and Omar explained how they make their own pasta with a chitarra ('guitar'); an old-style method. With this, the kitchen can usually whip up any classic pasta dish you like – even if it's not on the menu. We, however, were tempted by the specials' tortellini, because Omar had recently discovered Korean black garlic tastes fabulous with his Taleggio cheese sauce.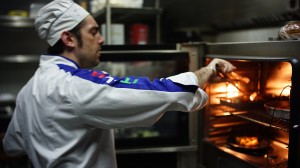 He was right – in fact, I could have done with more of the sweet little slivers of tar-black garlic, but they certainly brought out the flavour of the crisp pancetta and meat stuffed inside the little al dente parcels of pasta. A delicious option at Rp.120,000.
Just as good was the Risotto alla Montanara (Rp.100,000), with homemade sausage, porcini mushrooms and truffle oil. This was as it should be: unctuously full-flavoured; and it's a good price for those ingredients. The size of the pastas and risottos are easily enough for a main course, but we had bigger fish – and meat – to fry. The charcoal grill beckoned.
The chefs can prepare a classic Fiorentina steak (give them a day's notice during the week), but there is also Wagyu rib-eye and Black Angus tenderloin – all great options for charcoal grilling. We went for a Sunday lunch classic: lamb chops (Rp.190,000). Perfectly cooked, they were soft and juicy with a lemony twang offset by the smoky charcoal. They came with veggies and some incredibly moreish cubed, rosemary potatoes.
Fish is often overlooked at grill joints, but happily Cantina 18? offers a comprehensive marine selection. They usually have fresh lobster or crab from Lombok, but right after Lebaran is prime growing season, so the fishermen are not allowed to catch yet. Instead, swordfish, snapper or salmon are good choices. We went for mixed seafood grill (Rp.160,000) which boasted a huge, sweet jumbo prawn, very soft squid skewers, and lovely fillet of firm white fish. These were breadcrumbed prior to grilling, and very tasty. The same delicious potatoes also came with creamed garlic spinach – solid grill sides, well executed.
It was great to see the owners doing something a little different with their wines – especially by the glass. The usual Sauv Blancs and Chardonnays found in Jakarta eateries are shoved aside for the more interesting, delicate Italian white Orvieto (Rp.85,000), which was a decent match for the seafood. For red, there's a delicious Negroamaro Paololeo (Rp.90,000), an uncommon grape that went particularly well with the Taleggio tortellini. They also offer organic wines.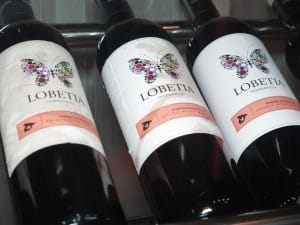 What would an Italian feast be without dessert favourite tiramisu? Every family has their version, and in this one, (Rp.50,000) presented in a martini glass, each element could be distinctly savoured without detracting from the creamy, decadent whole. Affogato (ice cream drenched in espresso, Rp.45,000) is a nice, lighter alternative.
All in all, if you're looking for decent family fare of good ingredients, cooked with love and care, Cantina 18? serves it up just like Mamma used to, and makes for a great new addition to Jakarta's Italian dining scene.
Cantina 18 – Italian Grill Restaurant