Nin Hanafi, the director of Restaurant Djakarta Bali in Paris, was born on November 19, 1964, in Cuba to the Indonesian Ambassador A.M. Hanafi, from Bengkulu, Sumatra and his Javanese spouse. But fate prevented them from returning home to Indonesia until much later.
The former Indonesian diplomat, wife, and family finally moved to Paris after Hanafi Sr. lost his job due to a political upheaval in Indonesia. Here, they decided to create an Indonesian restaurant as a way of presenting excellent Indonesian home cooking to the capital of fine cuisine. They also wanted to introduce Indonesian culture to France, as their professional experience as former diplomats would serve them well.
After much searching, and by a surprising stroke of luck – as Nin Hanafi would later describe it – his mother discovered the premises at 9 Rue Vauvilliers in the first district of the French capital, an ideal location on the Right Bank. The construction of the new commercial centre of Les Halles was completed in 1979, ensuring potential clients a novel, exotic type of cuisine in central Paris, easily accessible by public transport.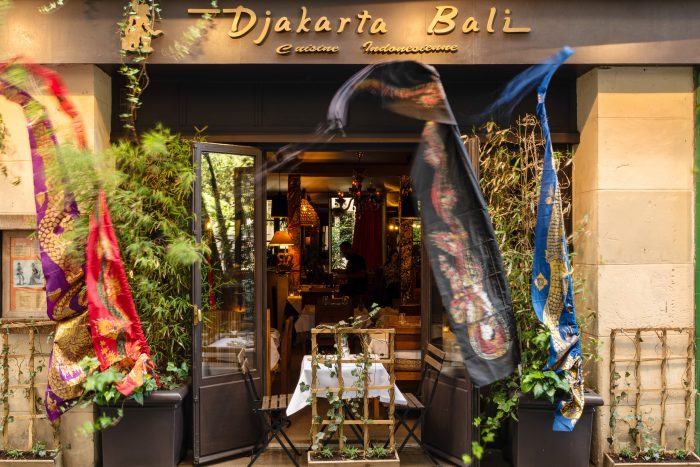 Although the building was almost empty at the time, the restaurant Djakarta Bali was finally opened after the necessary refurbishments, including kitchen and other facilities, were completed in 1984. This restaurant features Batik and Wayang Kulit figures, with Balinese ceremonial umbrellas and flags to decorate the facade, making the location visible. A large gilded Buddha statue from Central Java dominates the main dining area in the front of the premises. Furthermore, a second but less formal dining area is found two steps higher and leads to a winter garden.
Bali, included in the restaurant's name, refers to the fabled island of the Indonesian archipelago, whereas Djakarta (written in the old way) refers to the capital where many different people of the Indonesian Republic gather to live and work, introducing multiple cultural exchanges. Presentations of mainly Balinese traditional dances are also showcased due to their dynamic nature on Friday evenings.
Traditional dishes and genuine family recipes were introduced by Ibu Hanafi to ensure authentic tastes and presentations. Many spices like ginger, lemon balm and galangal are available in Paris, whereas other ingredients such as kemiri nuts, Curcuma leaves, or kencur roots have to be ordered from Indonesia or Holland.
When Nin took over the family business after studying business administration plus having experience in the cosmetics and automobile industries, he was able to work out a real feasibility study where some changes from the original concept were made.
However, Nin wished to keep certain aspects of the restaurant intact, such as an interior reflecting an elegant Indonesian home, together with the best of Indonesian hospitality. The quality of the service is enhanced by warm Indonesian smiles from the personnel. The décor is dominated by Javanese teak furniture and walls covered by volcanic stone – similar to those of many temples in Java. Unusual serving dishes, plates and cutlery also enhance the visual presentation.
Sophistication is the key word dominating the present gastronomic approach; a balanced palate of flavours can be discovered among the different menu tasting possibilities, served with delicious ginger tea, any chosen Indonesian coffee or other beverages.
Violetta Suganda supervises the culinary aspect of the enterprise. She introduces varied new recipes and ideas, besides taking care of public relations for the Indonesian market. Violetta was the general manager of several firms in the hotel restaurant industry in Indonesia and is still involved in managing catering companies there.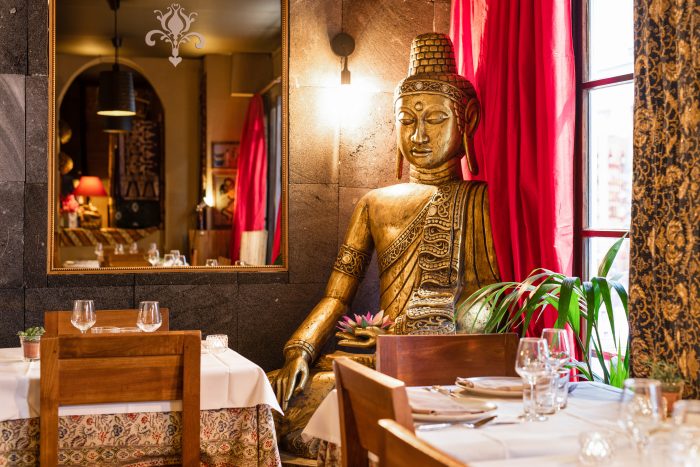 Nin laughed, "Luckily for us, she agreed to meet the challenge of presenting fine Indonesian cuisine to France and joined the team in 2005." Violetta largely participates in presenting culinary events to international schools, embassies and important business societies in France.
Besides the business side of Djakarta Bali, Nin explained: " Currently I preside the Indonesian Diaspora Network which I founded with others and whose members are Indonesians living in France, those who love Indonesia, former French expats who used to work or live in Indonesia. We organise cultural events to present Indonesia to the French public: conferences, film projections, introduction of Indonesian products, and we work together with the Indonesian Embassy here in France."
Recently, for example, they presented Maestro Indonesian chef William Wongso in an event celebrating the excellence of Indonesian Heritage in fine cuisine. The internationally renowned chef, who has published countless cookbooks, personally prepared his famous Rendang Wagyu for invited guests on the opening night. The slow-cooked tender Kobe beef in Indonesian style was and is continuing to be a huge success. Those interested in tasting this, together with savoury side-dishes, should book a table in the evenings to taste the delicious flavour of the Sumatran recipe à la Wongso. It has become a permanent fixture of the romantic, fine dining evening experience.
About three years ago, the Indonesian Tourism Ministry began to take an active interest in the restaurant to help promote Indonesia abroad and attract European visitors. Gastronomy has become at least the fourth priority of the government as part of the Wonderful Indonesia program. Djakarta Bali now plays a pivotal role in the presentation of Indonesia abroad together with other restaurants of the global Indonesian Diaspora.
Fine dining is only part of the fixed program, besides the daily, weekly and midday menu which comes at about EUR20–25 (Rp312,278–390,347) without drinks. The restaurant also accepts restaurant tickets provided by French employers at lunch-time during the week.
Violetta and Nin feature brunch on Sundays where the choice is between Nasi Goreng Special and Mie Goreng Special alongside fresh juices and coffee or tea, topped off by Indonesian sweet desserts. Prices vary according to what is consumed during the leisurely brunch served between noon until the last order at 2pm.
In the evenings, the complete Rijstafel Bali is the most expensive Rijstafel menu that's perfect for those who want to splurge, including all the side dishes and starters with no drinks for EUR55 (Rp858,764), but could include the Djakarta Bali special cocktail for EUR8 (Rp124,911) or other drinks. À la carte options are also available.
The two partners have begun a catering service, and besides the take-away meals already available they are discussing whether they should introduce an afternoon tea service à la Indonesia between midday and evening on weekends.D
jakarta Bali will be included in the prestigious Pudlowski Guide 2020. Djakarta Bali VIP guest list already contains such luminaries as Catherine Deneuve, Grace Jones, Christine Lagarde, Surabaya's Mayor Ibu Risma, singer Anggun, Jean-Charles Castelbajac, famous Indonesian actress Christine Hakim, actor Lambert Wilson, OBIN Indonesian batik designer, painter Kartika Affandi and many others.
9 Rue Vauvilliers, 75001 Paris
Reservations: 01 45 08 83 11
Website: djakarta-bali.com
Business hours:
Mondays (closed), Tuesdays (7:30pm–11pm),
Wednesdays–Saturdays (12–2:15pm & 7–11pm), Sundays (12–2:30pm & 7:30–11pm)