Living in Indonesia for pretty much the entirety of the last three decades, it has been my pleasure to have experienced some of the most varied and finest culinary dishes the archipelago has to offer.
I have enjoyed testing and tasting some foods I would never have dreamed of experiencing had I remained in my home country of England all these years, but at the same time, I have retained a fondness for food from "back home".
Upon arriving in Indonesia all those years ago, the first things that struck me about culinary habits here were the fondness for rice, chilli, and other spices. Having a traditional Western palate, I have never really been able to learn to appreciate the flavourings of anything much stronger than a mildly spicey dish, but I do understand why they are so popular here.
Many times I have watched on in both admiration and bemusement as friends and family members devour a dish with relish, only for them to be covered in sweat shortly after tucking in. The spicier the dish, the more it is appreciated, it seems.
It is an undeniable fact that Indonesians certainly love their food, and in my experience, plans are often made for three or four meals ahead. For example, before I have even started on my breakfast at a weekend, my wife will often have announced plans for the remainder of the weekend's meals, and sometimes will have even commenced preparing them. That said, there is nothing nicer or sweeter than waking up on a Sunday morning to the aroma of Indonesian food being prepared.
Personally, I have tried a variety of foods over the years, as I say, and have settled upon some particular favourites.
I think one of the most commonly known dishes throughout the nation is Nasi Padang. For the uninitiated, Nasi Padang is a wonderful hotch-potch of a meal, the ingredients of which can vary from person to person depending upon one's choice and taste. Named after the city of Padang in the West Sumatra province where it is said to originate, Nasi Padang means 'Padang Rice' in English.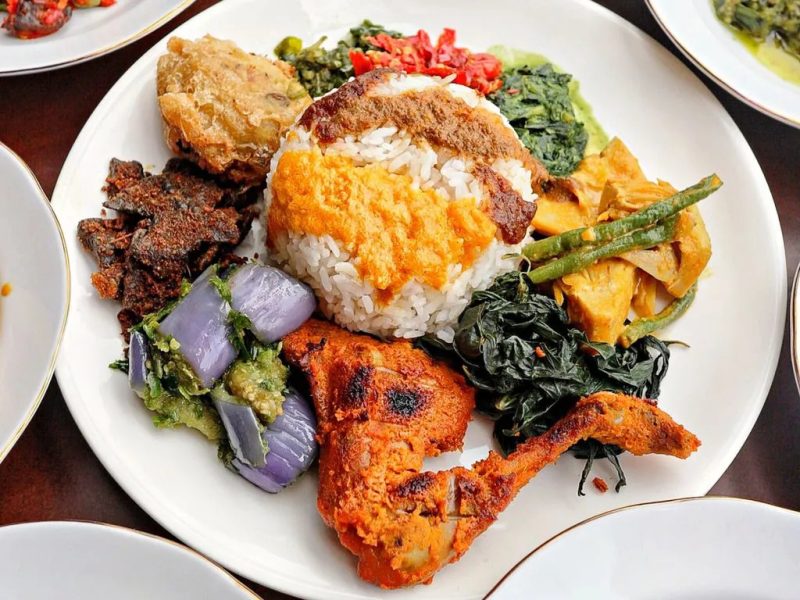 A generous serving of plain white rice is accompanied by a myriad of side dishes that the consumer chooses. These can include any or all of the following;  rendang beef, jackfruit, chicken, eggs, cassava leaves, cow liver or brain, eggplant, stinky bean, shrimp, fish, catfish and so many others it's impossible to name them all here.
The customer chooses what they wish to consume from the choices available and the other dishes are untouched and therefore uncharged. Indonesians will then usually mix all the ingredients on the plate and often eat the meal using their fingers.
Much as I personally love a nice plate of Nasi Padang, I have never quite gotten used to eating it by hand and so I still prefer to use cutlery.
Rice is, of course, a staple food and is consumed at least once daily by a large proportion of the population who enjoy it in a variety of ways. It can be consumed as a side dish alongside such main eateries as meat and vegetables, but can also constitute a meal in itself if fried. The Indonesian term for this dish is Nasi Goreng, which literally translates as Fried Rice.
Fried Rice is another simple enough meal that is popular with foreigners and locals alike and comes in numerous guises and variations. There is Special Fried Rice (Nasi Goreng Istimewa) – so-called due to its "special" ingredients of spices, sunnyside egg, satay and pieces of chicken; Salted Fish Fried Rice (Nasi Goreng Ikan Asin); Seafood Fried Rice (Nasi Goreng Laut), or the wonderfully monikered, "Crazy Fried Rice" (Nasi Goreng Gila). This latter concoction is so-named due to its incredible spiciness which comes in three levels – "very hot", "unbelievable", and "what on earth were you thinking?".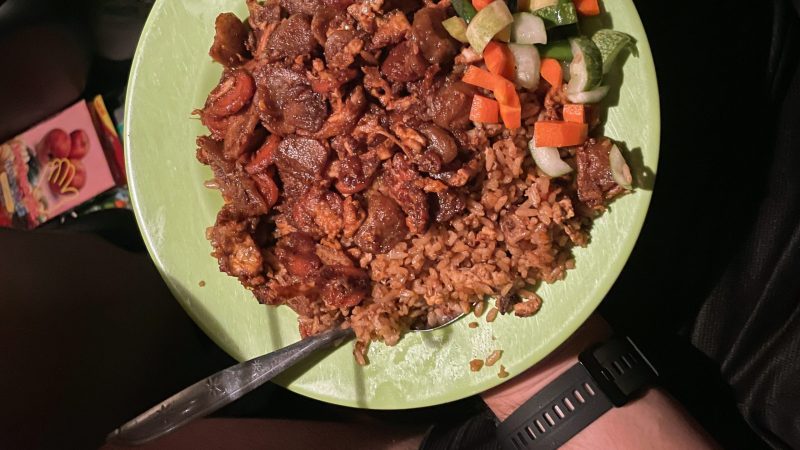 Away from rice-based dishes, there are other popular meals such as gado-gado, pangsit, and bakso. Gado-gado is a meal within itself which is on the face of it a little healthier than some of the rice-based ones previously described and in some quarters is actually described as a salad.
Although this description may be stretching matters a little, a good gado-gado does indeed include vegetables. These are normally supplemented with crackers, sliced eggs and tofu. Peanut sauce is then usually added. This is a meal that I have learnt to enjoy, although I usually forgo the peanut sauce.
Pangsit is a food that resembles dumplings. It is minced meat that is wrapped in flour and then eaten in soup, usually. Also eaten with soup is bakso. Bakso is literally a meatball and is usually made from a mixture of ground beef and tapioca flour. However, the meat used can vary and bakso made with fish, chicken, pork, or shrimp is not uncommon. Added to a bakso soup will often be such delights as noodles, rice noodles, tofu, and eggs.
Most of these foods described can be found in Indonesia in a variety of settings from five-star hotels to roadside stalls – or warungs – and so are priced accordingly.
In addition to these meals and side dishes, there are a lot of tasty snacks which are eaten between meals. Some of these include risoles; fried bananas; kripik – a type of chip or crisp which come in various flavours, the most popular being banana and cassava; rujak – a kind of salad made with seasonal fruits; and bakwan, which are Indonesian mixed-vegetable fritters.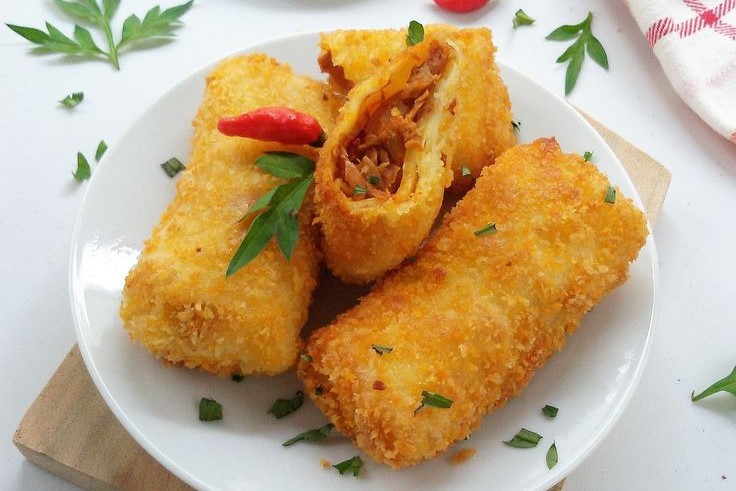 One snack that we cannot leave off the list is tahu isi. This is a small-sized tofu offering filled with carrots, bean sprouts, and minced beef. The tofu is then deep fried with spices often included to the customers' particular preference.
With such a wide range of food, meals and snacks to choose from in Indonesia, there is something for everyone, and as a result the constant battle of the waistline as we get older never truly abates.